Tauranga brothers fall short of Olympic dream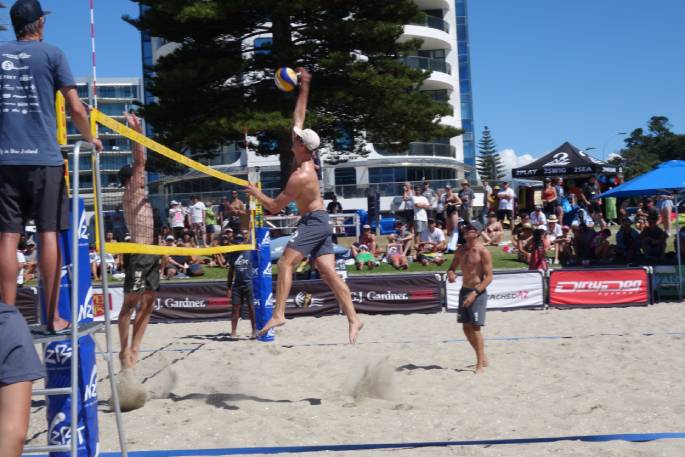 The Olympic dream for Tauranga brothers Sam and Ben O'Dea is over after New Zealand lost a tightly contested AVC Beach Volleyball Continental Cup semi-final to Indonesia.
The O'Dea's lost their match against Indonesia's Gilang Ramadhan and Danangsyah Pribadi by the tightest of margins, 21-19 and 21-19, in a 2-0 overall loss.
New Zealand's other representatives, Thomas Bartles and Alan Nicklin, won their rubber in another tight contest. Unfortunately, they could not best the O'Dea's conquerors in the deciding Golden Match, with Indonesia progressing to the final.
For Sam, he admits it was simply one of those days as an arduous but intrepid pursuit of an Olympic dream came to an end.
"It doesn't get much worse to be honest," says Sam.
"Losing a match and your chance for the Olympics then being locked inside your hotel room for the next two days stewing about it.
"It was an accumulation of many things, but yes just one of those days."
The O'Dea brothers left New Zealand in April. Whilst their home nation has led a world-leading response to the Covid pandemic it was not conducive toward providing world class opposition on a regular basis, with New Zealand shut off to the rest of the world.
In an attempt to find that cutting edge, the brothers headed to Mexico for a beach volleyball bubble with some of the world's best before competing and training in the Czech Republic and Germany.
But the challenges of this year certainly played a part in their bid for Tokyo falling agonisingly short, even if Sam has no issue being self-critical.
"It had been a long trip leading up to this tournament," Sam admits.
"We are doing everything ourselves and with Covid it brings so many more regulations and organisation.
"I for sure wasn't at my best form leading up to the event and even being a little off makes the difference as it did."
So would they have done anything different?
In the beauty of hindsight, such statements are easy soundbites. But no perfect options were available in this, the most bizarre of Olympic qualification calendars, and Sam thinks they made the best decisions, all things considered.
"There are a lot of small things," he says.
"We will have a debrief with everyone in the coming days.
"We had to leave New Zealand, that was a given. I think we made the best of a tough situation and in many ways did the best we could with what we had available."
The extra sting in the tail comes with Australia defeating Indonesia to secure a place at the Olympics. New Zealand beat their trans-Tasman rivals in the Oceania Zone finals of the competition at Mount Maunganui back in March 2020.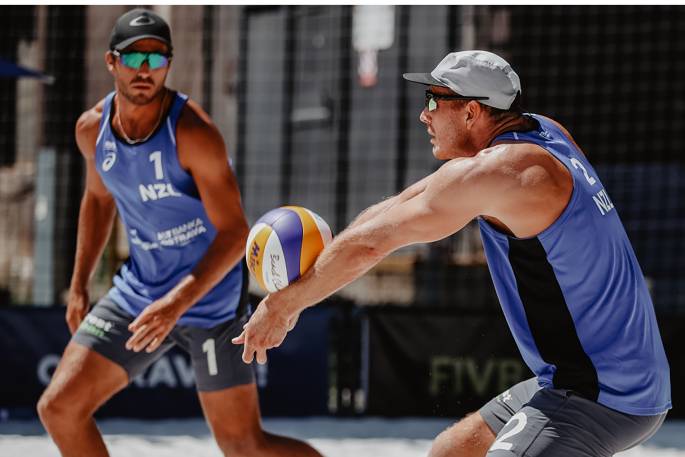 Sam and Ben O'Dea at a recent competition in Ostrava, Czech Republic. Supplied photo. FIVB.
Sam admits he and his brother would have loved to get one over on the Aussies in the final but sees the silver lining that he is good friends with the Australian team, and is happy they get to embark on their Olympic dream.
"It was frustrating not being able to play them for that spot, losing in the semifinal to Indonesia is what hurts.
"I would have loved to beat the Aussies but I am happy for the guys, they are friends of mine and deserve the spot."
For Sam and Ben, it is back to competition. The boys are back in Europe, after another lengthy travel itinerary.
Currently in Germany, Sam says they are set to compete in "one of the best events of the year", the Swatch Major in Gstaad, high in the Swiss Alps amid fairly untypical settings for a beach volleyball event.
One of the bonuses of heading around the world in anticipation of Olympic qualification is the brothers have now had their Covid-19 vaccination.
With the vaccine taking affect across much of the world and packed crowds at sport events across other continents, the sporting calendar for the O'Dea's might suddenly become something like normal again.
Sam says they have exciting news about a new promoter for the National Tour and the World Championships, Asian Games and Commonwealth Games remain in sight, hopefully, without the strict bubble restrictions currently in force at such events.
"I'm hoping the situation keeps getting better," Sam admits. "Because I'm well over being lock downed in hotels."
After Switzerland, both brothers look set to take a little break. Sam says he's "pretty wrecked" and the rest is needed whilst Ben is still managing an ongoing shoulder injury.
With the Covid delay impacting Tokyo, the Olympic cycle to Paris is shorter than usual.
But Sam is not looking that far ahead just yet.
"I need some time off to reevaluate everything," he says.
"We will both take some time. Ben is still getting his body right and we have to make sure we and our team are all on the same page going forward.
"The lead up to Paris is going to be a lot different. To be a successful team at that Olympics we are going to need to have a solid plan going in, otherwise we are just throwing dice at the wall."
He mentions the hope of bringing some top international teams back to Mount Maunganui and the rest of Aotearoa, once the borders reopen, or even splitting the brothers up, so they can test each other on opposing side of the nets.
Which would be the perfect chance for the brothers to show their appreciation to the passionate fans and sponsors who helped them get within touching distance of an Olympic dream.
"Beach volley is a tiny sport in New Zealand," Sam says. "But we have some great support."
"We might not have thousands cheering for us but we've always had a solid group of supporters and sponsors who, without their help, we wouldn't be able to do what we do."
More on SunLive...