New Bay Venues directors confirmed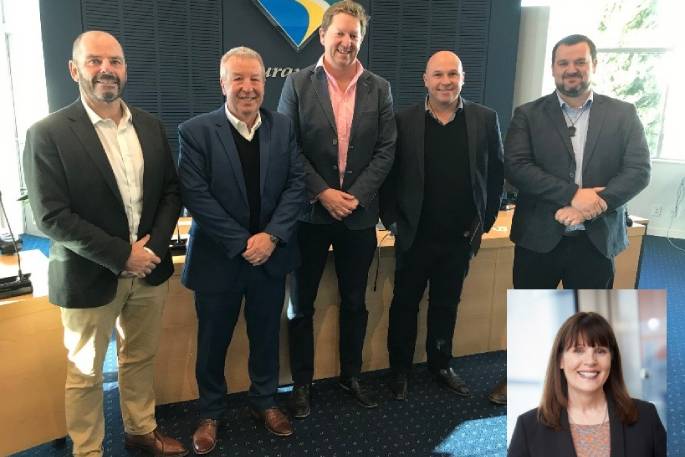 Tauranga City Council has confirmed the new board of directors for Bay Venues Limited.
Simon Clarke has been appointed as chair with deputy chair Julie Hardaker joined by Adam Lynch, Jeremy Curragh and Nick Lowe on the board.
They were amongst 49 people who lodged expressions of interest in the board roles and formally take-up their positions on July 1, joining sixth director, Gareth Wallis, Tauranga City Council general manager: Community Services, whose appointment was confirmed last month.
Bay Venues is a Council Controlled Organisation which operates a number of facilities and activities on the council's behalf. These range from non-funded, commercially viable activities and facilities such as Mount Hotpools and Trustpower Baypark, to Council-funded, community wellbeing-focused assets such as halls, community centres, indoor sport facilities and swimming pools.
The decision to appoint a largely new board was taken by the Council's commissioners on April 27, to increase local Tauranga Moana-based representation on the Board and to provide a more integrated governance model with a closer focus on delivering effective commercial and community outcomes.
Commission chair Anne Tolley says the board will oversee the implementation of some key changes to Bay Venues' operations, intended to enhance the company's performance and sustainability.
Examples of this are a restructuring of the organisation's financing and funding model and development of a clearer statement of intent and performance indicators
"Other focuses will include working in close collaboration with Council staff to reposition Bay Venues as an integral part of council's operations; investigating the viability of moving community halls and community centres back under direct council management; and looking for opportunities to improve performance through shared service delivery models," says Tolley.
"We thank the outgoing directors for their service and commitment, in particular the interim chair, Mary-Anne Macleod."
The new director appointments were agreed unanimously by an appointment panel consisting of Commission chair Tolley, commissioner Shad Rolleston and independent member, TECT trustee Pete Blackwell.
Incoming Chair, Simon Clarke says he is delighted to be taking on the role.
"Bay Venues is an extremely important organisation for Tauranga City and I'm excited about working with my fellow directors and the Bay Venues team to ensure our community is well-served and our assets are well-managed.
"I'd also like to acknowledge and thank the previous Board for their contribution to our city."
More on SunLive...