Covid-19: No new community cases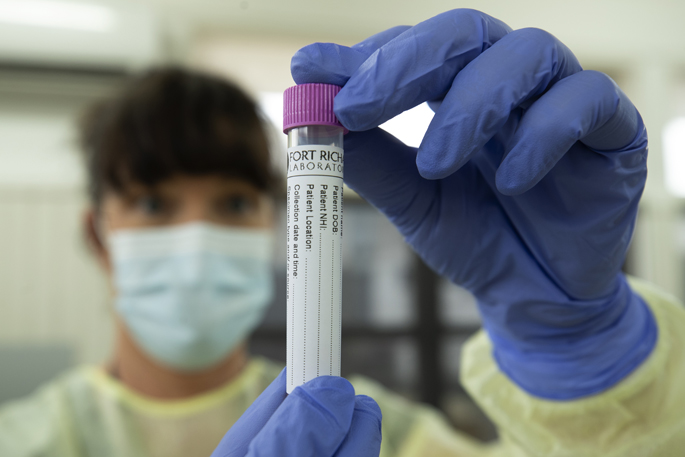 There are no cases of Covid-19 in the community in New Zealand and 10 cases in managed isolation facilities, the Ministry of Health is reporting.
This comes as Wellington is in day six of a level two lockdown after an Australia tourist visited multiple locations around the city, then returned a positive covid result on returning to Australia.
New South Wales has recorded 18 news cases of local transmission since 8pm yesterday. All but one confirmed is linked to the Bondi cluster. There have been 59,000 people tested in last 24 hours.
In New Zealand 2,597 people have been identified as potential contacts of the Australian person who visited Wellington from June 19 to 21, says a statement from the ministry.

Of those contacts, 2,273 have returned a negative result. The remainder are either being followed up or are awaiting a test result and eight have been excluded from testing, says the statement.
There were 58 passengers on the Qantas flight QF163 which the Australian passenger travelled on to Wellington on Saturday 19 June. All have been advised to self-isolate. Of those 58 passengers, 45 have had a negative test result, and the results of the remainder are being actively followed up.

New Zealand based flight crew from both the inbound and outbound flights have been tested and returned negative results.

Wellingtonians and visitors urged to check locations of interest
Locations of interest in Wellington, visited by the Australian traveller to the city, are available on the Ministry of Health website.

People who have been at any of these locations at the relevant time should immediately isolate at their home or accommodation and contact Healthline on 0800 358 5453 for advice on testing.

There is a Health Act section 70 notice in place that places a legal requirement on all people who were at locations of interest in Australia and New Zealand at the relevant times to follow the instructions regarding isolation and testing.
Current Numbers
One previously reported case has now recovered. The number of active cases in New Zealand is 28.

The seven-day rolling average of new cases detected at the border is three. The total number of confirmed cases is 2,382.

New border cases in New Zealand
Arrival date

From

Via

Positive test day/reason

Managed isolation/
quarantine location

14 June

Russia

United Arab Emirates

*Day 12 / routine

Auckland

14 June

Maldives

United Arab Emirates

*Day 12 / routine

Auckland

19 June

Philippines

Singapore

Day 8 / contact of a case previously reported

Auckland

24 June

Netherlands

United Arab Emirates

Day 1 / routine

Auckland

24 June

Oman

United Arab Emirates

Day 2 / contact of a case previously reported

Auckland

25 June

South Africa

Qatar

Day 1 / routine

Auckland

25 June

India

Qatar

Day 1 / routine

Auckland

25 June

South Africa

Qatar

Day 1 / routine

Auckland

26 June

Malaysia

Singapore

Day 0 / routine

Auckland

26 June

Full travel history is being obtained

Singapore

Day 0 / routine

Auckland
Contacts of Newmont's Granite gold mine case in Tanamin

A positive case of Covid-19 has been detected in the Newmont's Granite gold mine 350km north-west of Alice Springs in Australia's Northern Territory.

Health officials have been advised of two contacts who have travelled to New Zealand.

Both are in isolation and being tested according to the type of contact they had with the case at the mine. One has returned a negative test result already, and the result for the other individual is expected tomorrow. They will both undertake around day-five testing.

New Zealand health officials remain in contact with our Australian counterparts and are closely monitoring the situation.

Quarantine-free travel with Australia paused
Quarantine free travel between all Australian states and territories and New Zealand was paused at 10.30pm on June 25 and will remain paused until 11.59pm Tuesday, June 29. This decision will be reviewed tomorrow, says the ministry.

There are now multiple cases and outbreaks in Australia in differing stages of containment and the health risk for New Zealand in response to these cases is increasing, says the ministry.

Anyone who was in Australia from June 21 and is now in New Zealand, should be aware that the number of locations of interest are increasing and they should be checking these daily.
More on SunLive...