Bakery birthday boosts animal rescue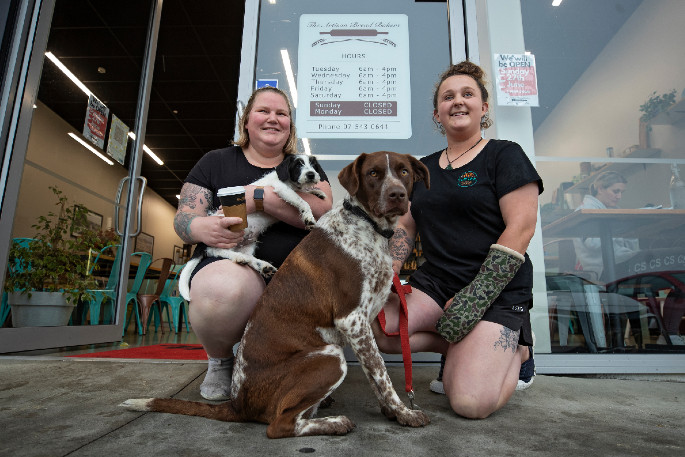 Bunnies and baps seem like an odd combination, but at the Rescue Rehome Revive fundraiser people will be able to meet a rabbit and grab a sandwich.
The Artisan Bread Bakers in Pyes Pa are celebrating their fifth birthday by hosting a fundraiser for the animal rescue organisation RRR early next month.
Bakery owner Brooke De Leeuw says they want to gather the community together to raise as much money as possible for the rescue.
Rowan Elliot of RRR says donations of cat or dog food, toys, blankets or any pet supplies are also needed.
RRR is a not-for-profit animal rescue that relies on donations, fundraisers, volunteers and foster carers to provide a safe haven for homeless and rescued animals.
All money raised on the day will go towards vet bills the organisation has. With 670 animals in their care, the bills are always high says Rowan.
There will be miniature ponies, lambs, guinea pigs and rabbits, as well as a bouncy castle and face painting.
Rowan says: "The animals are usually long-term care animals that we know really fit into those situations well, and enjoy the human interaction."
Tauranga City Council animal services team members will also be providing a $25 microchip service for dogs. Payments will be cash only.
"It's going to be a big, fun family event that brings our community together, where we can support a local business and a local charity organisation at the same time," says Rowan.
The Artisan Bread Bakers held the event last year and because it was so successful, they're doing it again.
They are donating 50 cents from every hot drink sold to RRR and are also running a raffle.
An animal food bank box has recently been added to the bakery so people can donate dry or canned animal food all year round, says Brooke.
"We celebrate our birthday every year and we love celebrating it with RRR," she says.
The birthday bash is at The Artisan Bread Bakers in Pyes Pa shopping centre, from 10am-2pm on Saturday, July 3.
More on SunLive...