Netball centre looks to the future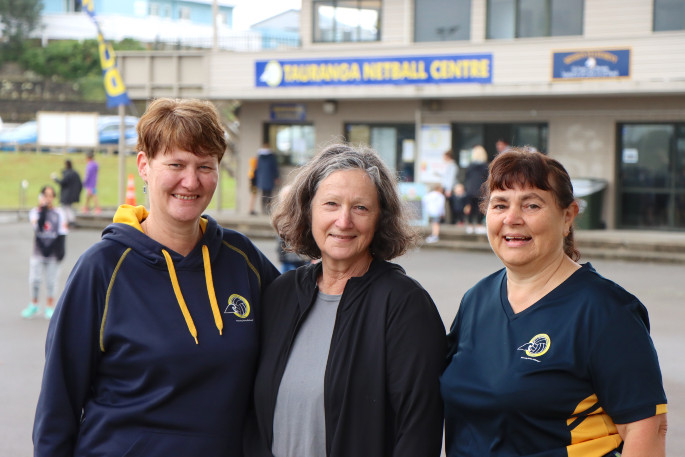 The name has changed, but the ethos remains the same at Tauranga Netball Centre.
Formerly Harbourside Netball Centre, the renaming aims to create a stronger identity and sense of place for players and the wider netball community.
In 1992 The Tauranga Netball Association and Mount Maunganui Netball Association amalgamated to form Harbourside. All games were then played at the courts in Blake Park, with the purpose-built pavilion opening a year later.
Countless players, parents, umpires, coaches and volunteers have used the centre, be it for one game or an entire netball career, over the last three decades.
Board chairperson Nicola Compton says it is those people who have made the organisation what it is.
"We have such a strong sense of belonging to the centre," says Nicola.
"We have a wonderful core group of volunteers that are like family, so for me that's what makes the centre special."
Annette Friel is part of that core group. She started playing for Tauranga Netball Association in 1977, so has seen all of the changes first hand. She is a long-serving member and although she no longer plays, she umpires, coaches and helps out in the office.
Annette says the game has grown hugely over the years, and the centre has gone from holding all games on Saturdays to having them three nights a week and on Saturday to accommodate all of the teams.
Her children also played and she gets a lot of joy seeing players' development over time.
"I just love looking at someone that you've seen from a little toddler going right through to being adults and playing still," says Annette.
"It's a pleasure watching them develop and better themselves, and just giving people a few little tips and seeing how they take it and run with it."
Ann Marie Wilson has been involved with the club since 2007 when 'No Exceptions Netball' was started by the late Helen Dodge.
Helen's vision was to ensure there were no barriers to netball for anyone, so the programme was formed for those with physical disabilities or learning challenges.
Ann Marie has been part of running the programme since its inception, and there are players still playing that have been there since the start.
She says they are the most amazing group of people to be involved with.
"They're so grateful, they're not demanding and they love what they do," says Ann Marie. "They've got a great sense of humour and they give everything a go."
Their parents' participation also makes No Excuses what it is, and when the parents play their children the competitiveness ramps up, she says.
The common thread for each woman is a love of the game and a desire to progress the sport.
More on SunLive...