BOP firm wins NZ workplace health and safety award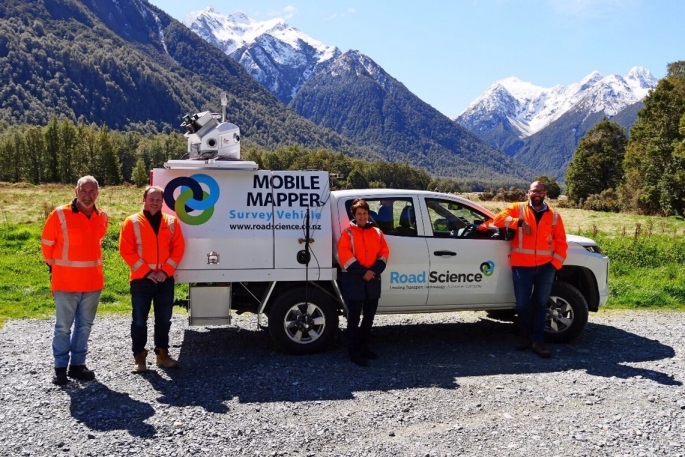 Working on New Zealand roads is now a whole lot safer thanks to Mount Maunganui-based firm Road Science who have devised a way to substantially reduce the time their staff spend standing in the road corridor.
The innovation saw Road Science's Mobile Data Capture Unit recently win a major category at the 2021 New Zealand Workplace Health & Safety Awards for the 'best initiative to address a work-related safety risk'.
Road Science staff often need to take measurements required for road maintenance programmes.
They typically used to survey one kilometre per day but a combination of new technology – one item of which is a high-tech mobile mapper, the only one of its kind in New Zealand – means 50km a day can now be surveyed from the safety of a vehicle instead of standing in the road corridor surrounded by traffic.
Road Science spokesman Richard Carter says he is incredibly proud of the dedication and professionalism the team display on a daily basis.
"This award is great recognition of the work that's gone into improving both safety and productivity outcomes," says Richard.
Road Science wanted to be proactive, rather the just compliant in their health and safety approach, so the company invested in a Leica Pegasus Two Ultimate (P2U) Mobile Laser Scanner from Switzerland which is a precise geospatial tool.
"The beauty of this machine is that it does a million scans a second while traveling at speed," says Richard.
"We've got it installed in the back of a ute. We drive down the road at 80km per hour and for the bulk of the tasks we do in transport and road construction, it picks up this same information, to the same – if not greater – accuracy than a surveyor.
"We can substantially reduce people's time spent standing in, and around the road corridor and therefore people's exposure to traffic hazards is greatly reduced."
Carter says by replacing outdated methods and work practices, the Mobile Data Capture Unit has revolutionised Road Science's business.
"In addition to speeding up the surveying process and reducing health and safety risks, the technology captures comprehensive information that can be re-used over and over again.
"You can go get all the roading information you need but you also get all the signposts, all the safety crash barriers, all the line marking, all the trees, and all the power line clearances.
"It saves having to send a surveyor out repeatedly to do different tasks," says Richard.
Transport Technology General Manager for Road Science Doug Carrasco says, while this technology is now available in New Zealand, its benefits will only be realised through increase in its usage.
"Road Science urges road, rail and port authorities to embrace this technology to achieve higher quality outcomes whilst eliminating risk to personnel," says Doug.
The P2U laser scanner can be used to scan sections of railway lines to help plan upgrades and to check tunnel clearances to ensure construction equipment will fit. It can also be used to build 3D model of any yards or port facilities.
More on SunLive...