Music with a higher purpose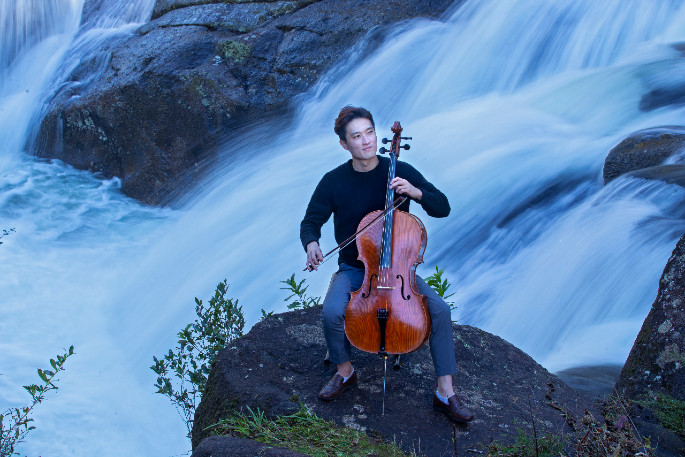 Returning to Tauranga has given Dominic Lee a new perspective on his music and his career.
The award-winning cellist had been studying and touring the United States when Covid-19 forced him to return home last year.
"I got to come back to my roots and think about my purpose as a musician," says Dominic.
"Instead of just my glory or my music just being exposed, I hope to make more of a community with my music."
The 23-year-old is starting this mission with a concert that aims to make classical music more accessible to everyone.
He has organised the New Zealand Cello Duo at Trinity Wharf on July 3.
Dominic and his former cello professor from the New Zealand School of Music, Inbal Migiddo, will play an intimate concert on July 3 at Trinity Wharf.
"It's a rare opportunity that she and I get to collaborate together," says Dominic.
Although they'll be playing traditional classic pieces, it isn't a typical concert format. Dominic will also interview three members of the community to hear their stories. His sister Anna Lee, an award winning violinist, will play a special performance as well.
"I hope to restructure classical music concerts, so that it becomes not just a fancy evening for classical music audiences, but an event where the community feels like they're a part of the creation of the concert," says Dominic.
The cellist aims to make New Zealand Cello Duo the first of many concerts, where he will invite musicians from around the country to play in Tauranga.
"I'm hoping to make an organisation where music is used for not just individuals' glory, but for a bigger purpose."
Dominic grew up surrounded by music, but started playing cello at the age of eight after visiting a friend of his mother. The normally energetic boy was awestruck when he heard the instrument and insisted he be allowed to play.
"Music was always in my house because my mother was an opera singer," he explains.
At age 12 he met Edith Salzmann, a cellist at the University of Canterbury who noticed his talent and nurtured it.
"She believed in my talent and my potential as a musician."
Edith connected him with a benefactor from London, who paid for him to fly to Christchurch for lessons most weeks for four years and for him to attended international competitions.
Dominic is the first person from New Zealand to enter the Valsesia International music competition in Italy, which he won at the age of 15.
The concert hall in Varallo flies flags from each of the countries that have entrants.
"They didn't have a flag of New Zealand," explains Dominic, "and when they heard that there was a competitor from New Zealand coming that's when they had to first purchase a flag.
"Now there's a New Zealand flag hanging in Varallo," he proudly admits.
At 16 the musician went to study at the New Zealand School of Music, and was later invited to study at the prestigious Eastman School of Music in Rochester, USA, at age 18.
Dominic has played in Carnegie Hall and had a vigorous touring schedule in the year leading up to his move home.
"Sometimes I would be performing in two cities in one day, so at lunchtime I'd be performing in Boston and in the evening I'd perform in Washington."
Despite his immense talent, Dominic remains humble and plays because of the impact music has on others.
"The thing that really keeps me going is how it affects people's lives," he says. "For some people it could be joyful and for some people it could be healing, but it affects people.
"The feeling I get from that is this unique gratitude and a lot of fulfilment."
During the evening concert the audience will also enjoy a short segment of cellist Dominic Lee interviewing locals impacting our community. Special guest MC of the evening will be Logan Craft.
The programme includes 'Bach Cello Suite 1' played by Inbal, 'Bach Cello Suite 3' played by Dominic, 'Melodie' by Tchaikovsky played by Anna and Maria Lee, and 'Passacaglia' by Johan Halvorsen played by Anna and Inbal. Following an intermission the programme continues with Conversations with Dominic, 'Barriere Duo' and 'Vivaldi Double Concerto' both played by the New Zealand Cello Duo, followed by 'God's grace' played by Dominic and Maria Lee.
New Zealand Cello Duo is at Trinity Wharf on July 3, and tickets are available online from Eventbrite or at Wang Tauranga Asian market.
More on SunLive...