$2.5bn BOP transport investment proposed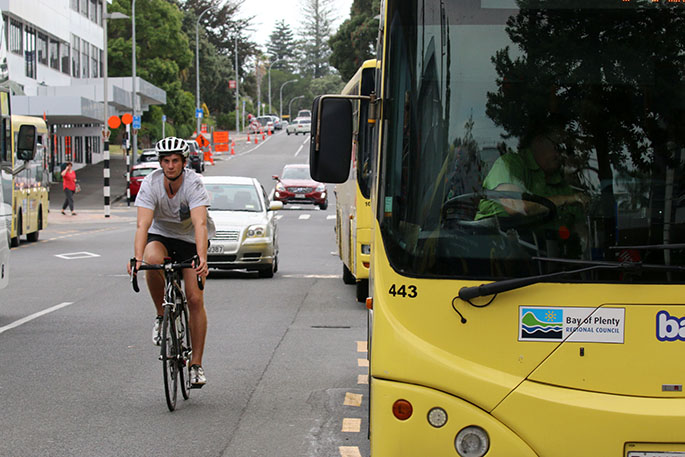 The Bay of Plenty Regional Land Transport Plan has been adopted by the Regional Council.
The RLTP sets out a ten-year sustainable transport strategy proposing $2.5 billion of investment in the region over the next six years.
Highlights of the RLTP include proposed investment in multi-modal transport activities including public transport, cycling and road safety.
There is also strong support for providing transport infrastructure and services to assist new development in the major urban areas of Tauranga, Rotorua and Whakatāne.
Regional Transport Committee chairman Lyall Thurston says the RLTP aligns closely with central government priorities and takes a system-wide approach to delivering transport investment.
"This approach entails investment to deliver compact, liveable and safe communities, where a choice of travel is available," says Lyall.
"There are significant pressures on the National Land Transport Programme budgets and the Bay of Plenty region must make a strong case for more effective transport solutions to meet our community aspirations."
Lyall says in many cases, this will involve reducing the need to travel and through better decision-making concerning where new development is located.
"The region has different problems to tackle with the western Bay undertaking recent strategic activity initiatives.
"As a result, councils across the sub-region now have a 30-year vision and outline programme of investment to address the growth challenges," says Lyall.
"Collaboration between the Western Bay councils, Waka Kotahi and iwi has been significantly enhanced through this work, and this RLTP sets out several priority activities which we would like to progress in partnership.
"Similarly in Rotorua and the Eastern Bay, councils are working collaboratively in the transport space both to tackle a range of deep-seated accessibility issues and address the more recent challenges of COVID-19," says Lyall.
One proposal in the Eastern Bay is improving Keepa Road between State Highway 30 and the Kopeopeo East Canal Bridge to cater for surrounding changes in land use.
A safety improvement package for SH5 South Rotorua has also been proposed.
Lyall says transport infrastructure is becoming increasingly vulnerable to the natural impacts of climate change; and that the role of maintenance and asset management is crucial in keeping the Bay of Plenty open for business.
"The Regional Transport Committee is grateful to iwi, council partners, Waka Kotahi and key stakeholders, including the Port of Tauranga and the Police, for their assistance in putting the plan together," says Lyall.
More on SunLive...