Plastic beads litter Bay of Plenty shores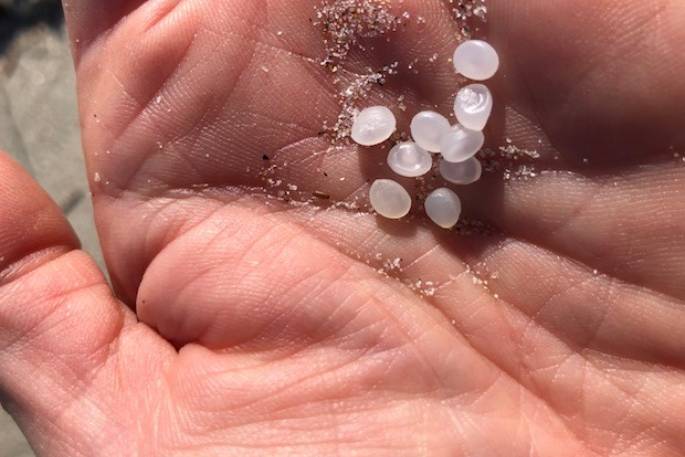 The plastic beads that were found scattered along Tairua beach last week have now made an appearance in Mount Maunganui.
Residents in the area have reported thousands of beads from the Papamoa area up to Omanu and on towards Mount Maunganui.
Omanu resident Willie Donovan was on his daily walk along the beach with his partner on Tuesday evening when he noticed the small beads.
The pair often pick up bits of rubbish during their walks, so were keeping an eye on the shore when they spotted the beads.
"It took us a while to see them but when we did, we could see a constant stream about 60 milimetres wide all along the tide mark."
"The beads are about the size of a match head and are translucent in colour," says Willie.
"It took a little while to see because they look like something organic such as fish eggs.
"I think I only noticed because I was looking for bits of plastic," he says.
Willie says because it looks so much like an organic component he is sure the sea birds and fish will be ingesting it left right and center.
Bay of Plenty Regional Council compliance manager, Stephen Mellor says the regional council's 24/7 Pollution Hotline received reports of plastic beads along Mount Maunganui beach following the recent storm.
"We have previously had similar reports along the coastline from Tairua to Papamoa beach," says Stephen.
Stephen says the cleanup process begins with reaching out to the Astrolabe Community Trust – the Rena resource consent holder – which has a Shoreline Debris Management Plan in place to address situations like this.
"When we receive reports of plastic beads within our region via our Pollution Hotline, we send a compliance officer out to investigate.
"We send all information we gather to the Astrolabe Community Trust who are responsible for further investigation, coordinating clean-up, and administering the Shoreline Debris Management Plan.
"Any reports outside our region are coordinated through the Astrolabe Community Trust," says Stephen.
"We have been advised by the Astrolabe Community Trust that plastic beads have been a persistent problem in the marine environment for a long time, including before the Rena shipwreck.
"Whilst it is unknown what the source of the beads are, the Rena was carrying a container of plastic nurdles when the ship grounded off the Bay of Plenty in 2011.
"However, given the beads are commonly noticed on the same beaches at the same locations during the winter season, it is more likely that the plastic beads have become exposed with beach erosion rather than washing ashore from the wreck itself," says Stephen.
Anyone who finds plastic beads along the coast to call our 24/7 Pollution Hotline on 0800 884 883.
It is most helpful if people can also provide us with a photo so we can estimate the volume of beads and send a compliance officer out to investigate, says Stephen.
More on SunLive...