Over $100,000 fines for BOP tyre dumpers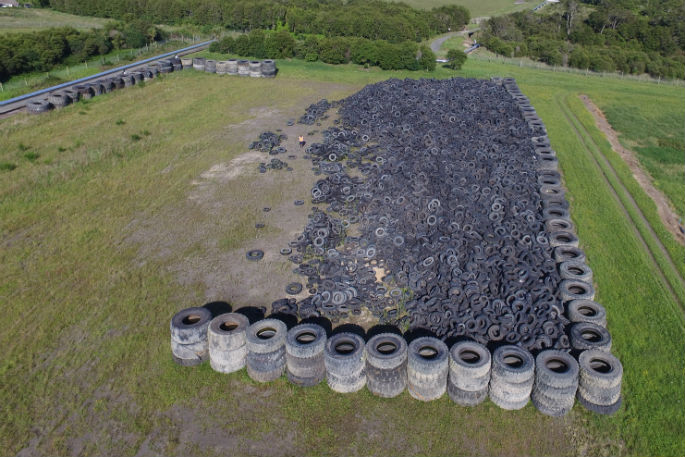 The trio behind a failed tyre recycling venture have been ordered to pay more than $100,000 for breaches of the Resource Management Act.
The decision brings to an end an almost six-year legal tussle over more than 2000 tonnes of old tyres.
Father and daughter Alan and Angela Merrie and Jonathon​ Spencer, appeared at Tauranga District Court on Wednesday for sentencing.
All three had earlier pleaded guilty to contravening or permitting contravention of an enforcement order under the Resource Management Act.
The Merries were each sentenced to 190 hours of community work, and a fine of $25,000 each.
Spencer was ordered to pay a fine of $29,750, plus $25,000 in court costs.
Their sentencing hearing took place on May 26 this year, but Judge Prudence Steven reserved her decision until today, which she delivered via AVL.
The trio are all former directors of EcoVersion, a company established back in 2014 with the aim of recycling tyres.
The Merries were both at Tauranga District Court for the sentencing on Wednesday, while Spencer appeared via AVL from Auckland.
The saga began in 2015 when Hamilton City Council awarded a $280,000 removal contract to EcoVersion Ltd to take 150,000 tyres from the failed Frankton Tyre Yard.
EcoVersion failed to make good on its promise to start a tyre-recycling business in Kawerau and tyres started piling up with no recycling occurring.
In March 2018, EcoVersion was ordered by Judge David Kirkpatrick to remove tyres from Jason Hubbard's yard in Kawerau.
They were required to be lawfully disposed of no later than April 30, 2018.
"That did not occur, and charges were filed," said prosecutor Victoria Brewer.
At the May sentencing hearing Brewer said the offending was "more than a technical breach of an enforcement order … [it was] a court directive, not an invitation".
"This case highlights the difficulty end-of-life tyres pose for New Zealand, it isn't easy [to dispose of them] and it's expensive."
The summary of facts revealed that in May 2015 EcoVersion shifted approximately 900 tonnes of tyres from Hamilton to a site in Waihi, the remainder being sent to Taupo for "farm use".
In August of 2015, Bay of Plenty Regional Council issued two separate abatement notices requiring the company to cease depositing tyres at the Waihi site, and to remove the tyres to an authorised landfill or storage facility.
Similar abatement notices were also filed in respect of a Kawerau site, all with a November 1 2015, deadline.
"Despite the abatement notices requiring all of the tyres to be removed from the Waihi and Spender Avenue [Kawerau] sites by November 1 2015, as at March 31 2016, approximately 900 tonnes of tyres remained at the Waihi site (no tyres having been removed from that site) and at least 1200 tonnes remained at Spencer Avenue site," the summary says.
This failure led to prosecutions and guilty pleas to contravening the abatement notice and, at their March 2018 conviction for these offences, Kirkpatrick made a series of orders, including the removal of all the Kawerau tyres no later than April 30 2018.
"On May 2 2018, a regional council enforcement officer carried out an inspection of the Hubbard [Kawerau] site," the summary says.
"The enforcement officer observed that there appeared to have been no removal of tyres from the site since the officer's previous inspection of the tyre stockpiles on December 18 2017."
The Merries' lawyer, Craig Tuck, says his clients were not "shying away" from their non-compliance, but told the court "context is everything".
He says they believed they would have been able to comply with the court orders on the assumption "funding would arrive to do what's right".
"And that didn't happen," he says.
"(It's) simply a regulatory offence, not a criminal matter … and it happens to the best of people and the best of companies," Tuck says.
Catherine Harold, defence lawyer for Spencer, says her client had spent $50,000 to have tyres disposed of, and that he was someone who "cares deeply about the environment".
She also says her client was the only one to take steps to remove tyres.
More on SunLive...