Council clarify Links Ave plans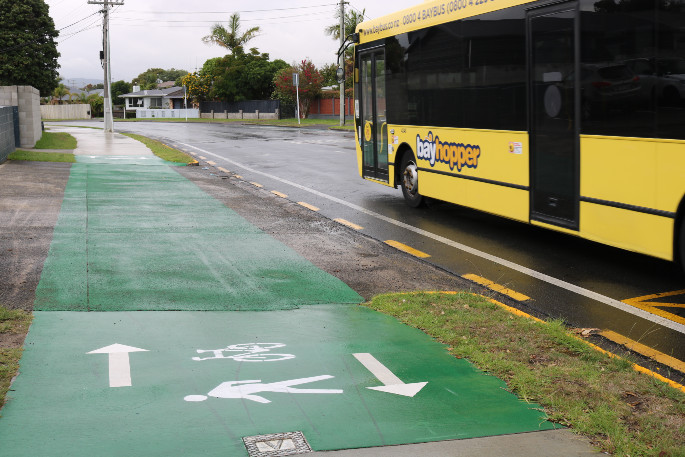 Tauranga City Council have clarified their plans for the potential trial implementation of a cul-de-sac on Links Ave.
They have confirmed that consultation with the wider public will be undertaken before any changes are made on the road, permanently or on a trial basis.
Commissioners unanimously approved the recommendation and tasked council staff to undertake consultation with the wider community on the recommendations of the report, and set aside $400,000 in the Long Term Plan budget to undertake an Innovative Streets style consultation regarding the trial of the recommended solution.
However, the report presented to council mentions a trial could be run alongside consultation if it expedites safety improvements.
That, however, according to Tauranga City Council director of transport Brendan Bisley will not be happening.
"In an Innovative Streets style consultation, council works with the community and users of the street to get an outcome that meets the community needs while achieving the safety outcomes," he says.
"In relation to Links Avenue, a reduction in the overall traffic volume is the only solution that will improve safety for vulnerable users on the streets, and one of the options to achieve this is a cul-de-sac."
Council state that the consultation process may develop alternative solutions that are preferred, and these would be considered before anything is implemented onsite in Links Avenue.
"If the cul-de-sac was the preferred option after consultation, it can be implemented as a trial and the impacts assessed before a final solution is put in place," says Brendan.
Brendan admits that a cul-de-sac would potentially have a knock-on impact across the wider road network but that safety along the road, which is the location of Mount Maunganui Intermediate School, is of paramount importance.
"A cul-de-sac is a solution that will reduce the traffic volumes and improve safety for vulnerable users such as the school children that walk and bike along Links Avenue," says Brendan.
"A cul-de-sac improves safety, but does impact on the surrounding network, particularly the traffic that currently uses Links Ave as commuter through-route."
Consultation will begin later this year, and if anyone is interested in what is happening in this area they can find more information, or sign up for the regular ENews, at www.tauranga.govt.nz/arataki.
More on SunLive...