Getting Tauranga basketballers across the line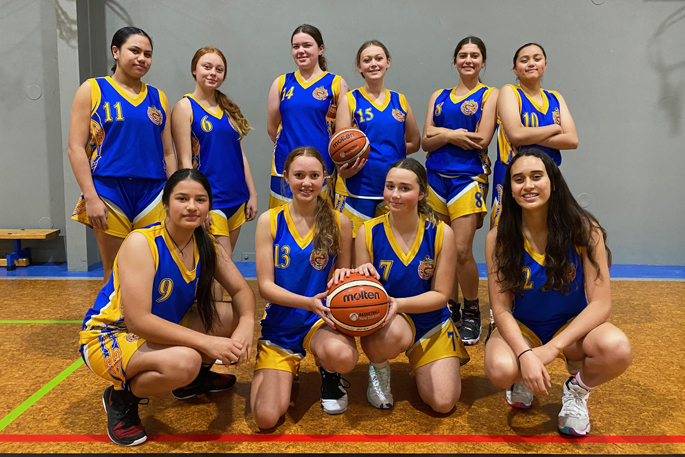 "Every girl in the team dreams of being in the Tall Ferns or the WNBA, we just want to help them each step of the way."
These are the words of Tauranga mum Michelle Smith, who is thrilled that both of Tauranga City's under 15 girls' basketball teams have qualified to represent the city at the nationals in Auckland in July.
The A and B teams have made the grade, yet for the B team's parents it came as such an unexpected qualification, they knew it would be a struggle to raise the necessary funds at such short notice.
Michelle, mum of Miriana, one of the B team players, was determined to help after hearing that some of the players might pull out because they couldn't afford the $6,000 needed for the team to head away.
"I didn't want the girls in the B team to miss out. All the girls in both teams have worked so hard. It's just the A team knew that they would probably qualify, and therefore knew there would be a hefty cost coming up, but B Teams don't usually qualify, so now we have to scramble to make sure all the girls can make it. We are not going to leave anyone behind."
Michelle's friend, Lavina Good, a former TV sports journalist and huge basketball fan, stepped in to help. Lavina and her husband Brendon own Brookfield New World and they are holding a 'Goal-a-thon' fundraiser at the supermarket this Saturday.
They are inviting the community to shoot hoops and to go into a draw to win prizes, including a signed top by New Zealand's basketball star, Steven Adams.
The girls' team will take turns being there over a 12-hour period shooting for goals. They can tag in family, friends and members of the public to take shots to sponsor them to complete 12 hours of continuous goal shooting, says Michelle.
Other prizes include shopping hampers donated by New World. Michelle's employer, PMG Funds has also stepped in along with one of the dads, Wayne Beilby and his company, Pacific Advisory Group, donating $1300 to the B team for their named hoodies and sports bags.
Other locals are also getting involved, Katy Martley, a lawyer and co-owner of Brewbus Craft Beer tours with Lavina has helped organise Saturday's event.
"Katy and I have worked together in other fundraisers like the Ladies Long Lunch. She is a great organiser and passionate about supporting young people in our community," says Michelle.
When Michelle broke the news at the weekend to the team about the fundraiser, they were overwhelmed.
"Parents were so grateful for the support, especially from Lavina, Brendon and Katy, who haven't even met the girls, but who felt so determined to help."
Player Nevada Morunga, 13, from Tauranga Girls' College says the team appreciates the support.
"I love playing basketball not just for the fun of the sport, but for the friendships we have made," she says.
"I've learned so much - to listen to the coaches, to take feedback on board and to work as a team. While the B teams might not always qualify, deep down we clung on to the faith we had in ourselves as a team. Yes some of our wins were happy surprises, and we are just so excited to get through to the nationals.
"We would love the community to come down on Saturday to support us and our whanau. We are so grateful, thank you."
Lavina says everyone is welcome on Saturday to join the fun and support the girls.
"We are still looking for corporate legends to either sponsor or donate to the girls, so don't be shy, come on board and get the girls across the line.
"I know personally that sport empowers young people to stay on the right track in life.
"Any investment in supporting kids who might otherwise not have the chance has endless payback for the community," says Lavina.
The Goal-A-Thon is being held at New World Brookfield on Saturday, June 26 from 7am to 7pm.
More on SunLive...