Innovation awarded at Fieldays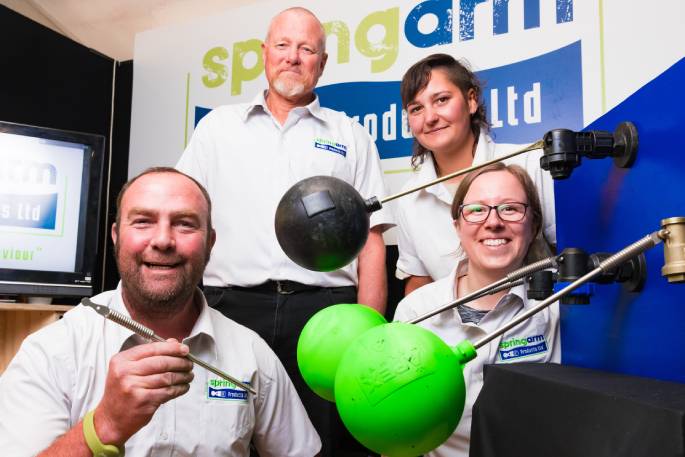 With more than 130,000 people attending the 2021 Fieldays event last week many people got to have a look at some of New Zealand's best innovators.
The entrants, however get the chance to connect with industry professionals, investors, and corporate decision-makers, and test their innovations with a highly targeted audience.
This year's award categories were suitable for innovations at various stages of their life cycle, from new innovations to commercialised innovations already well-established in the market.
Winner of the Prototype Award, Springarm Products Limited, achieved the seemingly impossible: inventing a ballcock arm that won't break.
Instead of snapping when put under pressure, the Springarm flexes, saving farmers water, time, money, and stress.
Director of Springarm Products Limited, Marianne Awburn says when they were announced as a winner on the awards night, they were totally gob smacked, and completely floored.
At the Fieldays Innovation Hub they received non-stop positive feedback from farmers coming through who've been facing water supply issues for a long time.
"We've just watched all of these people come in and seeing the relief on their faces because there's a solution to their problem they've been facing for so long.
"Some of the older generations of dairy farmers have come in and said, 'Why didn't you invent this when I still had my farm?'"
Marianne's husband and the inventor, Ric Awburn, was standing at the empty trough one evening on the farm he manages.
He was observing the cows nudging the ballcock, and the arm would just snap. He thought, "if only it could give a little."
Two years later, Springarm Products Limited have developed a durable and reliable ballcock arm that's easy to install – they call it the farmer's little saviour.
Cropsy Technologies are taking home two Fieldays Innovation Awards: the Early Stage Award and the Young Innovator's Award.
The team of young engineers, Leila, Ali, Rory, Winston, and Hank are innovating in the crop analytics space with their scalable AI enabled hardware.
Co-founder and COO, Leila Deljkovic says getting their name out there and sharing the work Cropsy's been doing in the Fieldays Innovation Hub was amazing.
"Seeing all the other things going on is so cool, there's a lot of researchers here and it's all cutting edge innovation. We've been enjoying networking and connecting with people that we could potentially work with."
Leila says the idea started with Ali's internship at a hydroponic organisation where he was researching the pain points for growers.
"Growers can't monitor every vine in their vineyard, and they don't have the resources to," Leila says.
"Being engineers we thought, how can we help?"
What's resulted is a camera with machine learning that looks out for disease, counts bunches of vines, detects missing or dying vines, and anything that's wrong with the plants. Attach it on the front of a tractor, and you're good to go.
With Cropsy's innovation, growers can minimise crop loss, estimate yield to improve supply chains and replant with precision.
"Getting our name out there and sharing the work we've been doing has been amazing," says Leila.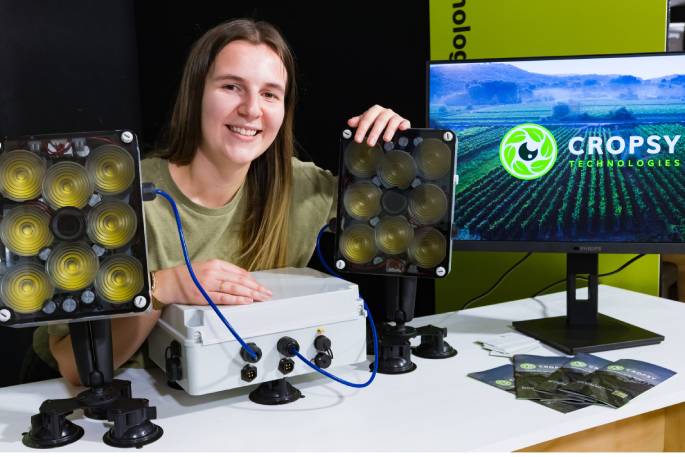 Cropsy Technologies are taking home two Fieldays Innovation Awards: the Early Stage Award and the Young Innovator's Award. Supplied photo.
Cropsy is currently trialing with large enterprise wineries, including Pernod Ricard Winemakers, and is looking for pilot partners for commercial deployment next season.
At the Innovation Hub, the British High Commission team at the IGS Limited stand was passionately chatting to the public about the Growth and Scale Award winner's game-changing innovation.
Based in Scotland and the United States, IGS Limited couldn't make it to New Zealand this Fieldays due to border restrictions, but were excited to take part, nonetheless.
IGS Limited has taken vertical farming technology to new heights with their Growth Towers. The vertical farm-in-a-box is Internet of Things enabled and is powered by a 3-tier intelligent system to deliver Total Control Environment Agriculture.
It has the potential to deliver maximum yield with quality and consistency, using 50% less energy and 80% less labour.
Although IGS Limited couldn't attend Fieldays in person this year, they say they have been superbly represented by the British High Commission and the Department for International Trade.
IGS Limited CEO David Farquhar says they were very proud to receive the award and that the potential of their product to enhance and enable sustainable, local food production is being recognised.
"We were delighted to receive this prestigious award. The recognition which comes from Fieldays, and particularly the vast and experienced agricultural and food producing communities within New Zealand is very significant," says David.
"The New Zealand market presents an interesting opportunity for IGS as experienced farmers and growers consider opportunities to diversify their agricultural approaches and consider new and innovative technologies to enhance their future sustainability."
If you've got an innovation that you'd like to share for the Fieldays 2022 Innovation Awards, email marketing@fieldays.co.nz.
More on SunLive...