Links Ave cul-de-sac gets go ahead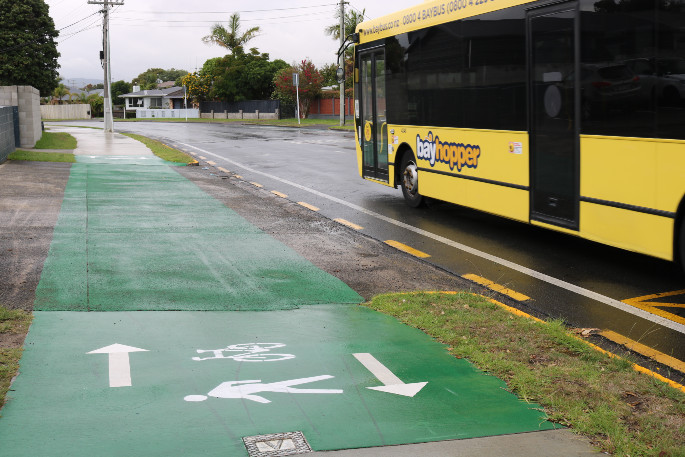 Tauranga City Council will push ahead with plans to trial a cul-de-sac traffic system on Links Ave after commissioners approved the recommendation at a council meeting today.
This is despite an admission from commissioners and Council that the implementation will have a detrimental knock-on impact to other roads in the area, such as Maunganui Road and Oceanbeach Road.
Commissioners unanimously approved the recommendation and tasked council staff to undertake consultation with the wider community on the recommendations of the report, and set aside $400,000 in the Long Term Plan budget to undertake an innovative streets style consultation regarding the trialling the recommended solution.
The decision comes after a safety review into transport along the road identified it as the only viable option to measurably improve safety with a "tangible risk" currently present.
Safety concerns have previously been raised from residents along Links Ave, which is home to Mount Maunganui Intermediate School.
Commission chair Anne Tolley says she is a regular witness to the rat run traffic along Links Ave and admits the decision may mean extra minutes to her own commute. However, if it means a safer road, especially for school children, she believes the sacrifice is minimal.
"The safety of those kids is paramount and it gives us the opportunity to trial some things," she says.
"I am a motorist who uses those roads every day and, quite frankly, if it costs me another four minutes or five minutes to get to work as against the serious injury or the life of a schoolkid I'll take the extra time.
"I think most reasonable people will do that."
Brendan Bisley, Tauranga City Council director of transport, admits finding a solution is not easy but that reducing traffic volume along the route is the only viable option.
Removal of the bus lane, as some residents have previously suggested as a solution, would not have the desired impact, he says.
Commissioner Stephen Selwood agrees with the direction being taken and echoes Tolley's view that safety must be the paramount consideration.
However, he admits that the response from some in the community could be "vociferous" in opposition.
"The issue of a five or ten minute delay on neighbouring roads (is) a key consideration though, so we also need to understand the views of the users on that corridor."
He also states the situation is one of those that is "impossible" with "no answer that works for everyone".
Shadrach Rolleston highlights that Links Ave is not an arterial road and is a residential area.
"People live on these streets," he points out.
"They are not arterial roads. People live here and children go to school here.
"We are trying to put this community first while we have got wider issues across the network."
Tolley suggests the issue may help highlight the traffic problems Tauranga currently has with Waka Kotahi NZTA.
Per the report presented to commissioners, any trial could be implemented quickly.
However, council have confirmed that the trial will not be implemented without the consultation with the community commissioners have approved.
The recommendation to commissioners highlights a trial period would be likely to last at least six months.
Traffic is likely to increase along Maunganui Road and Oceanbeach Road as a consequence of the cul-de-sac on Links Ave, with council predicting an additional 2000 vehicles per day on each road.
Installation of a permanent cul-de-sac could cost an estimated $500,000 to $1 million, dependent on its location, according to a council staff report.
Other actions currently in progress to improve the safety along Links Ave include the recently approved heavy vehicle ban in some Mount Maunganui residential areas, the installation a 30km/h variable speed zone in the vicinity of Mount Maunganui Intermediate School and an additional pedestrian crossing on Golf Road.
More on SunLive...