Tauranga plan submissions jockey for position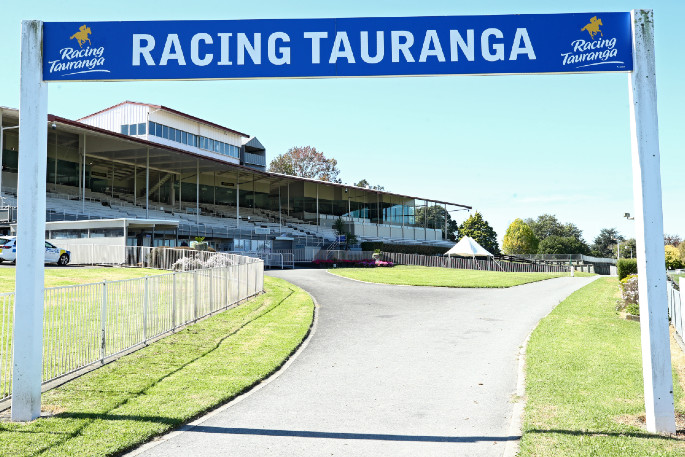 Tauranga Racecourse Reserve has once again become the subject of a tug-of-war between those that wish to see the site repurposed for housing and a team looking to finally secure its future as one of New Zealand's favourite facilities.
Opposing submissions were registered with Tauranga City Council ahead of their Long Term Plan deadline earlier this month – a process aimed at ironing out budgets and cementing plans for the next decade.
And not for the first time, the Cameron Road site in Greerton has divided opinion.
Its inclusion in council's Te Papa Spatial Plan in September last year saw the Crown-owned Reserve, which includes neighbouring Tauranga Golf Club, name-checked as a "key project" presenting "opportunities for other uses such as comprehensively-developed housing".
Among the voices both for and against such proposals were former TCC councillor Heidi Hughes, who backed plans to regenerate the 34ha site, and Racing Tauranga chairman Carl McComb, who was vehemently opposed to any future development and subsequent relocation of the racecourse.
Both have now thrown their weight behind submissions that are directly opposed when it comes to the long-standing future of the Reserve, which has been home to horseracing in Tauranga in one guise or another since 1873.
A coalition of stake holders in the Tauranga Recreation Ground and Racecourse Reserve, including Racing Tauranga, Ngai Tamarawaho and Tauranga Golf Club, has placed a 12-page submission before council outlining its background and historical context.
"The purpose of this submission is to confirm this land is preserved in perpetuity for use as intended, as a recreational reserve to be enjoyed by the inhabitants of Tauranga city, its wider environs and Tangata Whenua," it reads.
"The land has strong cultural and historical connections to Tauranga and forms a cornerstone to the heritage of the community and represents a substantial investment as part of Tauranga's recreational and amenity resources."
The document goes on to urge council to reconsider its inclusion in the Spatial Plan, and encourages the authorities to "remove any reference that describes the land as anything other than a permanent and historically significant reserve for public amenity purpose".
In contrast, Heidi Hughes' submission argues the opposite, heralding Tauranga Racecourse as "an ideal location for a new community," and calling it the "best greenfield opportunity in Tauranga to fast-track much-needed homes".
It also outlines objectives that would deliver "around 1800 new homes with space for an intermediate and high school".
"This community would be surrounded by park/golf course with easy access to existing amenities, employment and transport connections," it says.
Submitted under the name Greater Tauranga, the plan – which forms part of a larger document titled Five Projects Towards a Sustainable City – then suggests that council should "begin work immediately with Tauranga Racecourse and government to investigate the location of a new regional racing and rural multi-activity venue".
"This isn't about demonising racing, it's all about solving a housing crisis," Heidi tells The Weekend Sun. "I know there's two sides to this, and I completely respect their history and absolutely understand why they're digging their toes in.
"I have nothing against the racecourse or the racing community – this is to do with the reality of the opportunity that sits within that site. In my view it's a rural activity that has inadvertently become placed in the middle of our city.
"This is an enormous opportunity for something purpose-built and exciting for the racing community, and something that is future-proofed. I'm no racing expert, but people have discussed Paengaroa because it's rural, close to Te Puke and on a rail line which has a future for passenger rail.
"There's the opportunity to develop the racecourse site, and by doing that you would accelerate all sorts of things that would easily bring us up to 3000-4000 houses within the next 10 years."
One of the stand-out components of the Racecourse Reserve's submission, however, points to the level of investment that has already been poured into the site from a racing perspective as well as the golf course and Tauranga Equestrian Sports Association.
Wider facilities also contribute by way of the Event Centre housed within the racing club's buildings, with community events, conferences, trade shows and seminars racking up an annual attendance of 100,00 on top of the 12 race meetings held each year.
"What we have currently is an invaluable venue with a long list of varied and invested users," says Carl. "It is a vital piece of Tauranga's make-up and an irreplaceable facility in our city.
"The upkeep of the Reserve is fully funded by the users - not a cent of council money contributes to this.
"We very much see ourselves as an asset both to the racing community as well as the wider community here in the Bay of Plenty - a self-funded asset.
"This city already has a significant shortage of venues, and there's no way we should be considering the loss of another for what we see as quick-fix housing.
"There's still lots to resolve, but we feel reassured that the right decision will be made. Hopefully the cultural and historical significance of the Reserve is recognised when hearings begin, and the right decision is made."
Submission hearings are now underway and will last until the end of this week, with deliberations set to begin from Monday, June 21.
The 2021-31 Long Term Plan will then be adopted by July 30.
More on SunLive...