PMG to purchase Tauranga's Bethlehem Town Centre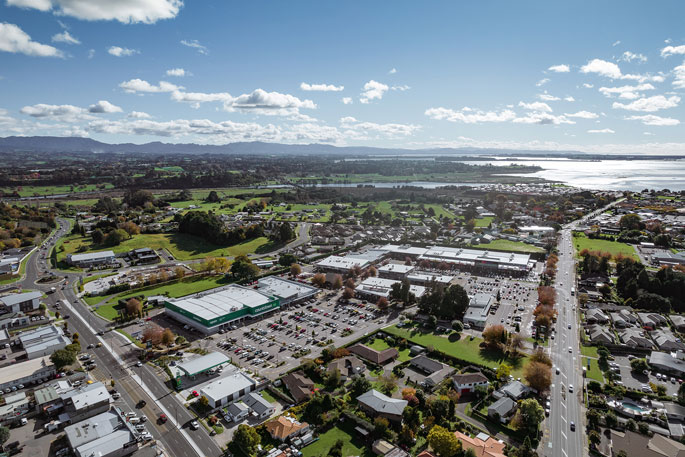 Kiwi investors have the opportunity to invest in one of the Bay of Plenty's most high-profile commercial properties.
PMG has contracted, on behalf of PMG Generation Fund, to purchase Bethlehem Town Centre.
PMG chief executive officer and director, Scott McKenzie, says the acquisition by PMG's Generation Fund means this popular and high-performing large format retail centre will now be owned by New Zealand investors.
"We are particularly excited to be providing New Zealanders, including Bay of Plenty residents, the opportunity to invest in their own backyard and in a high-quality and well-known property at the heart of one of Tauranga's fastest-growing suburbs," McKenzie says.
PMG is one of the most established property funds managers in New Zealand and was founded in the Bay of Plenty in 1992 by Denis McMahon, who is still involved as Chairman of the Board at the company today. PMG now manages five unlisted funds with commercial property assets worth over $750 million.
PMG's connection to Tauranga, and more specifically Bethlehem, is further strengthened by Non-Executive Independent Director Dr Wayne Beilby's connection to the area.
"Bethlehem, or Te Paeroa as it's known to local iwi, is in my own backyard, my rohe, and I'm thrilled that PMG is set to secure such a promising asset to our Generation Fund. Not to mention, the Generation Fund is a good fit with tikanga Maori and our kaupapa of inter-generational investment," Beilby says.
PMG's Generation Fund offers a mix of industrial, retail and office properties, and is designed to enable access to quality commercial property for everyday Kiwis.
"New Zealanders appreciate the security of land, bricks and mortar; however, growing regulatory and tax headwinds for the residential property market is now making commercial property a more sought-after investment option," McKenzie explains.
"Historically low interest and term deposit rates mean investors are actively looking elsewhere for compelling returns, and post-Covid the commercial property market is stronger than ever, providing a source of secure and steady income."
Denis McMahon says the purchase of Bethlehem Town Centre aligns with the company's strategy to acquire quality, well-located properties that are leased to reliable tenants.
"As a long-term investor, we are always looking to acquire assets that will stand the test of time due to their location, build quality, lease profile and their ongoing attractiveness to quality tenants," McMahon says.
"Bethlehem Town Centre satisfies all those criteria."
The large format retail property comprises 54 tenants including Kmart, Countdown, BP, Smiths City and Chemist Warehouse – several of which are essential services.
The centre has 21,006sqm of total floor space and just under 100,000 people were living in the main trade population area as of June 2020.
McKenzie says thanks to ongoing development at The Lakes and future growth expected at Tauriko West and Smiths Farm, that population is estimated to reach almost 115,000 by 2033.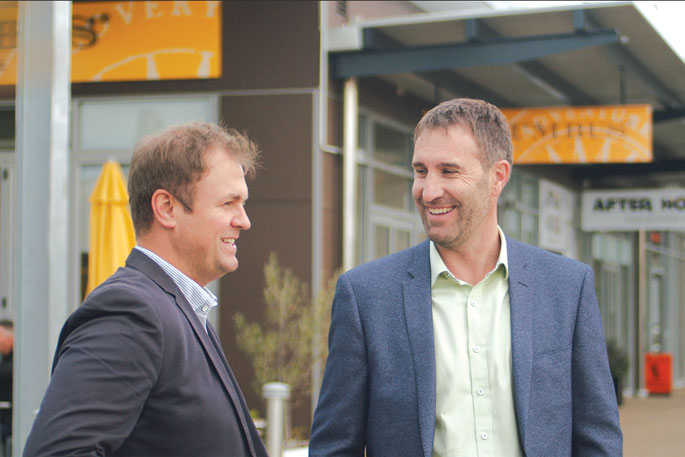 McHardy, left, and Scott McKenzie at Bethlehem Town Centre.
McKenzie says PMG has witnessed growing demand in the past 12 months, with its last two offers fully subscribed in record time.
Those interested in PMG Generation Fund's offer, expected to open on 9 June 2021, can download a Product Disclosure Statement free of charge by visiting pmgfunds.co.nz or by contacting PMG's Investor Relationships Team.
PMG's Generation Fund offers a mix of industrial, retail and office properties, and funds raised during the offer period will be used by PMG Generation Fund to acquire an industrial property at 11-13 Gough Street in Seaview, Wellington and the high-profile Bethlehem Town Centre in Bethlehem, Tauranga for a total of $107.6m.
Applications to acquire units must be received no later than 5pm on July 29 (or earlier if fully subscribed).
This offer is not available to investors outside of New Zealand.
More on SunLive...