No gloves needed for mental training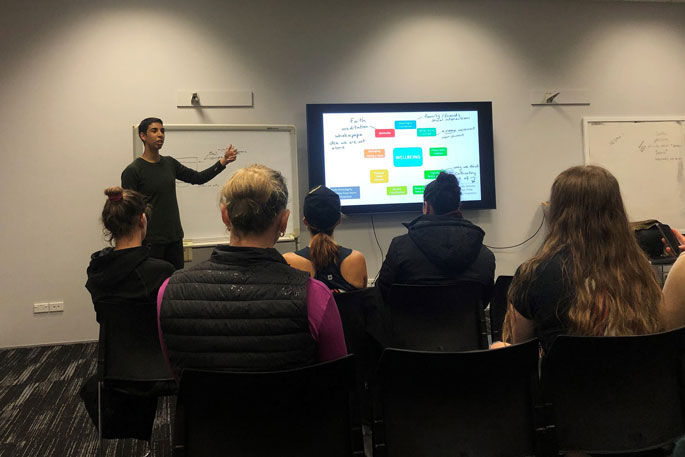 Olympic Boxer and Commonwealth Games bronze medallist Alexis Pritchard is trading her gloves for a microphone.
The professional boxer turned public speaker is now sharing how important it is to be mentally strong, as well as physically strong, as an athlete.
Alexis, who is now a mind set and performance coach, shared her story with some of Tauranga's young aspiring athletes at the Adams Centre for high performance on Monday evening.
The seminar did not focus on the wins Alexis has encountered over her professional boxing years, but on the mental state she kept throughout.
"Sustained successful performances start with a solid base of self," says Alexis.
"That is, who you are beyond the athlete."
The 37-year-old started boxing at 19 after moving to New Zealand from South Africa.
She first picked up the gloves to get fit, but soon fell in love with the sport.
"I fell in love with it the moment I hit a boxing bag and then I just kept going back every day for sixteen years," says Alexis.
She says it was the idea of mastery that kept her going and not the idea of following trophies.
"Boxing took me all over the world but that is not the reason I kept going.
"It challenged me mentally, emotionally and physically and that's what I kept going back for – that challenge," she says.
A great challenge for Alexis was coming to terms with a loss at the 2014 Common Wealth Games.
"I was so consumed by the athlete achieving, medalling and being a favourite at the Common Wealth Games but in the end I completely bombed out," says Alexis.
"I came 14th out of 14 and I was so attached to the fact that I failed that it took me a long time to realise that I wasn't a failure and that I had just done something that didn't work out.
"I had an opportunity to do it again and to do it better," she says.
"I didn't learn this until later on in my career and I really wish I had some guidance early on to figure this out," says Alexis.
"If you don't work on your mind state, going out and doing hard things will leave you empty."
Alexis went back to the Common Wealth Games four years later and brought home a bronze medal.
After 16 years, Alexis retired from professional boxing due to achieving three goals she had set her mind to.
These goals were not to do with glory, trophies or wins but they were to do with her sense of self.
"In my last fight I was courageous, I was fearless and I was joyous.
"It's a beautiful journey and you never know where it will take you," says Alexis.
More on SunLive...