Further arrest related to Operation Spyglass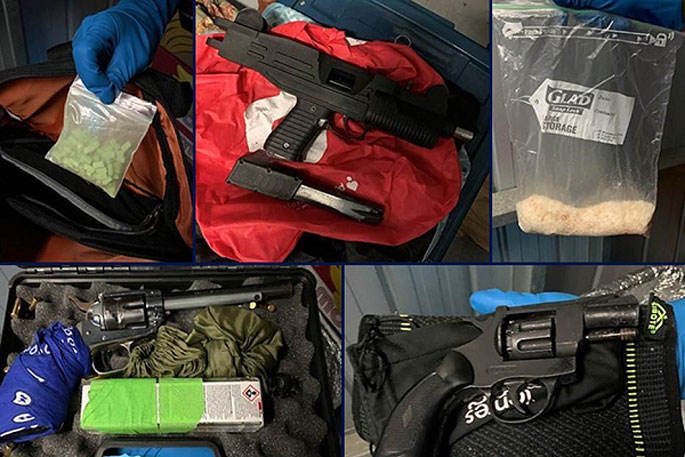 Inquiries have continued in relation to Operation Seltos, Van and Equinox, as police track down further evidence linked to these organised crime investigations.
In respect to Operation Seltos, police executed a warrant at a Manukau storage locker seizing six revolvers, a glock pistol, an Uzi submachine gun and ammunition.
Every gun like these that police take out of the hands of gangs, makes our communities safer, says Detective Superintendent Greg Williams.
The firearms were found along with about half a kilogram of methamphetamine and yet to be identified tablets.
These items were located alongside a Head Hunter motorcycle gang patch and gang clothing.
A 27-year-old man was arrested and charged with unlawfully possessing the firearms.
He appeared in the Manukau District Court on Friday.
Further charges in relation to the seized property are likely.
"Post the Operation Spyglass termination that took place on Monday, June 7, police have executed a number of search warrants, including at the headquarters of the Waikato Comancheros gang where four motorcycles were restrained," says Greg.
"As of Friday, more than five million dollars in assets and cash has been restrained.
"This figure is updated from the initial $3.7 million calculated on Tuesday, June 8.
"To date, in relation to Operation Spyglass, a total of 36 people have been arrested and charged with a wide range of serious drug, firearms and money laundering offences.
"Police will continue to target organised criminal groups and those who are in possession of unlawful firearms.
"We want to ensure our communities are resilient and feel safe.
"As the operation is ongoing, police are not ruling out further arrests, restraints or charges.
"As there are now people before the court, police are not able to comment further."
More on SunLive...