Tauranga Synchro's close-knit community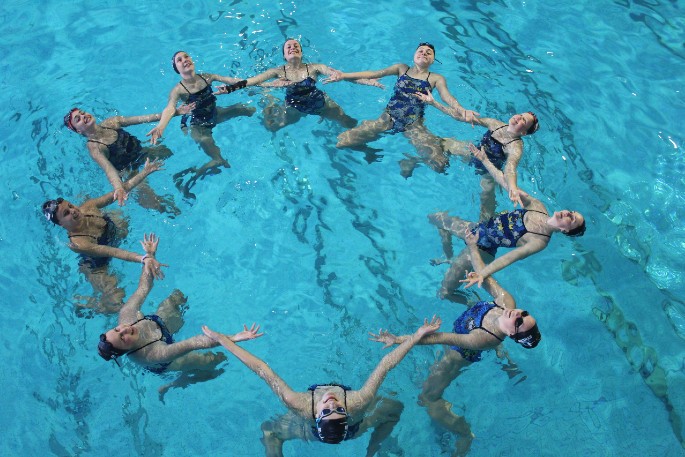 Connecting art, dance and a water sport results in the delightful combo known as artistic swimming.
Previously called synchronised swimming, this activity has taken off in the Bay with many joining in at Tauranga Syncho, which trains at Baywave.
For those who want to join a club, it's a perfect niche sport that may also suit the more 'non-sporty' kids. Newcomers are always welcome to come and have a go and find out more.
"Many of the swimmers who try artistic swimming are 'non-sporty' types," says Tauranga Synchro chair Kate Boyt.
"We hear many stories from our parents who have struggled to find a sport that suits their child. Many of our athletes don't think of it as exercise – it's just having fun - which is a win-win for frustrated parents."
Kate says there are many benefits of being part of a smaller sport.
"Artistic swimmers learn at the club level, and with sufficient skill, can compete relatively quickly."
There are only three formal competitions in the sport in New Zealand – the North Island Champs, South Island Champs and the National Champs.
"This means that swimmers can get the opportunity to travel and compete in big competitions quite young; a highlight for our swimmers," adds Kate.
With less competitors than larger sports such as rugby and netball, it means there is a greater chance to reach the top level of the sport.
"There are fantastic opportunities for high performance athletes to represent New Zealand at overseas competitions, plus there is an Olympic pathway. Tauranga currently has ten swimmers in national squads – the most of any other club in the country."
Tauranga is at the heart of artistic swimming in New Zealand. Artistic Swimming NZ's chair Shirley Hooper is Papamoa-based and is a huge advocate for the sport in this country. Tauranga also has the two most senior artistic swimmers in the country - Eva Morris and Eden Worsley - who both coach for Tauranga Synchro.
"Artistic swimming has a close-knit community," says Kate. "Tauranga Synchro is a not-for-profit organisation and relies heavily on parents to work together and pitch in."
There is clearly a strong, family-orientated culture with a lot of mixing and working together between younger and older swimmers.
Early in March, the club held a 'Synchro Sleepover' at Aongatete Outdoors Education Centre for all of their athletes. There they dived into many team-building exercises and other fun camp activities.
"But we also did something a little different on our camp," adds Kate. "We met with members of the Aongatete Forest Project, who manage 500 hectares of forest in the Kaimai Range. The Aongatete Forest Project's dedicated volunteers talked about the work they do to protect the forest from pests that destroy our native plants and animals.
"Then our athletes were split into groups and helped check and set up the bait stations along the bait lines. This gave our athletes an amazing appreciation of the work required to restore our forest for future generations. It was great to see them understand the importance of pest control and have a go themselves at setting up the bait stations."
Teaching the athletes about conservation may not perhaps be the usual type activity for a sports club, but the exercise also included a dip at the watering hole there.
"Our long-term athletes go from looking up to the older swimmers, to being role models for the younger ones themselves."
An inclusive sport, artistic swimming caters to all abilities and levels.
"There is no ideal body type for artistic swimming; there is a place in the team for all," explains Kate. "The only requirement is to be a confident swimmer in deeper water."
There are competitive and non-competitive pathways, and Tauranga Synchro also offer Adapted Synchro for those with disabilities.
"Although our club is yet to have a boy sign up, they would be welcome."
She says two boys from other clubs competed at last year's national champs.
"Our coaching philosophy is not only about synchro, it's about teaching our athletes life skills and that they can accomplish anything if they want it enough."
This year the North Island Artistic Swimming Championships are being held at Baywave Aquatic Centre from July 2-4.
"There will be over 134 athletes from six clubs from around the North Island competing," says Kate. "Of these, there will be 35 athletes from Tauranga Synchro."
Back in 2019, it was also held at Baywave, with 95 athletes.
"So that's an increase of 41 per cent this year - a great sign the sport is growing."
In preparation for the North Islands competition, the club will be holding a full dress rehearsal display on Sunday, June 27, at 6:30pm.
"So there are plenty of opportunities for Tauranga to see our club in action," says Kate. "Both events are open to the general public."
To find out more about Tauranga Synchro visit:
www.taurangasynchro.co.nz or: www.facebook.com/taurangasynchroNZ
More on SunLive...