Coroner releases report into tourist's death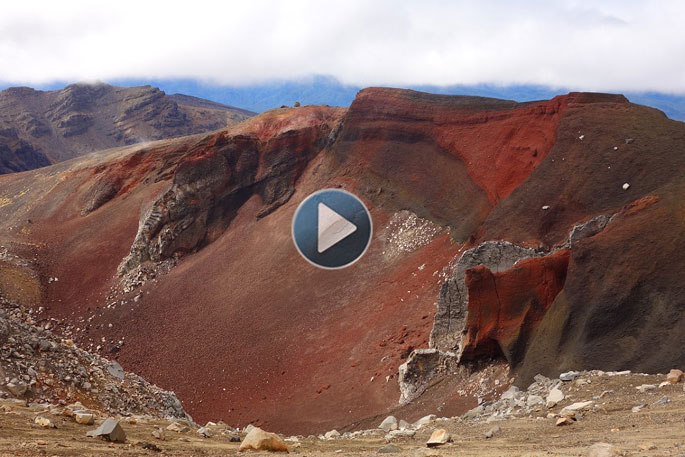 A coroner has found that Chinese tourist Ji Li died of hypothermia after a series of ill-fated decisions left her tramping solo in the Tongariro National Park in October 2019.
The New Zealand Mountain Safety Council says recommendations adopted by Coroner Matthew Bates highlights many of the common issues trampers and walkers face when exploring in New Zealand's outdoors.
These recommendations include choosing the right trip for you, understanding the weather, packing warm clothes and extra food, sharing your plans and taking ways to get help, and taking care of yourself and each other.
Coroner Bates' report states while Ji had packed the correct clothing, extra food, shared her plans with her group as well as carrying a cell phone, she did not follow the three other steps of the code.
MSC Chief Executive Mike Daisley says had Ji followed the remaining steps of the code, she may still be alive today.
Ji and three other women travelled from China for a three-week holiday exploring New Zealand.
On the morning of October 18, the group of four set out from the Whakapapa Village on a two-day tramp of the Tongariro Northern Circuit Great Walk.
The group's initial error was missing the Mangatepopo/Lower Taranaki Falls Track turnoff which was their intended direction of travel.
It was not until several hours later, when the group arrived at Tama Lakes, they realised their navigational error.
It was there that three of them decided to return to Whakapapa Village because one of the party was not feeling fit enough and one fell unwell.
Ji decided to continue on and complete the track alone, but in the reverse direction of the group's original plan.
Separating from the group was the second of the significant errors that subsequently lead to Ji's death.
When she did not return to Whakapapa Village the next day, as agreed, she was reported missing.
Her body was found at the bottom of Red Crater later that day.
Her exact route after splitting off from the party will remain uncertain but in MSC's report to the Coroner, several scenarios were considered.
Coroner Bates decided the most likely scenario was that Ji stayed overnight at Oturere Hut on October 18, then continued the next day towards Red Crater, with the intention to descend to Mangatepopo Valley and then return to Whakapapa Village.
Overnight and during the morning of October 19, Mt Tongariro experienced blizzard conditions, gale-force winds with a wind chill factor of -4.4C.
Despite being well dressed, Ji became hypothermic as she continued walking, resulting in a decline in cognitive ability and decision-making.
Suffering from hypothermia and experiencing strong gale-force winds resulted in her stumbling regularly, and walking would have become very difficult, the report says.
Eventually, she tried to warm herself by getting into her sleeping bag, however her hypothermic condition was so far progressed that she no longer had the ability to get inside it.
Given the conditions, Ji would have lost consciousness soon afterwards before eventually dying.
Ji's death is a tragic reminder of the risks associated with solo tramping and Coroner Bates hopes his recommendations will help reduce tragic deaths, such as Li's, happening again.
MSC Chief Executive Mike Daisley.
Mike says even for the most experienced New Zealand trampers, solo trips have considerable risks.
"The group's decision to attempt this three-day trip in two days applied an unnecessary and unrealistic element of complexity and pressure, essentially resulting in the trip becoming an overambitious choice that was unsuited to the weather and timeframes."
Coroner Bates also suggests using the Plan My Walk app by MSC as a planning tool and as another way to notify a trusted contact of your plans.
MSC expresses its sincere condolences to Li Ji's family and friends, and her tramping party.
The NZ Land Safety Code is as follows:
1. Choose the right trip for you
Learn about the route and make sure you have the skills for it.
2. Understand the weather
It can change fast. Check the forecast and change your plans if needed.
3. Pack warm clothes and extra food
Prepare for bad weather and an unexpected night out.
4. Share your plans and take ways to get help
Telling a trusted person your trip details and taking a distress beacon can save your life.
5. Take care of yourself and each other
Eat, drink, and rest, stick with your group and make decisions together.
More on SunLive...