DHBs reduce services as nurses strike today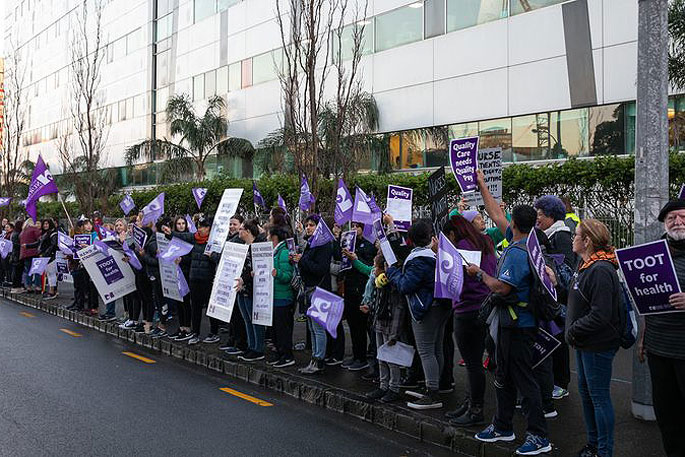 Nearly all non-urgent surgery and outpatient clinics have been cancelled today, as thousands of nurses go on strike.
At 11am, nurses will down tools to join marches and pickets across the country as they highlight their anger with pay and working conditions.
Nurses striking in Tauranga met at St Enochs Presbyterian Church on 16th Avenue before walking down and picketing both sides of Cameron Road between 17th and 18th Avenue.
The strike action was confirmed on Monday, after both sides failed to come to an agreement over pay and conditions.
Emergency services will still be running today and those with urgent medical needs are being told they will still be able to attend hospital or dial 111.
GPs and Healthline will also be available throughout the day.
Spokesperson for all the DHBs, Jim Green, says most non-acute and elective procedures have been cancelled, "to reduce demand on services and reduce patient numbers as much as possible before the strike".
"These will be deferred on the day of the strike to enable us to focus on those for whom hospital care is the only option during the strike," he says.
In the Bay of Plenty, the Bay of Plenty and Lakes DHBs say contingency planning meetings have been held regularly since the two DHBs received notice of eight hours of strike action by the NZNO.
Contingency planners at both DHBs are working closely with managers and clinical leaders on ensuring the continuing provision of essential emergency services including acute surgery, emergency department care, intensive care, and maternity care.
The strike is scheduled to start at 11am and finish at 7pm, meaning it will cover two nursing shifts.
All elective surgery cases and nearly all outpatient clinics are being deferred for the day of the strike.
Those people whose procedures and appointments are being deferred are being contacted individually by the BOP and Lakes DHBs.
The strike action is expected to affect the government's vaccination roll-out plan.
Auckland District Health Board confirmed only two vaccination centres will open, with the lack of available nurses prompting safety concerns.
"Due to strike action, the majority of our metro Auckland community vaccination centres will be temporarily closed on Wednesday," the DHB says in a statement.
"Without enough registered clinical staff on site we can't administer the vaccine safely at these sites. Bookings at the sites have been moved to other days so that no one misses out."
The Ministry of Health has not confirmed what is happening with other vaccination centres across the country, although it will depend on whether those staffing them are members of the union organising the strike.
More on SunLive...