Police held a media conference regarding the operation.
Watch it here:
National Organised Crime Group director detective superintendent Greg Williams says at about 4pm yesterday police conducted 37 search warrants across the North Island.
The operation involved over 300 personnel including Armed Offenders Squad, Special Tactics Group, Asset Recovery and staff from the Bay of Plenty, Waikato Central and Wellington District.
Three major organised crime investigations, targeting the importation and the sale and supply of methamphetamine and money laundering activities were simultaneously terminated.
Thirty-five people were arrested and are facing around 900 charges relating to serious drug dealing and money laundering offences.
These people have appeared in the Auckland District Court and Hamilton District Court this morning and are considered to be among key leaders of organised crime groups in New Zealand, says Williams.
Police have also seized $3.7 million in assets as well as 20 ounces of methamphetamine, large bags of cannabis, multiple kilograms of iodine, four firearms, 14 vehicles including two marine vessels, a number of mobile phones, and more than $1 million in cash.
More warrants are being conducted today and police expect more arrests.
Police have been running multiple operations, under the umbrella Operation Spyglass, as part of an international effort with law enforcement agencies to investigate the sale and supply of methamphetamine and money laundering activities.
"We believe the termination of these operations will have a significant impact on New Zealand's organised crime scene," says Williams.
"Today's announcement demonstrates how the FBI, led by its Legal Attaché Offices around the world, and our multiple foreign law enforcement partners can come together to successfully combat transnational organised crime and drug trafficking activity."
Operation Trojan Shield
Operation Trojan Shield was led by the Federal Bureau of Investigation and co-ordinated with the Drug Enforcement Administration, Australian Federal Police, Europol and other law enforcement agencies from more than a dozen countries.
Police say organised crime groups were using encrypted platforms to communicate. In 2018 the FBI dismantled the encrypted platform service Phantom Secure. Another service, Sky Global, was dismantled in March 2021.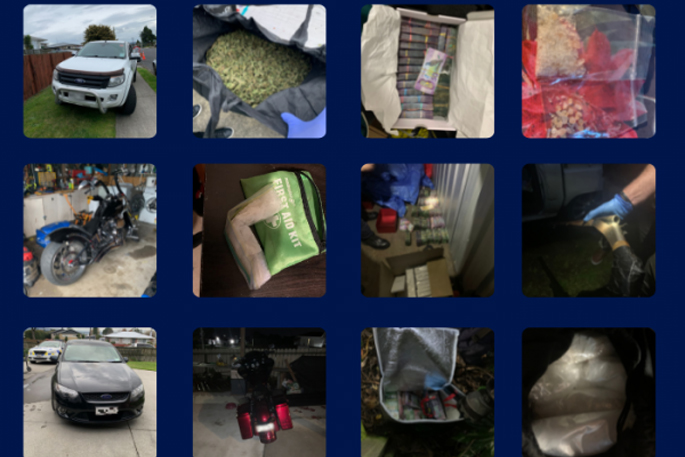 Items seized as part of operation Trojan shield. Images: NZ Police/supplied.
Operation Trojan Shield saw the FBI create a closed encrypted company, called 'ANOM' to fill this void and target organised crime, drug trafficking and money laundering activities
New Zealand Police began working with the FBI on Operation Trojan Shield in January 2020 to monitor the communication of platform users in New Zealand
The network had 57 devices in New Zealand using it and all were being used for criminal activities, says Williams.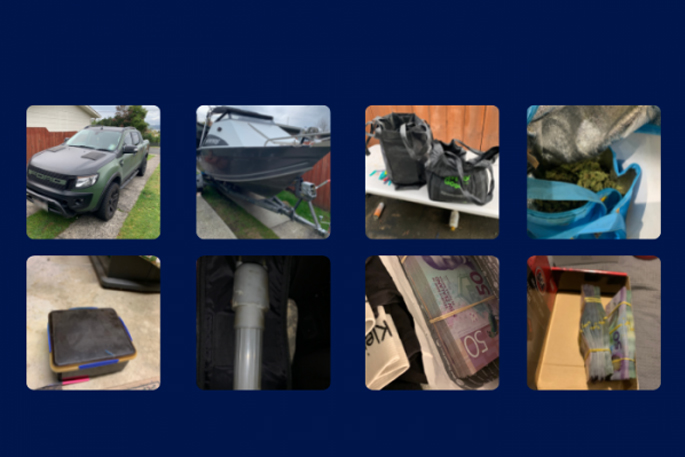 Police said they also observed significant money laundering by the groups involved.
"It's a key focus for us to disrupt those cash flows."
"We couldn't do this without our partners," Williams said. That included, for example, Customs.
"What we are actually talking about here is these transnational groups preying on our vulnerable communities."
Operation Van
It started with operation van back in 2018 that targeted a transnational organised crime group linked to the Comancheros
It involved numerous agencies New Zealand Customs, New Zealand Defence Force, National Maritime Coordination Centre.
As well as international partner agencies FBI, DEA and AFP.
The group allegedly planned to import huge quantities of methamphetamine and cocaine by way of small crafts into New Zealand but the shipment never made it into the country.
Around 136 kilograms of methamphetamine seized from a storage unit in Rotorua in August 2019 that was linked to this syndicate as part of this operation
One person has pleaded guilty and has been sentenced for possession for supply in relation to this matter.
Operation Equinox
Another operation, Equinox, targeted senior members of Waikato Comancheros and Waikato Mongrel Mob Kingdom
During the operation Police seized 8.6 kilograms of methamphetamine at the border.
Police allege members have worked with offshore entities to import large quantities of methamphetamine and MDMA which was distributed across New Zealand
Operation Seltos
Police allege a group of Head Hunters members primarily based in Auckland have been dealing large amounts of methamphetamine.