A piece of post-war Kiwi ingenuity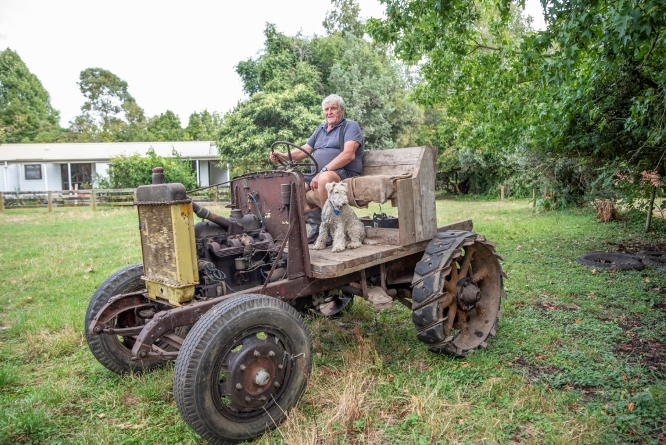 Rural contractor Bill Darbyshire has always had an interest in machinery, and is a motor mechanic by trade.
"I grew up on a Wanganui dairy farm, and the first piece I collected was when I rescued the turn of the century stationary engine that my grandfather used for cream separating on that farm," says Bill.
Limited by space, Bill's collection really took off when he moved to a ten-acre block in the 1990s, and one of his more interesting pieces is a homebuilt tractor.
"It was quite common after World War Two, when there was a shortage of tractors and parts, that people fashioned their own tractors out of whatever they could make work."
Bill discovered his homebuilt while working in the Orini area, and a friend had pulled it out of a hedge and showed it to him.
"It was a bit of a mess with a rusted chassis, a seized engine and a corroded aluminium radiator."
It was interesting identifying where all parts had come from.
"The chassis is definitely from a circa 1920s Guy truck or bus imported from the UK.
"It probably came in as part of a bus as there don't seem to be any records of Guy trucks being imported into New Zealand."
The Guy Motors engine is a four-cylinder overhead valve, with four gears, and runs on petrol. While reconditioning the engine, Bill discovered that it had alloy connecting rods, which is unusual, and actually part of aircraft technology at that time.
"This makes sense because Mr Guy was a design engineer for Sunbeam motors, whose company turned to making aircraft engines during the war, and trucks and buses after the war."
It amuses Bill that Guy Motors decided to apply a little aircraft technology to truck making.
The front wheels are the original pneumatic tyres, but the back wheels are a different story.
"They're a heavy worm drive differential assembly from a Dennis truck built around 1910."
On the Dennis truck, they would have had solid rubber tyres, but the homebuilt has angled iron welded to the wheels for traction, and Bill has added chunks of rubber tyre between them.
As there was no body work, the driver can now sit on a smart wooden bench, sitting on a wooden base. The radiator was replaced from "something I had lying around" and the petrol tank is from an old hay baler.
Bill has discovered that his homebuilt was well known around the Orini area for rescuing trucks from the deep, clay soil ditches on Ten Foot Road in the 1930s.
"For a tractor she's pretty high geared and performs well in tractor pulling competitions.
"Put it this way…. she certainly stirred up the little Fergusons!"
More on SunLive...