Connecting young Te Puke farmers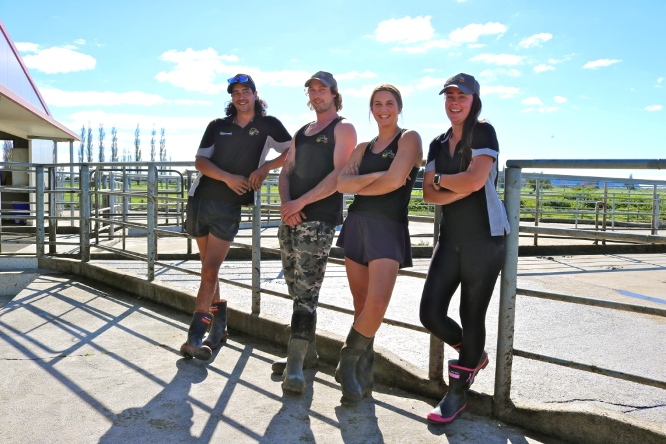 To join the Te Puke Young Farmers club you do have to be fairly young – well, no more than 30 – but you don't have to be an actual farmer and you don't have to live in Te Puke.
The club, which is one of 80 found across the country that come under the umbrella of the NZ Young Farmers organisation, is all about providing professional and personal support for young people working on the land, with plenty of chances to have fun too.
Chair Lindsay Williams explains that the TPYF is a great place for young people working rurally to get to know and become a part of the farming community.
"Through the TPYF you know someone is always just a phone call or message away to help you out when you have an issue," he says.
Events Coordinator Aliesha agrees, "The YF forum is always a great place to share your frustrations and hear that someone else is going through the same thing as you are. It is nice to know that you are not alone."
Network for life
The TPYF currently have 25 members and their partners but we also have an alumni with past members still involved, often acting as mentors. "Once you have been a member," says Lindsay, "you kind of keep that network for life."
The Te Puke group meet at 6.30pm on the last Tuesday of every month at the Jellicoe St Bar and Eatery, but the catchment for the club is not restricted to the Te Puke area with members from as far a field as Edgecumbe and the Kaimais and is open to any young person wanting to join.
A significant number of the TPYF are involved in dairy farming, however, other members of the group come from all areas of rural life including dry stock farming, contractors, horticulturists, agriculture students, support service managers, and the current Treasurer for the club, Pippa Woods, who is a teacher at ACG and the youthful wife of the local vet who is now too old to officially belong at the ripe old age of 31.
TPYF also makes extensive use of social media. "We had 54 people involved in a recent group chat. And even more during Lockdown," says Vice Chair Daniel Armstrong.
The TPYF are constantly holding both educational and social events ranging from a 'Cow Conditioning Scoring' workshop run by Te Puke Vets to an inter-club tenpin bowling competition in Rotorua.
Promoting the industry
The organisation is always keen to help other young people find opportunities in the area of employment that they love. "Most townies don't realise you can step from the city to the farm," says Lindsay. "They seem to think that you have to be born into a farming family to work on the land. But getting into the business can be as easy as turning up on a farm and asking for work experience."
Events Coordinator Aliesha Malcolm is in the midst of organising an Open Day for young people wanting to get involved in the primary industries to come along and see what it is all about. "Each year we have schools reaching out to us like Te Puke High School and Tauranga Boys and Girls Colleges to help students decide on a career path in the agri-food sector."
NZYF help to coordinate TeenAg clubs in schools around the country and offer Teachers' Day Out events and primary industry focussed cross-curriculum teaching resources through agrication.co.nz.
TPYF can be contacted through their Facebook page: www.facebook.com/TePukeYoungFarmers or by emailing tepuke@youngfarmers.co.nz
More on SunLive...