Whakaari defendants say no pleas should be entered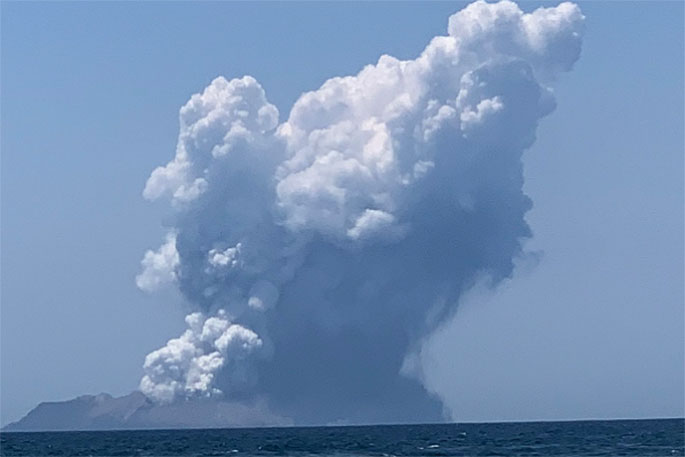 The three individuals and nine of the companies facing WorkSafe charges in the wake of the Whakaari eruption have appeared at Whakatāne District Court – and argued no pleas should be entered.
Just one plea was entered by notice on behalf of the National Emergency Management Agency of not guilty.
Richard Raymond QC, lawyer for White Island Tours, told Judge Evangelos​ Thomas it would "simply not be conducive to justice" for his client to make a plea as they were still awaiting disclosure of documents.
He said defence had received 3000 documents so far, "only half the story".
"And some of those documents are hundreds of pages long."
He said a team of six to eight lawyers had taken three months to review the disclosure that had been submitted so far.
He said the case was "the most extensive and complex investigation undertaken by WorkSafe".
"The Crown have had a year [to review documents] and we've had months."
He said they would need at least four weeks to consider further disclosure expected by July.
"It's simply not possible to enter pleas in a couple of weeks," he said.
But WorkSafe prosecutor Kristy McDonald said it was "surprising to the prosecution that the defendants continue to delay affirming their positions".
"Our position is that the pleas should be entered now," she said.
"There is significant public interest in this matter, and that victim interest must be in the matter progressing."
Judge Thomas set a provisional date for a case review of September 13 this year, and asked for pleas to be entered by August 24.
He also ruled the next hearing should also take place at Whakatāne District Court, though the lawyer for the Buttle brothers, owners of Whakaari, David Neutze​, argued the case should proceed at Auckland District Court.
Judge Thomas said that while the Buttles were the only individuals to face charges, and "the human faces of the defendants", he also noted they were "innocent of anything at the moment until anyone proves otherwise".
Raymond, however, said his client wanted the matter to remain in Whakatāne.
"It is important for this community, for my client, for ngati awa," he said.
The court also heard from Roger Gowing​, a lawyer appointed by the court who had spoken to more than 65 victims and relatives ahead of the proceedings about their views on where the matter was heard.
"The overwhelming feedback from victims is they do want access to the trial, those from the Whakatāne. area wish to attend in person," he said.
Gowing also told the court he wanted to relay the comments he received from a police officer who helped transfer survivors from the boats that returned in the wake of the eruption.
"This tragedy occurred here in Whakatāne and any court proceedings should be heard here," he said.
"It is a Whakatāne matter that has left an eternal imprint on this community. . . a very personal experience for those involved."
The charges come in the wake of the December 9, 2019 eruption that took place when 47 people were on the island, leaving 22 dead and the remaining survivors with severe or critical injuries.
Some of the charges date back to April 4, 2016, and most relate to individuals and companies in their capacity as a person conducting a business or undertaking.
Fourteen of the charges have a maximum penalty of $1.5 million fines.
Details of the charges were spelt out across 19 pages of charging documents.
Whakaari owners Andrew, James and Peter Buttle and Whakaari Management Ltd, the Institute of Geological and Nuclear Sciences, the National Emergency Masnagement Agency, White Island Tours, Volcanic Air Safaris, Aeirus Ltd, Kahu NZ, Inflite Charters, ID Tours New Zealand and Tauranga Tourism Services were all charged after WorkSafe filed a total of 20 charges.
The Buttles are alleged to have failed with due diligence duties, including failure to acquire and keep up dated knowledge of work health and safety matters and failure to gain adequate understanding of hazards and risks associated with access to Whakaari.
Their company, Whakaari Management Ltd, is also alleged to have failed its duty to workers and tourists, including ensuring "an adequate means of evacuation from Whakaari".
The Institute of Geological and Nuclear Sciences is alleged to have failed to ensure the safety of pilots travelling to, and remaining on the island.
"That failure exposed those helicopter pilots to a risk of death or serious injury," the charging documents said.
They are also alleged to have lacked safe operating procedures regarding the communication of volcanic activity and inadequate consultation with tour operators regarding volcanic activity.
White Island Tours is alleged to have failed its duty to ensure health and safety of workers and tourists, and a failure to "ensure booking confirmation, pre-activity information and tour description information provided sufficient detail regarding the hazards and risks, including the risk posed to tourists from volcanic activity, so tourists could make an informed decision prior to commencing their tour".
Allegations of failing to keep staff and tourists safe have also been levelled against Volcanic Air Safaris, Aeirus Ltd and Kahu Ltd.
Both Inflite Charters and ID Tours New Zealand are also alleged to have failed to keep tourists safe, with particulars in the charge against ID Tours noting the company should have had in place "a process for providing Royal Caribbean Cruises with appropriately detailed and up to date health and safety information about tours on Whakaari".
Tauranga Tourism Services is also alleged to have failed a duty to ensure the safety of tourists on Whakaari.
The charges relate to the period leading up to the eruption, not the rescue operations that followed.
More on SunLive...