Maori Battalion survivor joins Covid battle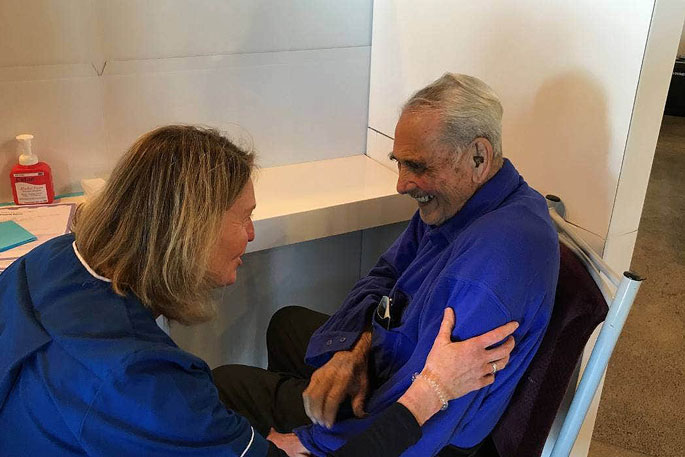 The last surviving member of the Maori Battalion has joined the front line in the battle against Covid-19.
Robert Bom Gillies, 96, is the last surviving member of the 28th Maori Battalion, a former member of the Te Arawa B company, and on Tuesday morning with around 150 others waiting in the wings, the decorated veteran rolled up his sleeve for the Covid-19 vaccination.
Gillies, accompanied by five generations of his whanau, was among the first to receive the jab at the Waikite Rugby & Sports Club in Rotorua at the first Te Arawa Covid-19 Response outreach clinic.
Hub chair and Te Arawa kaumatua Monty Morrison says it's hugely significant for the wider vaccine rollout to have someone with the mana of Gillies being seen to get the vaccine.
"Trusted faces to be able to communicate that message is hugely significant for us, and given the Maori hesitancy rates to the take up of not only this vaccine but any others, it's really important that those faces, trusted faces, are seen supporting that," he says.
Morrison also says it's important to get the message out that the vaccine is to keep the individual, and their wider community, safe.
Morrison says they have asked Dr Grace Malcolm, and retired doctor John Armstrong, to be present at the outreach clinic to be on hand to answer any questions people might have about the vaccine.
Malcolm echoes Morrison's view about the significance of someone with the standing of Gillies getting vaccinated.
"The faces that get seen, they have the vaccine, they say they're doing it and it normalises the whole thing," she says.
"It's all about keeping people safe and saving lives."
She also has a message for those who may believe their youth and health means they do not require the vaccine.
"Understand the whole process, that it's about protecting people, saving lives," she says.
"People need to remember coronavirus kills people and the vaccination does not."
The 28th Maori Battalion, as it's officially known, was New Zealand's most decorated World War II battalion, made up entirely of Maori volunteers.
More on SunLive...