The highs and lows of June's weather pattern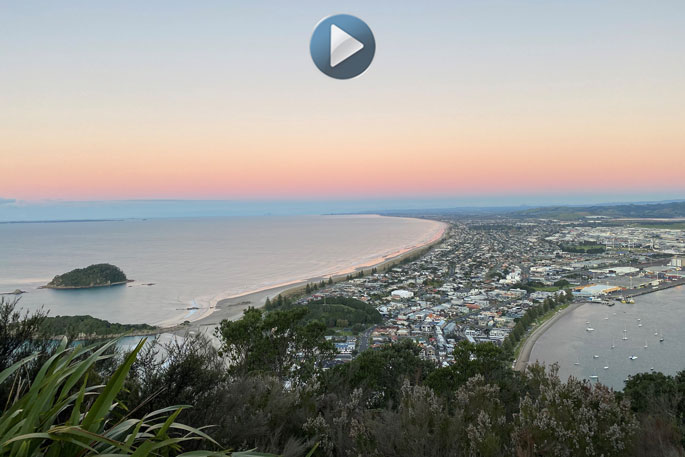 It's hard to believe we're entering the halfway mark of 2021 already and the start of winter on the meteorological calendar.
While meteorologically winter has begun, the astronomical calendar marks the start of winter on June 21.
"La Nina ended back in autumn and the weather pattern around New Zealand and Australia remains a 'neutral' one - which increases the chances of a chaotic pattern with pockets of extremes (as we just saw with the flooding in Canterbury but fairly dry further north)," says WeatherWatch.co.nz
"As we go through June, it's clear the chaotic pattern continues with far more low pressure in the mix - although the few highs that are still around will still impact NZ bringing settled periods, especially northern and eastern areas.
"This is good news for Canterbury - but not good news for Hawke's Bay still dealing with drought like conditions."
HOW THE AIR PRESSURE ZONES ARE SHAPING UP THIS JUNE...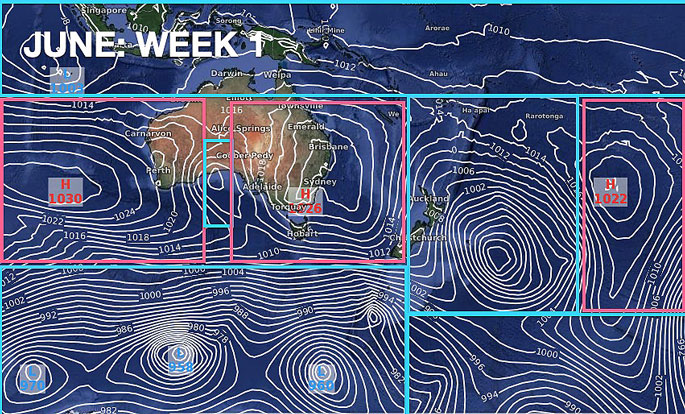 The big low that brought the flooding to Canterbury drifts east over the Chatham Islands allowing for a high near Sydney to drift towards northern NZ, says the weather organisation.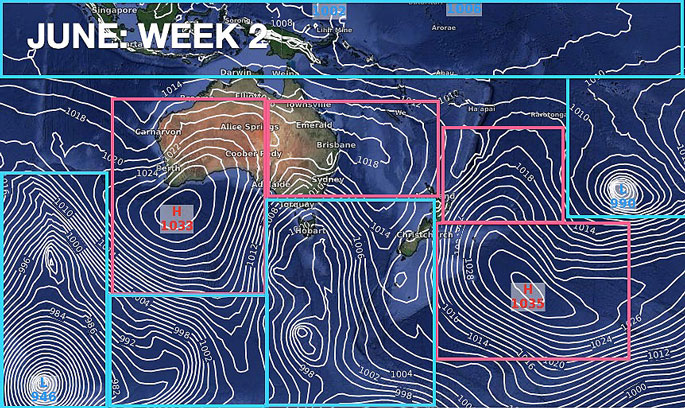 "High pressure east of NZ may help encourage some rain into the upper North Island, otherwise low pressure is the next main feature, mostly down in the Southern Ocean but likely brushing the South Island of NZ and Tasmania.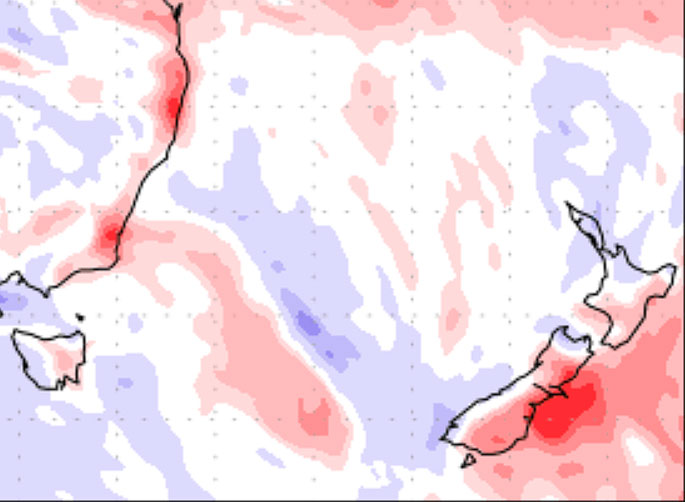 "Low pressure dominates the map but high pressure dominates most of Australia and a large zone just east of NZ.
"This keeps NZ in a low pressure zone which encourages downpours and rain. However the nor'west flow may keep regions like Hawke's Bay still missing out on the rain they need most."
UPCOMING RAIN...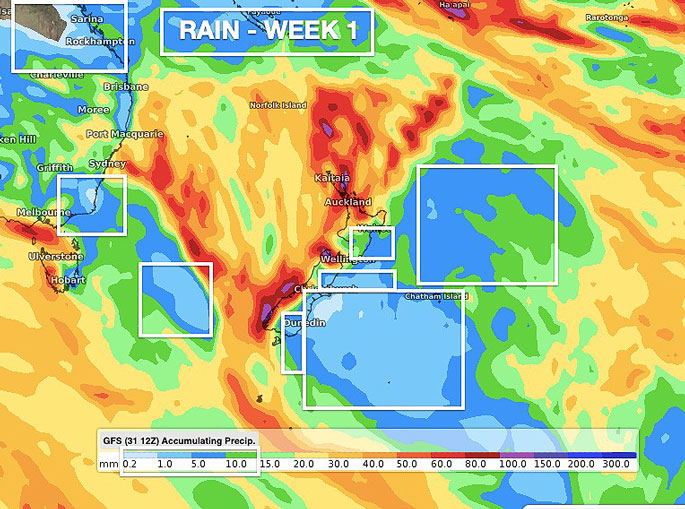 Week 1 of June – Departure from Normal rainfall.
Red = Drier than average, White = Normal rainfall, Blue = Wetter than usual.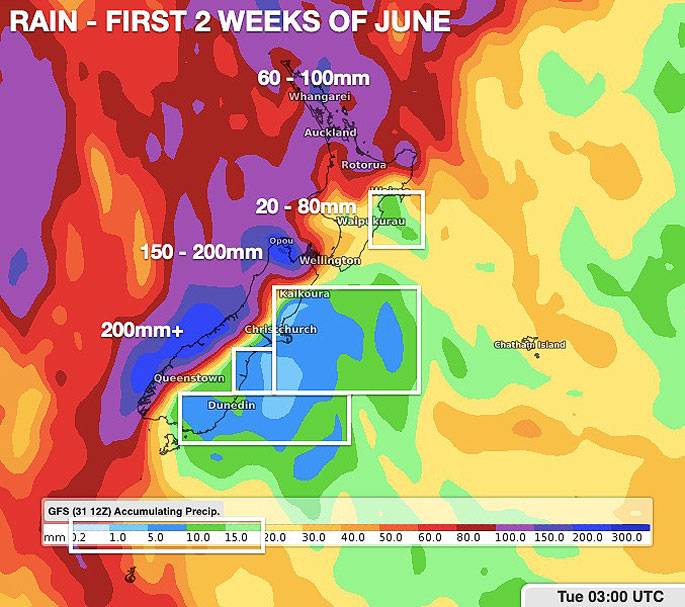 Week 1 of June – Rainfall Accumulations.
White boxes highlight areas with low rainfall (ie, less than 10mm).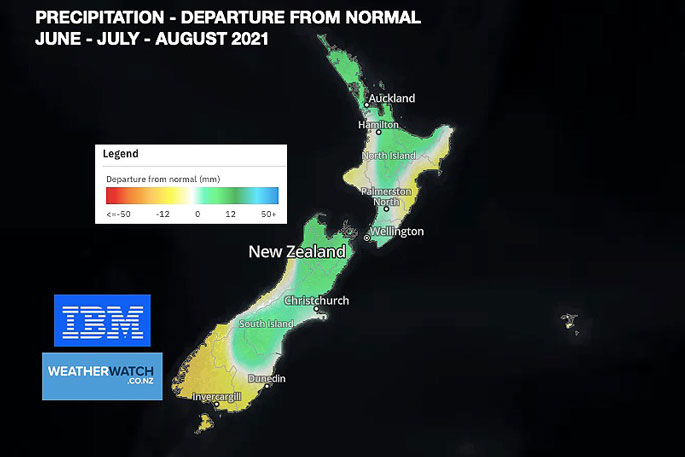 First 2 Weeks of June Rainfall Accumulation Map
You can see how heavy rain leans to the west and north of NZ – but eastern areas still look fairly dry overall.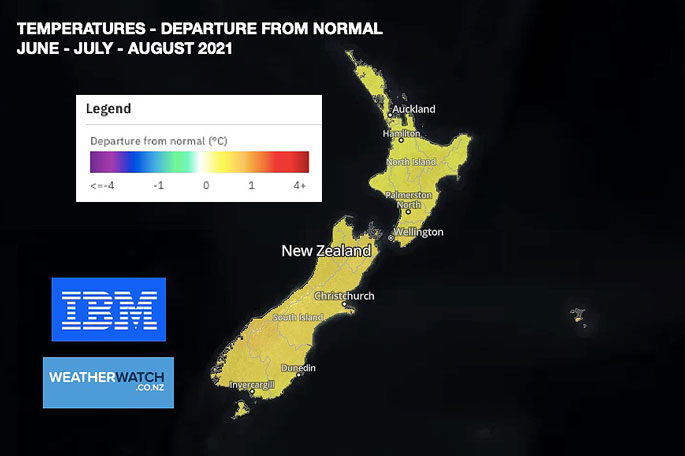 How winter is shaping rainfall-wise. This may be good news for many North Island regions still in a rainfall deficit – but not great news for Hawke's Bay which may well continue to lean drier than average for the next three months ahead.
TEMPERATURES…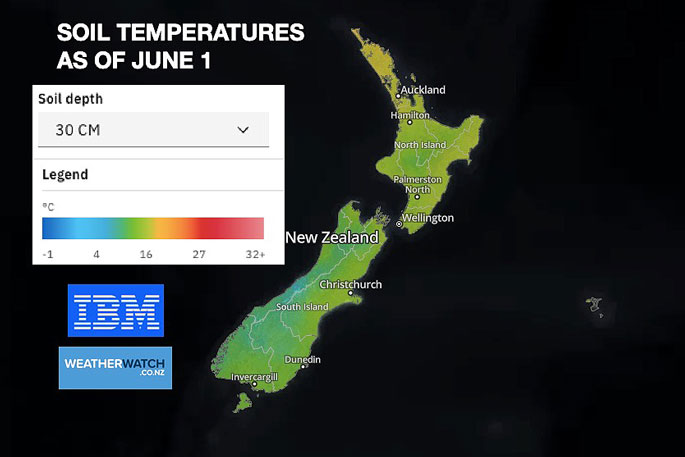 How winter is shaping up temperature-wise. Generally speaking, about normal but leaning perhaps half a degree above average overall. We do expect some decent frosts in the mix – but also balanced by warmer nights and days too.
More on SunLive...