Heavy vehicle ban for Mount Maunganui streets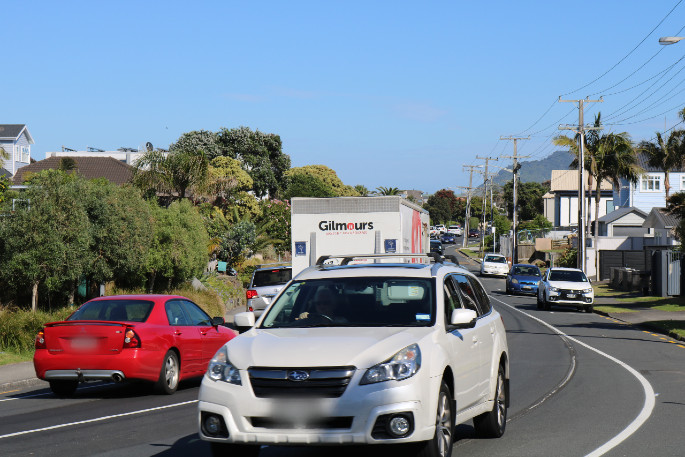 Tauranga City Council commissioners have voted to ban heavy vehicles from numerous roads in Mount Maunganui to "protect the quality of life" for residents.
Heavy vehicles are set to be banned in the area stretching from Golf Road and Girven Road after an amendment to the Traffic and Parking Bylaw was adopted by commissioners this week.
A potential ban on heavy vehicles from the region has been on the cards in recent months after concerns were raised by residents in Links Avenue, Farm Street and the surrounding area.
Commission chair Anne Tolley admits as a motorist herself, she understands why road users might be avoiding the busier roads, especially in light of the ongoing work related to the Baypark to Bayfair Link.
She's also been reminded by community liaison groups, that it's important to remember these are residential streets.
"This is actually an area where people live," she says.
"This is where they raise their families and where they live on a day-to-day basis."
She says it should be expected that an "urban environment has urban traffic".
Commissioners will now continue to liaise with Waka Kotahi Transport Agency about providing roading for the large number of heavy vehicles, in particular relating to the Port of Tauranga, in the area.
But she says the decision to keep heavy vehicles off of urban streets is in order to "protect the quality of life" of residents.
Commissioners will be presented with a report into application of the bylaw and its impact on further roading issues six months after the implication of the bylaw.
No implementation will be put into place until signage has been installed in relevant areas.
A separate report into potential further safety improvements for Links Avenue is also scheduled to be presented to commissioners in the near future.
Heavy motor vehicles are set to be prohibited at all times from the following streets:
· Aintree Place
· Ascot Place
· Ascot Road
· Berescourt Place
· Berwick Place
· Carter Street
· Carysfort Street
· Compton Place
· Concord Avenue
· Crane Street
· Epsom Road
· Kinross Place
· Harris Street
· Huia Avenue
· Lachlan Avenue
· Leander Street
· Links Avenue
· Paterson Street
· Pukaki Street
· Salt Avenue
· Solway Place
· Spur Avenue
· Stawell Avenue
· Surf Road
· Part of Farm Street between Farm Street and Concord Ave
· Part of Taupo Avenue between Marlin Street and Paterson Street
· Part of Oceanbeach Road between Golf and Girven Roads
More on SunLive...