Auckland artist wins Tauranga Art Gallery prize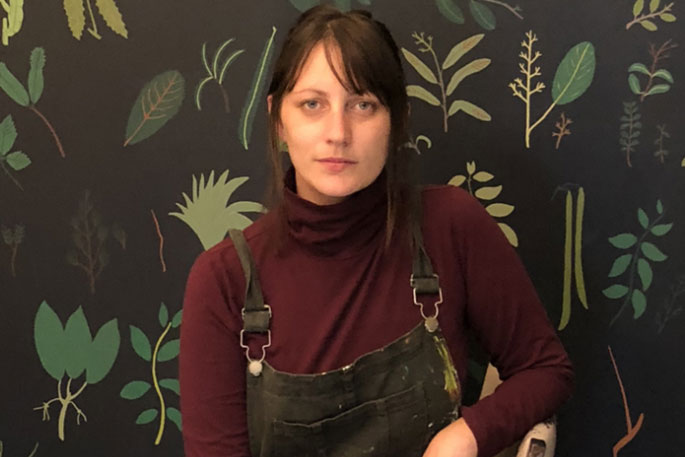 Auckland artist Ayesha Green has won the 2021 Rydal Art Prize.
As the second recipient of the bi-annual award run by Tauranga Art Gallery in partnership with Seeds Trust, Ayesha receives $25,000 and an opportunity to develop an exhibition in Tauranga Art Gallery's 2022 programme.
The Rydal Art Prize was established in 2019 to acknowledge an artist who has made a substantial contribution to contemporary painting.
A non-acquisitive award, the Rydal Art Prize seeks to celebrate the vitality that painting continues to have within the diverse contemporary art field in New Zealand.
The inaugural 2019 recipient of the award Wellington artist Christina Pataialii currently has her body of work 'Proximity and Distance' on show at the gallery.
A range of established and emerging painters were short-listed by each of four judges when they met in Wellington earlier this year to select the unanimous recipient.
The judges were Ioana Gordon-Smith - Curator Maori Pacific at Pataka Art + Museum, Porirua; Associate Professor Peter Shand - Head of School at Elam School of Fine Arts at the University of Auckland; Felicity Milburn - Lead Curator at Christchurch Art Gallery Te Puna o Waiwhetu; and Karl Chitham - director of Dowse Art Museum, Lower Hutt.
Following rigorous deliberation, the judges determined that Ayesha's painting 'All of my Lovers are Immigrants (Smooth my Pillow)', originally presented in her exhibition 'Wrapped up in Clouds' at Dunedin Public Art Gallery in late 2020 was a significant achievement and deserving of the prestigious award.
"Set within the cosy, intimate space of a bedroom, the stories told in these two large canvases are clearly personal," says judge Felicity Milburn.
"By transforming the bedcovers into glorious flower-filled landscapes, however, Green connects us to a broader narrative: the painful history of colonisation in Aotearoa New Zealand."
Ayesha graduated with a Bachelor of Media Arts from Wintec in 2009 and completed a Master of Fine Arts at Elam School of Fine Arts, University of Auckland in 2013.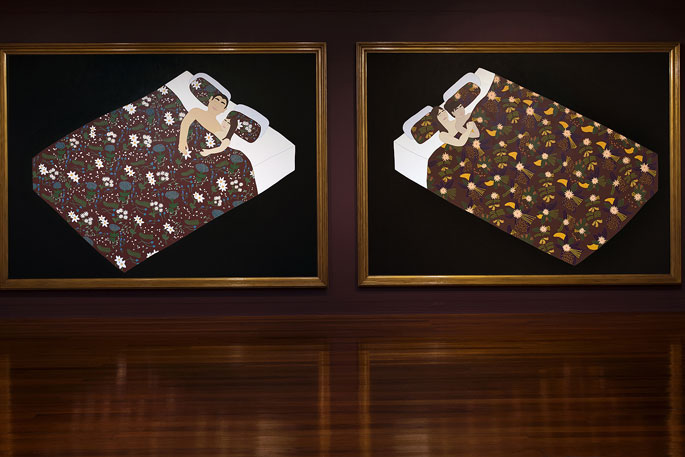 'All of my Lovers are Immigrants (Smooth my Pillow)' by Ayesha Green. Photo: Supplied.
In 2016, she continued her studies at Auckland University, completing a Graduate Diploma in Arts specialising in Museums and Cultural Heritage.
She won the National Contemporary Art Awards in 2019 and in 2020 was an Arts Foundation Te Tumu Toi Springboard recipient.
The judges were taken by the depth of historical understanding evidenced in Ayesha's paintings.
"Although many early marriages between Maori women and European sealers and whalers were strategic and mutually beneficial, Green is astutely aware that these intercultural relationships became a colonising tool, contributing to a series of deliberate attempts to undermine Maori whakapapa – genealogy - and claims to the whenua – land," says Felicity.
"Ayesha Green is well placed to maximise the benefits of the award," says Tauranga Art Gallery director Stephen Cleland. "Following her celebrated exhibition in Dunedin and a string of solo and group exhibitions across the country, her practice has only gone from strength to strength.
"While Green's paintings are often characterised by her simple rendition of figures and forms, they represent a bold approach to issues concerning her Maori whakapapa – passed down through women over four generations."
Ayesha, of Kai Tahu and Ngati Kahungunu ancestry, was humbled to be presented with the prize, anticipating that "an award of this magnitude will have many ripple effects in my practice.
"I am excited to start thinking about the exhibition opportunity I have with Tauranga Art Gallery. I am also honoured to be the second recipient of this award and immensely grateful to the generous benefactors who have made it possible," says Ayesha.
More on SunLive...