Pregnant paramedic falls from 8m cliff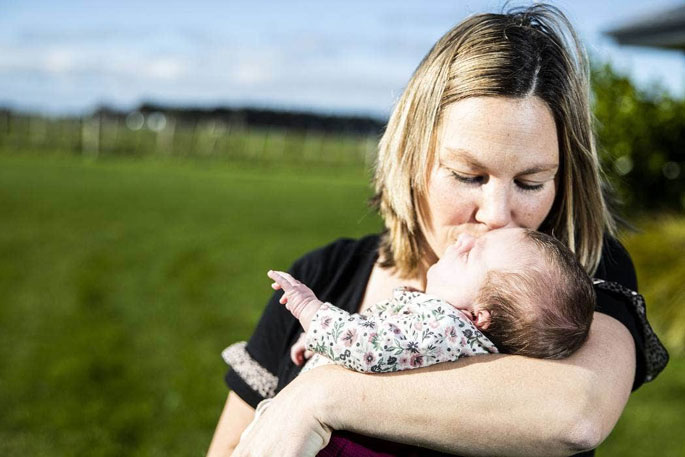 As Haley Clark hit the ground after falling from an 8-metre cliff while five months pregnant, her only thought was whether her daughter had fallen with her.
Clark, a St John paramedic from Manawatu, was on a biking trip with her extended family in December 2020 in the Karangahake Gorge near Paeroa.
But the trip took a nasty turn when she fell 8 metres down a cliff, on to rocks and a metal spike, fracturing her spine and puncturing her left arm.
Her unborn baby survived and daughter Macey, 3, who was travelling on the back of her mum's bike, also escaped the incident unharmed.
Clark gave birth to a healthy baby girl, Asha, almost three weeks ago. The injuries she suffered in the fall caused a lot of pain throughout her pregnancy, she says, but eased as soon as Asha was born.
However, her injuries could have been much worse, as Clark says there are little metal spikes littered all over the ground.
The day started like any other, with the decision made to bike the Hauraki Rail Trail from Paeroa to Waihi.
Clark's daughter Macey was on the back of her bike, but partway through the journey they had to stop on a hill behind other family members while someone fixed their shoe.
As Clark tried to get off her bike her left foot got caught on the bike seat and the weight of the bike lifted the front wheel up.
"We fell sideways and, because my daughter was still strapped to the bike, the bike tipped on her as she fell.
"But there was nothing to stop me, so I was rolling out of control.
"Then there was a big drop and I went over the edge of the cliff.
"I just remember thinking, 'This is going to hurt and my daughter is falling with me.'
"I was scared for her."
After she landed on rocks she saw her left elbow had landed on a metal spike, puncturing her flesh.
"I remember rolling over and pulling off the spike."
She called out to her sister, her first concern for her daughter, and was relieved to learn that she hadn't fallen as well.
Her sister called an ambulance and told staff Clark was a paramedic.
"Then she yelled out, 'Haley are you conscious?' 'Are you concussed?' and then … 'What status are you?'
"I had to put my paramedic hat on and think about it."
When paramedic Dave Jack turned up, Clark said she felt huge relief.
"I just remember Dave asking me questions, paramedic to paramedic."
After going through an incident where she was the one needing help, Clark says it will definitely change the way she interacted with patients in the future.
"I think I will just explain stuff more to the patient, a lot of the time we were waiting.
"I knew what we were waiting for … [but] I remember thinking to myself, 'I will make sure I explain all of this better to my patients in the future.'"
St John Waihi paramedic Jack, who was first on the scene, says it was rare to hear from patients after incidents, so he's delighted to learn Clark is on the mend and the baby was unharmed.
Jack got the call for the job and said they didn't know Clark's exact location in the Karangahake Gorge, just the 2.5km stretch she was in.
Once they worked out where she was, he says the fastest and most logical way to get to her was to cross the river.
He then got on to a cycleway and walked about 200 metres before a quick scramble and boulder hop to a ledge saw him reach Clark.
When he got there and started doing assessments he noticed between Clark's feet was a 250mm long spike embedded in the rock, an old relic from the mining in the 1890s.
"Had Hayley impaled herself on this it would likely to have been fatal for her and her baby."
A helicopter was called and Clark was winched out.
"There was a considerable downwash from the helicopter rotor that scattered debris and water from the river while they lowered the crewmen and the stretcher."
A human shield was formed by those around Clark to protect her from debris and water.
She was winched aboard the helicopter and flown across the river to land on the cleared roadway to prepare her for the flight to hospital.
Jack says the successful outcome of the rescue is a testament to the skills, co-operation and teamwork of the agencies involved.
More on SunLive...