Protest at Mount Maunganui over phosphate shipment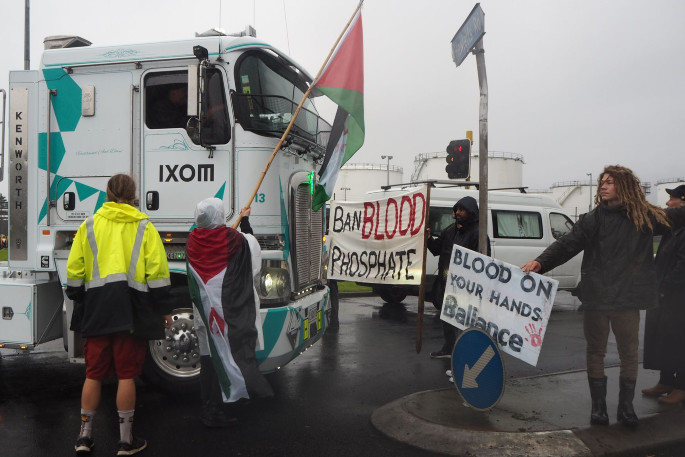 "We demand action now!" is the catch cry of protesters blocking access to Ballance Agri-Nutrient's company headquarters at Mount Maunganui.
Despite the rain, the Western Sahara Solidarity Aotearoa stood protesting about the rights of indigenous people in Western Sahara by timing their blockade today following reports of a shipment of phosphate due to arrive at the Port of Tauranga.
The IVS Crimson Creek is scheduled to arrive on Monday May 31, weather permitting.
"We are here at Ballance in Tauranga and have officially shut it down," says Western Sahara Solidarity Aotearoa spokesperson Josie Butler, who has travelled up from Christchurch to be involved in the protest.
"We have people on tripods who are blocking the entranceway and today we are standing up to Ballance for their crimes against indigenous peoples."
"Whareroa marae which is around the corner is being poisoned daily by Ballance and right now a shipment of stolen blood phosphate from the people of Western Sahara is on its way to the Port of Tauranga," says Josie.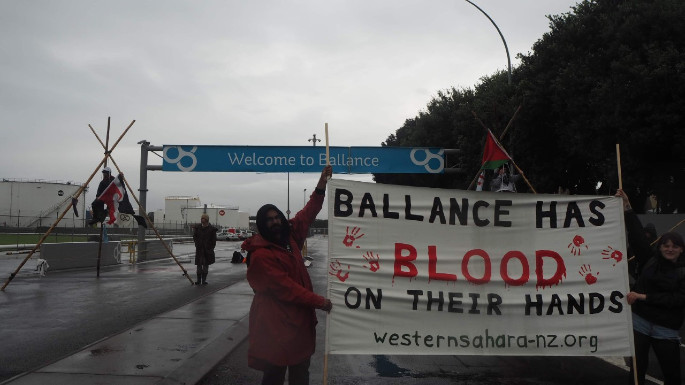 The protesters are urging the company to stop importing the phosphate rock they contend is plundered by Morocco.
They say that according to the UN, Western Sahara is the last colony in Africa.
"When the coloniser of the territory, Spain, left in 1975, the Sahrawi people were promised a referendum to decide their own future. This never happened," says a Western Sahara Campaign –NZ spokesperson. "The moment Spain's control ebbed, the neighbouring country Morocco invaded and to this day continues to occupy Western Sahara."
The Western Sahara Campaign NZ is working with the Sahrawi people to generate political support in order to advance their right to self-determination and to promote their human rights.
"What's the link to New Zealand? New Zealand is one of the biggest importers of phosphate rock from Western Sahara. The phosphate is plundered from the territory by Morocco. The Sahrawi people object to the trade and receive nothing for the plunder of their resource."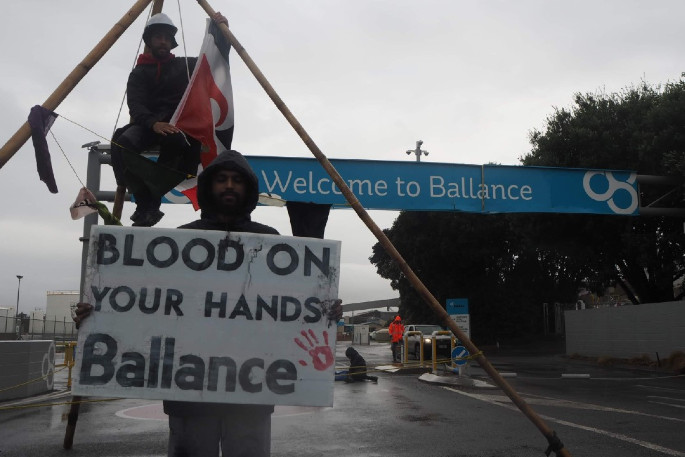 Today, in blocking access to Ballance, the Western Sahara Solidarity Aotearoa group is raising what they feel is the issue of Ballance Agri-Nutrients using the Moroccan occupation of its neighbour Western Sahara to import phosphate rock that they say Morocco plunders from the occupied colony.
"Since November 2020, after Morocco broke the lengthy ceasefire with Western Sahara, the war has been rekindled. This however has not stopped Ballance Agri-Nutrients from continuing to import plundered phosphate rock," says Western Sahara Campaign NZ representative Mike Barton.
The protesters are seeking an agreement with Ballance Agri-Nutrients chair Duncan Coull and CEO Mark Wynne that they will accept an invitation to sit down with representatives of the people of Western Sahara to discuss the matter.
Balance Agri-Nutrients, which is a commercial company not a political organisation, is unlikely to meet with political lobbyists, and state on their website that "we are operating within UN expectations and we are comfortable both legally and ethically sourcing phosphate rock from PhosBoucraa – owned by OCP, approximately 2 per cent of OCP's managed reserves are in Western Sahara" and that "economic development of the region boosted by trade has a direct positive impact on the local population [of Western Sahara]".
The Western Sahara Solidarity Aotearoa has a different perspective.
"Today we are standing up and saying 'this is enough'," says Josie. "We call on Nanaia Mahuta, Minister for Foreign Affairs to take action for indigenous people. Maori are being poisoned and the indigenous population in Western Sahara is suffering war crimes because of her inaction. We demand action now."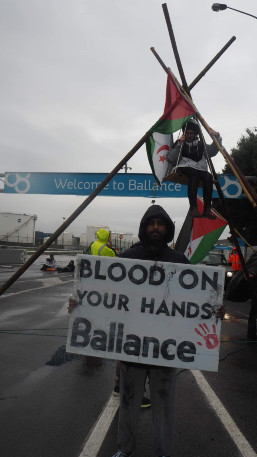 Some of the protesters chained themselves to the main gate and used bamboo to make tripods to perch on in an attempt to block access to the headquarters of Balance from Hewletts Rd.
Signs held by the protesters carried messages such as 'Ban Blood Phosphate' and 'Blood on your hands Ballance' while the group chanted 'Freedom for Western Sahara'.
Balance Agri-Nutrients Head of Communications Aimee Driscoll says they were concerned about safety around the protest.
"We did everything that we could to look after the health and safety of the protesters, our contractors and staff and onlookers," says Aimee.
"We were shocked and dismayed by the unsafe behaviour of the protesters who were putting themselves and others at risk."
Police say they were called by the management of Ballance to the site.
"A small group was obstructing the road and standing in a dangerous position," says a Police spokesperson.
"Police spoke with them and advised them that where they were standing was unsafe and posed a risk, and asked them to move somewhere safer."
One of the protesters Sam Murphy says that the Ballance site manager agreed to send a message to the CEO Mark Wynne asking for a meeting between Ballance representatives and representatives of Western Sahara. Following this the protesters ended their blockade.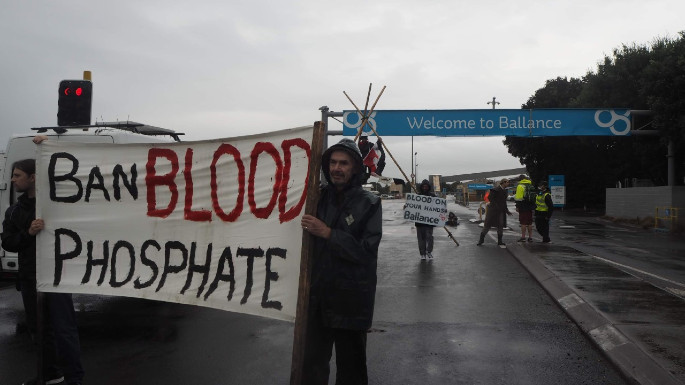 More on SunLive...