I pink I love you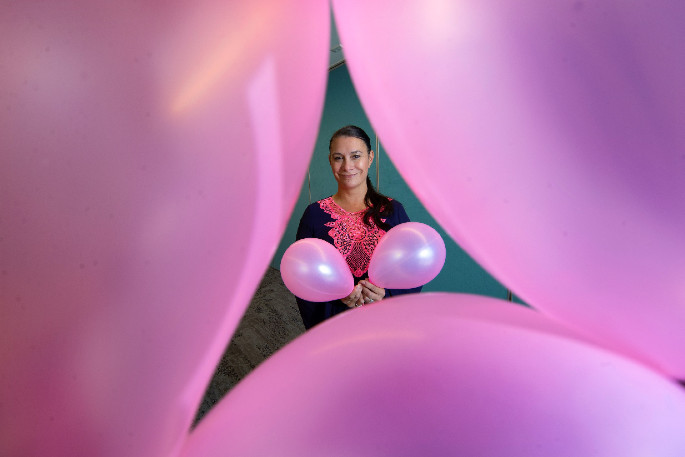 The Jacqui and Buddy-led charity events are becoming legendary in Tauranga.
Last year their Pink Ribbon fundraiser was unable to run because of Covid, but in 2019 their efforts took them to third place on the Breast Cancer Foundation NZ leaderboard.
This Sunday, they plan to host their 'wahine' fundraiser at the Tauranga Club in Devonport Towers and are aiming high once again.
"As part our pro bono contribution to our community, Manataiao Events are delighted to be hosting a not-for-profit charitable 'High Tea Breast Cancer Fundraiser' event," says director Jacqui Rolleston-Steed.
"We believe that breast cancer research, and practical support for those who are undergoing breast cancer treatment, which is the intent of this fundraiser, is an important kaupapa and deserving of our support.
"Many auction items and prizes have already been donated, including a Vincent Ward 'Reclining Nude' painting from Doug Owens, tickets to The Breeze Op Shop Day Out with Breeze hosts Jolene James and Mark Eagle, and four VIP L.A.B. tickets to their already sold out gigs in Hamilton or Wellington. A VIP ticket means the successful bidders will be able to watch and get up close and personal with the band. Essentially, these tickets are priceless and not available online."
"Tauranga local Blair Cashmore from Cashmore's Real Estate who was the celebrity auctioneer from The Block NZ for two years running will be auctioning off all sorts of cool items," says co-director Buddy Mikaere.
"The previous year's fundraiser raised more than $6k. This year our aim is to raise well over $10k."
As well as a high-tea buffet style brunch consisting of club sandwiches, mini scones with jam and cream, rosti with smoked salmon, crème fraiche, rosti with bacon, mini quiches, fruit platter, and wine bubbles and non-alcoholic beverages, the Tauranga event will include inspirational speakers and presenters, spot prizes, a 'best dressed' prize, and entertainment from local muso Damo Innes.
Local Tauranga and surrounding region business owners have been amazing at contributing to the event, providing items to be auctioned, included in goody bags or as spot prizes.
Other items being auctioned, or included in goody bags or as spot prizes include packs for special occasions, date night, fitness and nutrition, 'mums & bubs', relaxation, family adventures, and girls' getaways. There is also pink bubbles from Haha Wine, sarongs from Aho Creative, dinner at Salva D Italian Restaurant, powerboat jet rides, a family photography package and many more items from Urabeauty, Bush Blend, Arohanoa Artistry, Pure Romance VIP by Sigourney, Salon One Hair and Beauty, Unichem Brookfield Pharmacy, East Coast Paddlers and Arbonne Australia & New Zealand.
"We are also looking for more auction items to add to our packs if anyone has anything they may want to contribute," says Buddy.
"We have also incorporated 'Silent Auction' bids from those who are unable to attend in person. So if anyone in interested in submitting a silent bid, please contact me," says Jacqui.
Jacqui says that 50 per cent of the ticket price will go direct to the Breast Cancer Foundation and Breast Cancer Support Services Tauranga.
"We will be splitting it evenly between the two. The 50-50 split means funds are allocated to ongoing research, and also to on the ground support for local Tauranga wahine who are living with or recovering from breast cancer. The remainder of the ticket price covers the high tea event," says Jacqui.
"We'd love everyone to dress in their favourite pink outfit - we have a prize for best outfit – and bring your mum, bestie, daughters, nieces, sisters and cousins to support this important kaupapa."
Tickets are limited to 100 only and can be reserved on the Eventbrite website under '2021 MTEM Pink Ribbon High Tea Breakfast'.
"Part of this special journey has been meeting the many people who have been super keen to donate to and support this event as they have directly or indirectly been affected by breast cancer. "Upon meeting these amazing people, they all have their own very special story to share, and I feel incredibly privileged and grateful to meet them," says Jacqui.
"Special thanks also goes to those behind the scenes, such as Sally from Tuskany, Rosalie from The Sun, Robyn and Amy from the Tauranga Club and Audio Solutionz, Cleo Creationz & Styled by Shelby."
The event is one of many Pink Ribbon Breakfast events being held around New Zealand in support of Breast Cancer Foundation NZ, with people encouraged to host their own and invite friends or family over.
"We hope you can join us to help make a difference for whanau and friends who have been affected by breast cancer," says Jacqui. "We appreciate your support and look forward to seeing you all at this event.
The 'High Tea Breast Cancer Fundraiser' is being hosted at The Tauranga Club, Devonport Towers, Devonport Road, on Sunday May 30 from 10.30am – 3.00pm. For more information contact Jacqui on: jacqui@manataiao.com
More on SunLive...