Meet the BOP mums on The Block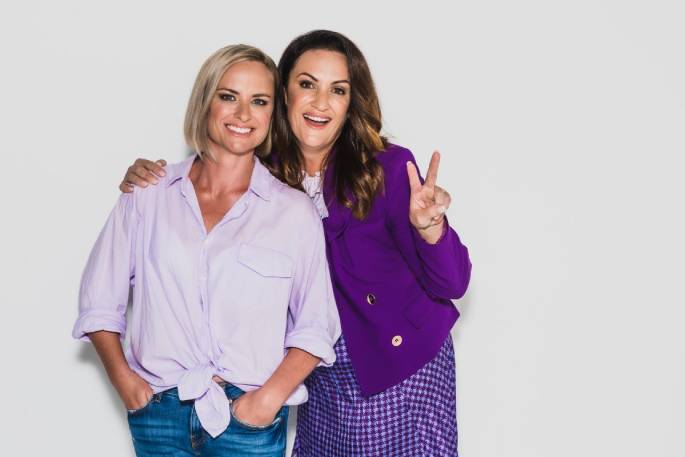 "A marrying of two visions" is what two Papamoa mums hope will give them the edge over the other teams as the pair compete in The Block, soon to air on Three.
Known on the show as Team Purple, the two mums, 39-year-old Janah Kingi and 42-year-old Rach Martin have known each other for four years when mum of three Rach, who works for Eves Realty Papamoa, sold Janah a house.
They bonded over "many glasses of wine and good times" and Janah has since bought another house from Rach.
Season 9 of the Block actually spans two years as the global pandemic meant that production had to be delayed in 2020 because of lockdown restrictions.
"It was a little disappointing as we were really getting into the swing of it, but it was absolutely the right decision to keep everyone safe." said Janah.
Rach said it was very surreal.
"We were just getting into it and feeling like we had found our feet and all of a sudden we were heading home and not knowing when we may be returning."
The four teams including Janah and Rach have now returned, along with hosts Mark Richardson, interior designer Shelley Ferguson and site foreman Peter Wolfkamp.
Back on set, two women believe they have the "upper hand to succeed" as they already have building and renovation experience. Both their husbands are builders. Both women have experience of renovating properties, and Janah also has a diploma in architectural technology and interior design.
Rach (Ngāti Raukawa) joined the army straight out of school and was stationed overseas for long periods of time, which she says built up her strength and determination - qualities that she will need on the show that tests mental and physical endurance. She also has a Bachelor of Sport and Exercise from Massey University.
Above all, they're determined to prove they have what it takes to get stuck in and complete a renovation.
Janah is quite comfortable "on the tools"
"It's quite common to find me operating a tool or two, I've even been known to disconnect and remove a toilet!"
"My husband Karl is both a builder and quantity surveyor and between us we have over 40 years' experience in the industry! Karl and I have our own construction company, Black Cedar, based here in the Bay, " said Janah.
Together with her husband she has renovated a number of properties so is prepared for the "true grit that goes into all the hard work!." She will take this experience with her to the competition and if things get tough, what she has learned is to keep your eye on the end result.
Rach's partner Graeme owns and runs an insulation business. The couple have also been building and renovating for many years.
"Typically Graeme builds and I design and help paint. We enjoy the challenge and end result. Whenever we finally finish a project we are always looking for the next project."
She has learned from experience that it is always better to plan early on as it is harder to make changes once started.
"And to go big on design because you get one shot. Trust your gut instinct."
Rach admits she can change her mind a lot at the last minute, something that drives her partner nuts!
However the mums believe they will work well together as a team. Rach describes Janah as "a loyal friend and trusted confidant. Her worst quality could be trying to do too much."
Janah admires Rachel's determination.
"Her energy and enthusiasm are second to none. We sometimes have different ideas which is to be expected and that is what brings originality to a room."
As for coping with the tension of competing against the other teams, Rach already regrets an embarrassing moment on camera.
"Showing emotion so early on! When you're sleep deprived you tend to take things a lot harder than you would if you were of sound mind and body."
With The Block teams in past series often having arguments with other teams, the Bay mums say they aren't ones to initiate drama, but are definitely prepared to stand up for what they believe in and will hold their ground where necessary.
As well as building knowledge, the pair both have a love of high end design and describe their style as "one step ahead of current trends."
Janah says she is a "creative dreamer who literally lives and breathes design."
"I love researching international trends, keeping a notebook with sketches, notes, photos, and inspiration taken from travelling."
Rach loves minimal styling and does not like clutter. She has three teenagers who are 18, 16 and 15.
"Jayde is in her first year studying a bachelor of teaching at Waikato University. Quin is at Papamoa College and Liam attends Tauranga Boys College"
Neither mum is fazed about being recognised when the programme is aired.
"We live in an amazing community and everyone has been extremely supportive."
Whatever happens, the pair are looking forward to having fun and creating memories.
"I wanted to share a once in a lifetime experience with a good friend, so in years to come and we could look back on together and laugh about what an amazing, crazy ride that was!" said Janah.
More on SunLive...