Bay of Plenty to see blood red supermoon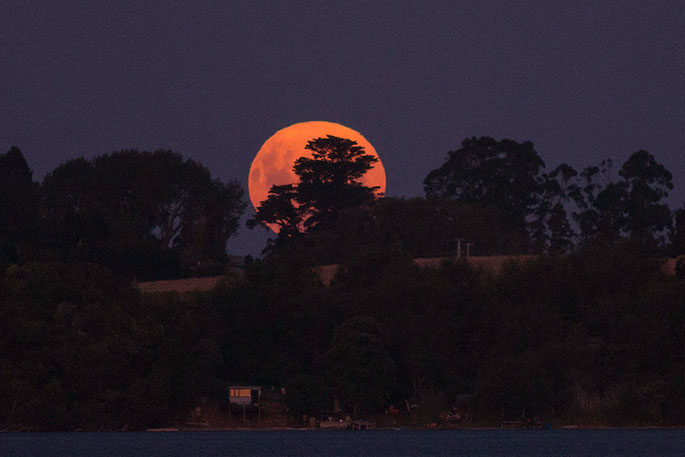 Bay of Plenty residents should, at the very least, get a glimpse of a rare astronomical event this evening with the weather forecast suggesting only a very unlucky patch of cloud will ruin the occasion.
For the first time in 40 years, a total lunar eclipse will coincide with a supermoon, making for a blood red supermoon in the night's sky.
The main spectacle will take place between 11.10pm and 11.30pm and the weather forecast suggests it's worth gambling on staying up.
WeatherWatch warns that eastern areas of the North Island are must at risk of obstruction.
"Our IBM supercomputer modelling shows many parts of NZ have clear skies on the way," says their head forecaster Philip Duncan.
"But it won't be ideal for everyone, with cloudiest weather likely in the eastern North Island due to the offshore low".
However, MetService meteorologist Ashlee Parkes suggests the weather for the day should trend as it currently is into the night, with only patchy clouds obscuring any vision.
Much of the cloud will be trapped over toward Gisborne although Ashlee admits some "scraps" will make it through.
So will you be able to see the lunar eclipse this evening?
"In general, the chances are pretty good," Ashlee says.
"It might be one of those nights where there is the odd cloud passing here or there. You might be incredibly unlucky and have one of those clouds pass over exactly when you are trying to have a look outside.
"But they will come and go. It is looking pretty good. You are not going to be overcast."
So the likelihood is a glimpse is just the minimum stargazers can expect from this evening.
David Greig, president at the Tauranga Astronomical Society states that the moon will enter the faint penumbral shadow, the first phase of the eclipse, at 8.47pm.
However, TAS will not be opening tonight due to the late occurrence of the event and it's visibility with the naked eye from across the nation.
"You don't need a telescope to be able to view the eclipse," he says.
"I remember one from a few years ago when we had a lovely, coppery, red moon."
The "total", or red, phase of the eclipse starts at 11.10pm with the maximum eclipse occurring at 11.18pm.
More on SunLive...