Career soldier's promotion a signal of change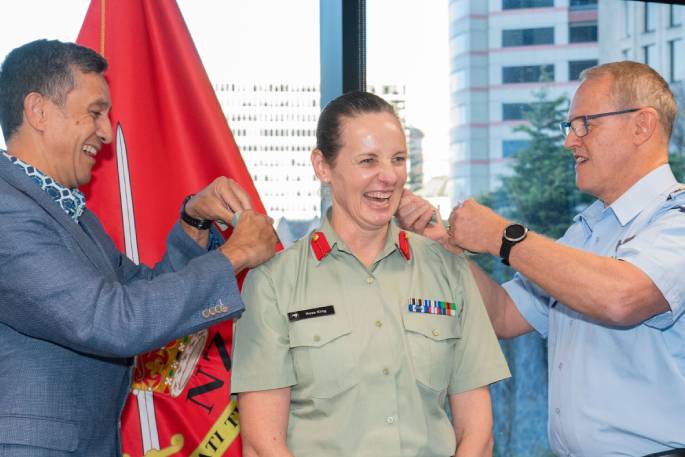 Following more than three decades of dedicated service to the New Zealand Army, Colonel Rose King has become the first General List female officer to be promoted to the rank of Brigadier.
During her promotion ceremony at Defence House on Friday, Brigadier King says she's proud to have reached this milestone in her career.
"I acknowledge all of the wahine toa who have gone before me and laid the foundation for the remainder of us to continue to build our success upon. I'm grateful to all of them who in their own right have helped me achieve this success."
Originally from Whanganui, Brigadier King says it's humbling to be acknowledged for the skills and attributes she has gained through her career.
"Others have told me 'If you can see it, you can be it' and I hope that this achievement inspires other women to continue to strive in all aspects of their lives," the mother-of-two says.
Previously, two female specialist officers have reached the rank of Brigadier, a doctor and a lawyer by trade.
Brigadier King is the first General List officer, meaning she is a career soldier who has risen from Officer Cadet training to her current role.
"Authenticity is so important to me and I'm proud to bring a different approach to how I lead. Women bring a unique perspective to leadership that should be celebrated and embraced," says Brigadier King.
Chief of the Defence Force Air Marshal Kevin Short personally requested to be involved in the promotion ceremony of Brigadier King, and says her achievement is well-deserved and a signal of change.
"Rose is a highly competent leader and role model for those around her and we, as a Defence Force, need more leaders like her to highlight the diversity of thought that women bring to our organisation."

Air Marshal Short acknowledged the large number of family, friends and colleagues who turned out to support the promotion as a sign of the respect Brigadier King has gained throughout her career, which has included deployments to Croatia and Afghanistan, and roles across the Defence Force covering training, staff and command in a variety of areas.
She enlisted into the New Zealand Army in July 1991, and attended the Officer Cadet School in Waiouru and graduated into the Corps of Royal New Zealand Electrical and Mechanical Engineers.
In addition to her New Zealand awards, Brigadier King has also been awarded the NATO Meritorious Service Medal, the United States Meritorious Service Medal and the United States Army Commendation for her services in Afghanistan.
Chief of Army Major General John Boswell says he's delighted to have been there to help promote Brigadier King.
"I have known Rose for most of her career. She's an outstanding officer and a fantastic role model to people of all ranks across our organisation. This promotion is a significant occasion; not just for Rose, but for the NZ Army also."
More on SunLive...