Red blood lunar eclipse tomorrow night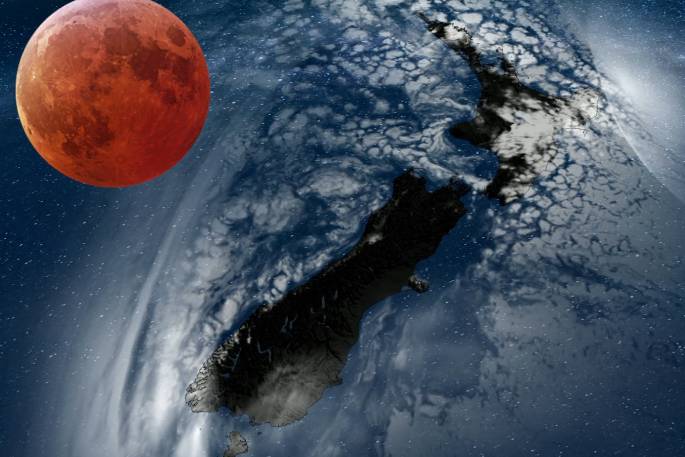 Bay of Plenty stargazers could be in for a treat this Wednesday when a total lunar eclipse coincides with a supermoon, creating a rare red blood supermoon.
However, you will have to stay up late to see the event at its peak and, unfortunately, the spectacle is also at the mercy of the elements.
A total lunar eclipse occurs when the earth comes between the sun and the full moon and blocks light from giving the moon its familiar glow.
With the moon currently in closer proximity to earth, combined with the eclipse, the phenomena is expected to be heightened.
David Greig, president at the Tauranga Astronomical Society states that the moon will enter the faint penumbral shadow, the first phase of the eclipse, at 8.47pm tomorrow.
The "total", or red, phase of the eclipse starts at 11:10pm with the maximum eclipse occurring at 11.18pm.
However, TAS will not be opening tomorrow night due to the late occurrence of the event and it's visibility with the naked eye from across the nation.
"The fact is, weather permitting, anybody in New Zealand will be able to see it," he says.
"You don't need a telescope to be able to view the eclipse."
Of course, much of this depends on the weather.
MetService is currently predicting a partly cloudy Wednesday evening for Tauranga.
However, NIWA meteorologist Ben Noll says it's still worth a look in Tauranga and the Bay of Plenty.
"There is some scattered cloud forecast for Fiordland, Northland, and Bay of Plenty, but stargazers shouldn't be discouraged because there may be enough breaks in the cloud to spot the Moon."
Gisborne and Hawke's Bay are, at present, the only locations deemed unlikely to get a view of the red blood supermoon due to thicker clouds.
However, should the clouds offer some respite and give onlookers a peak at the celestial event it should be quite the spectacle.
"I remember one from a few years ago when we had a lovely, coppery, red moon," says David.
"Normally, on a full moon, you can't see many stars. You will only see the brightest stars in the sky around the moon.
"But during the total eclipse you can see photos of the moon and see stars around it which looks pretty neat."
More on SunLive...