Papamoa Surf Life Saving club open new building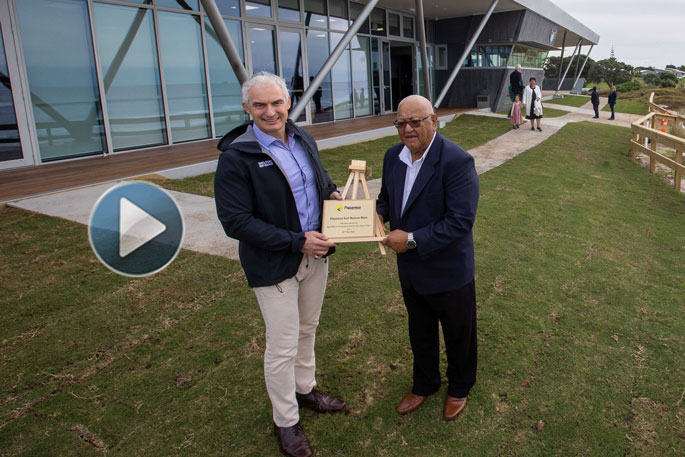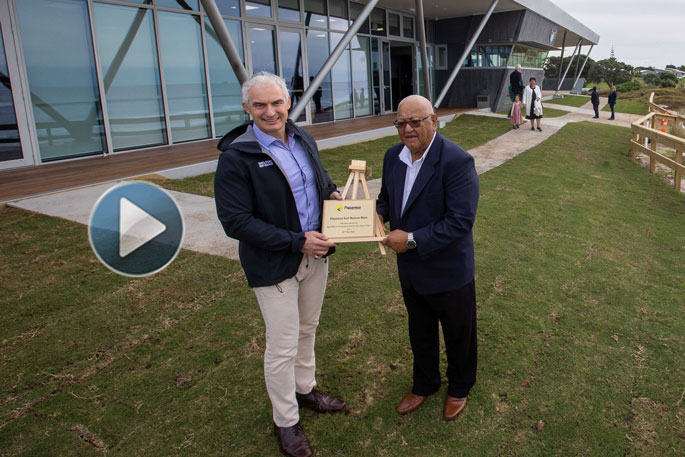 Click the image above to watch the video
A new facility has marked the dawn of a fresh beginning and a promising new direction for the Papamoa Surf Life Saving Club.
"Community" was a powerful and prevalent theme on Saturday afternoon, as hundreds turned up for the official opening of the new building.
The completion of the Papamoa Surf Rescue Base marks the end of a project 10 years in the making, with initial efforts for the build spanning as far back as 2009.
"A new surf club was so important because of the growth in Papamoa," says Papamoa Community Surf Rescue Base Trust chairperson Jim Pearson.
"There are now around 30,000 people in our community, and we have membership numbers that are approaching 1000 people.
"Our old facility simply could not perform the service that was needed on the Papamoa coast."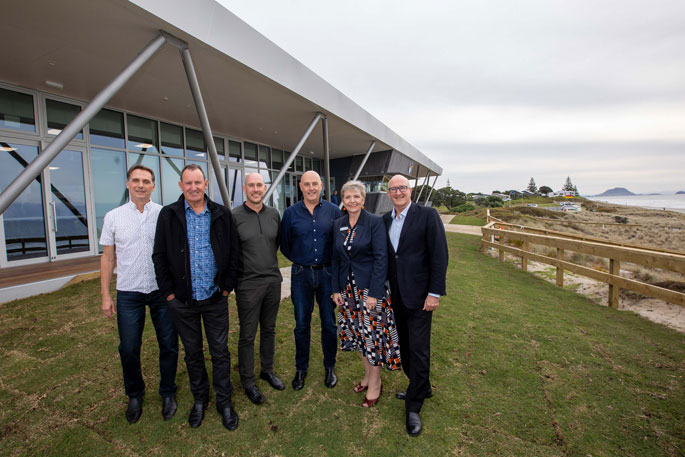 Jim Pearson, Peter Blackwell, Wayne Werder, Andrew Hitchfield, Anne Tolley, and Bill Holland. Photo: Jamie Troughton.
Funders, club members, local iwi, former Tauranga mayors Stuart Crosby and Greg Brownless, representatives from Tauranga City Council, local Bay of Plenty MP Todd Muller, Labour List MP Angie Warren-Clark, and others made up the many faces at the ceremony, including Minister for Economic and Regional Development Stuart Nash, who addressed the assembly.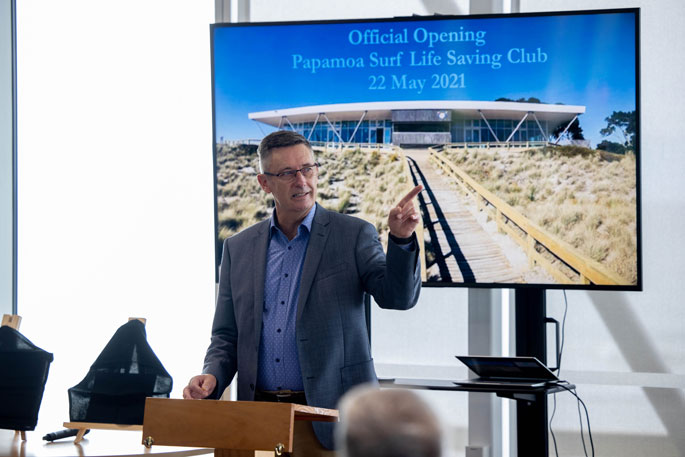 Stuart Crosby, MC for the opening. Photo: Jamie Troughton.
"It was clear to the government that this project was worth supporting when an application was made for a grant from the 'shovel ready' COVID Response and Recovery Fund in 2020," says Nash.
"Surf lifesaving clubs, like marae, churches, town halls and memorials have been prioritised for regional development funding.
"I pay tribute to the hundreds of volunteers and generous local businesses and supporters who made this happen."
A stirring pohwiri from Nga Potiki set into precedence the importance of the surf club and the benefits it would bring for the wider Papamoa community.
"It was wonderful to attend the opening of the new Papamoa Lifeguard base, both as a former mayor and as a donor," says former Tauranga mayor Greg Brownless.
"The base is functional, with plenty of storage for essential equipment and areas in which to train. Naturally it has splendid views from which the lifeguards can monitor the beach.
"With much fundraising taking place over the years it was an easy decision for me to donate both personally and on behalf of the Legacy Trust on a number of occasions.
"Special mention should be made of Jim Pearson in putting it all together," says Greg.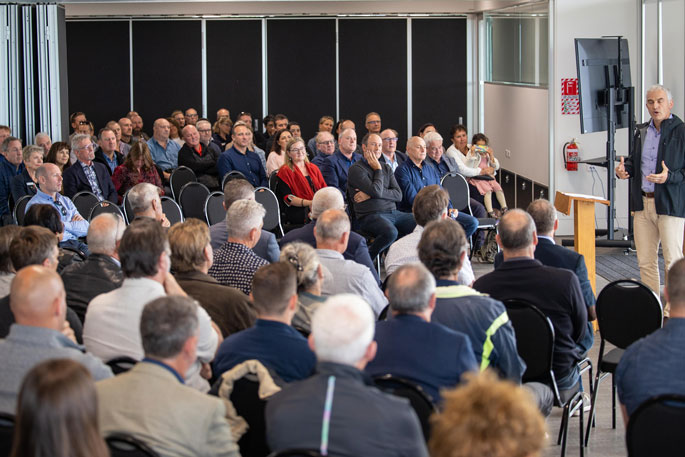 Minister for Economic and Regional Development Stuart Nash. Photo: Jamie Troughton.
Many in attendance hope that the surf club will become a "centre point" for locals to congregate and feel welcomed.
"This building will act as a community hub for club members and other organisations," says Jim.
"It will ensure that people are kept safe on the beach and in the water, as well as a place for young people to get active and stay fit."
With club membership nearing 1000 and a patrol zone running 16km in length, the club now has a facility worthy of the ever-changing stretch of beach they call home.
"I want to thank the whole Papamoa community and everyone that has been involved," says Jim.
"This building represents what a community can do when they pull their resources and energy together and deliver a facility like this."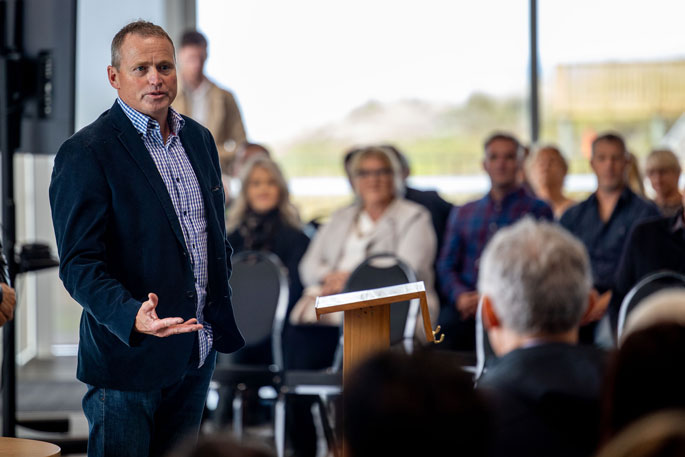 Papamoa Surf Life Saving Club chairperson Ross Merrett. Photo: Jamie Troughton.
More on SunLive...