Fine art in downtown Tauranga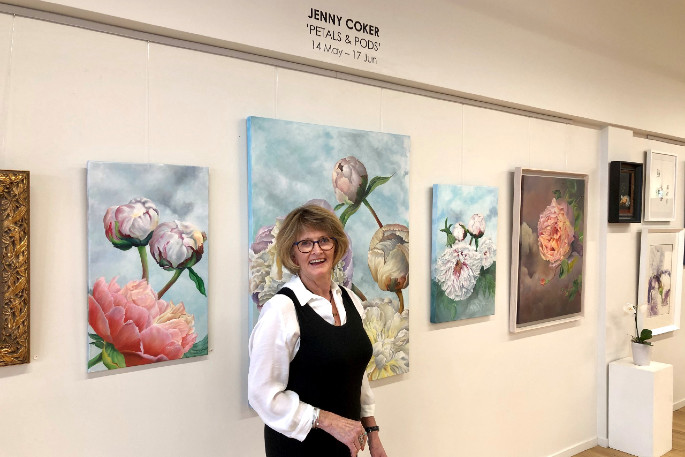 Jenny Coker's first solo exhibition at The Art Lounge in Willow St opened on Friday, with many enjoying the opportunity to be first to view Jenny's collection of work titled Petals & Pods.
Jenny is a multi-talented Tauranga artist who has lived and painted here for more than 30 years.
Her creative journey began as a teenager with fashion and portrait drawings but found that development of her skill and artistic potential was curtailed as the responsibilities of home and family dominated her time and attention.
In 1989 she seized on the opportunity to resume her creative journey, when alongside her career as a freelance architectural illustrator, she steadily developed her artistic voice.
Engaging in several workshops with top watercolour artists gave her foundation knowledge for translating her love of gardens and florals into works of art.
She tested a range of mediums, eventually settling into a natural rhythm with botanical watercolours which most captured her interest.
In 2000, Jenny established her own studio, with open studio events, occasional exhibitions, and regular participation in the local Garden and Art Fest. She also provided in-house workshops and on occasion took them south to Christchurch for southern participants and to Australia with workshops in Noosa.
In time Jenny discovered oils, with the Flemish style piquing her interest with its technical challenges and fine luminescent finishes and through a variety of avenues and opportunities her interest flourished and a refined degree of skill developed.
"It is obvious to many that I have a strong bias toward watercolour botanical art which reveals my contemporary style but I also continue to indulge my passion for Flemish-style still life showcasing the beauty of finely painted transparent oils," says Jenny.
Jenny's personal development continued with her study and participation at the Florence Academy of Art in 2017. In 2017 a magnificent showing of Jenny's flag irises inspired her to produce the Eros Collection, an eventual 25 piece body of work featuring large scale watercolour iris. She named the collection after the Greek god of love and passion, the iris is purported to be the rainbow flower and one of the flowers amassed in Elysian Fields where the souls of women rested.
"What has also become apparent is that my style easily embraces both traditional and classical realism and occasional contemporary twists, I'm sometimes surprised by the breadth of my abilities developed and honed over decades," says Jenny.
Her watercolour work has met with an eager audience in Melbourne, morphing into contemporary Australian flora. Her work now resides in California and Texas in the USA and in Victoria, Australia in addition to the homes and premises of her New Zealand clientele. Portraits, still life and botanical subjects appeal to Jenny with regular requests for commission work, however, she is selective, and her loyalty to the galleries representing her is important and a priority.
"I rather like the idea of furthering the cause of classical painting styles against the tide of contemporary expressions, however, I am beginning to appreciate the richness that both contribute to great works and I'm putting effort into bringing aspects of both onto my canvases," says Jenny.
"I have discovered that inspiration is constant but rarely static, that passion and instinct carry me into new works and new projects but enthusiasm must be carefully kept in balance with intentionality and taking the time required to achieve excellence."
Jenny is represented in New Zealand by The Art Lounge NZ and in Australia by Manyung Gallery Group. Her exquisite floral art collection is a 'must see' and the exhibition is running at The Art Lounge NZ gallery until June 17. The fine art gallery at 117 Willow St, Tauranga, is open from 11am – 4pm Tuesday to Saturday and is closed on Sundays and Mondays.
More on SunLive...