Budget 2021 LIVE: Benefits set to increase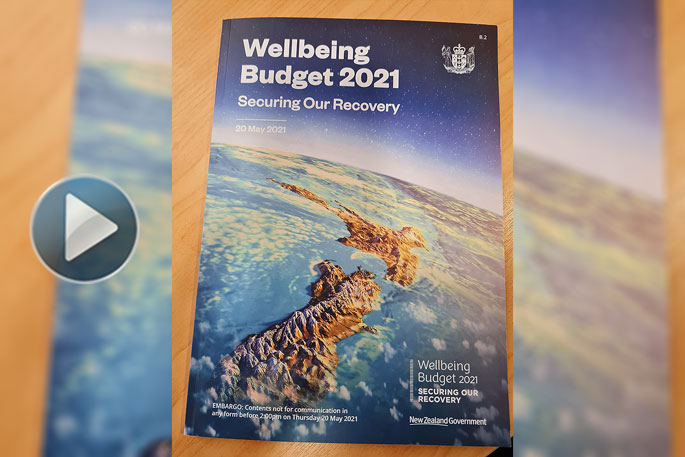 The Government aims to lift up to 33,000 children out of poverty with changes to benefit levels announced in the Budget today.
All benefit rates will increase by $20 a week from July 1 this year. A second increase will occur on April 1, 2022, which will see main benefits lifted in line with a key Welfare Expert Advisory Group recommendation.
Families and whanau with children will also receive a further $15 per adult per week.
In total, weekly main benefit rates will increase by between $32 and $55 per adult by April 1, 2022.
Between 19,000 and 33,000 children are projected to be lifted out of poverty on the after-housing-costs measure in 2022/23 as a result of increases to benefit levels in Budget 2021.
It is projected that 109,000 families and whānau with children will be, on average, $175 a week better off as a result of all the changes to income support since 2017, including The Families Package, the $25 lift to benefit rates as part of the initial Covid-19 response and the indexation of benefits to average wage increases the last two years.
"Increasing incomes for our most vulnerable both secures our recovery by adding targeted stimulus to the economy, while also addressing one of our most pressing long term challenges, child poverty," says Prime Minister Jacinda Ardern.
"We are targeting investment where need is greatest; putting food on the table and helping with power bills in the homes that need it most."
Key benefits points from Budget 2021:
• Weekly benefit rates lifted by between $32 and $55 per adult, in line with a key recommendation from the Welfare Expert Advisory Group (WEAG).

• In total, 109,000 families and whānau with children will be, on average, $175 a week better off as a result of changes made by the Government since 2017.

• Student living support will increase by $25 per week on April 1, 2022.
Welfare
By April 1, 2022, sole parents will see their main benefit increase by an extra $36 a week.
A couple with children will receive an extra $55 a week in Jobseeker Support or an extra $42 in Supported Living Payment.
Individuals without children will have their Jobseeker Support jump by $48 a week, or $55 a week for couples.
The Supported Living Payment will jump by $32 a week for individuals without children, or $42 for couples.
The income thresholds for childcare assistance will also be adjusted each year in line with the average wage.
"These thresholds were frozen by the National-led government in 2010 so the ability of some working families to access this support has fallen as wages have increased," Social Development Minister Carmel Sepuloni says.
Housing and infrastructure
The Budget lifts investment in infrastructure over the next five years from $42.2 billion to $57.3b.
A $380 million boost for Maori housing is the chief new housing measure in the Budget, with the rest of the government's plan outlined in March.
The new funding is expected to pay for 1000 new homes and help repair about 700 dilapidated homes owned by Maori.
A total of $350m has also been ring-fenced in the government's $3.8b infrastructure fund to support Maori and iwi providers build houses.
The government expects that to pave the way for at least 2700 new houses.
The government has set aside $131.8m for the overhaul and replacement of the Resource Management Act through to mid-2024.
Health
Pharmac will receive an extra $200m over four years to increase its ability to purchase medicines and drugs for sick New Zealanders.
"Other than the special Covid-19 funding we provided last year, this is one of the biggest budget increases Pharmac has ever had and will help an estimated 370,000 patients a year," Health Minister Andrew Little said.
$486m has also been set aside over four years towards the task of scrapping all 20 district health boards and replacing them a new Health NZ body. It includes $98.1 million to set up the Maori Health Authority.
There will be $126.8m towards Hauora Māori programmes run by the Māori Health Authority.
The government has reneged on its commitment last term to provide a free yearly GP visit and eye check for Supergold Card holders, describing the initiative as being of "limited benefit".
The Budget will increase funding for DHBs by $675m more a year. Primary health care will also receive another $46.7m a year.
"As I said last month, we must keep our hospitals running as we transform the health system so people can keep getting the operations and care that they need," Health Minister Andrew Little says.
Education
Future changes and historic payroll mistakes are among the targets of more than $2b in new education spending.
The four-year total includes $1.7b on school and early childhood education and $470m on tertiary education.
The biggest areas of new spending also include new school property and catch-up funding for polytechnic courses.
The Budget provides a 1.6 percent increase to school operations grant next year and a 1.2 percent increase to early childhood and tertiary education subsidies.
Student allowances and student loans for living costs will go up by $25 a week from 1 April 2022.
Climate Change
The Budget pumps another $300m into the Green Investment Finance fund to support the uptake of low-carbon technologies and low-emissions vehicles.
The investments in transport alone are expected to save up to 240,000 tonnes of greenhouse gas emissions, the government said.
Employment
The government will extend the training incentive allowance for about 16,000 people at a cost of $127m over four years.
The allowance assists people on eligible benefits with the costs of study, such as fees, books, transport and childcare.
As signalled last year, the government has also begun work with business and union groups to design a social unemployment insurance scheme.
That would support workers to retain about 80 percent of their income for a period after they lose their jobs.
Warmer homes
Budget 2021 provides further support to ensure more Kiwi homes are warmer and energy efficient, with transport and business also getting a boost to reduce emissions.
Low-income homeowners can look forward to warmer homes thanks to Budget 2021 investment into the Warmer Kiwi Homes programme.
"Extending Warmer Kiwi Homes ensures more low-income homeowners will benefit from an extra 47,700 insulation and heating retrofits. Every year an estimated 28,000 children are hospitalised for potentially avoidable hospitalisations linked to cold, damp and mouldy houses," says Energy Minister Megan Woods.
"This move will improve health, reduce energy use and emissions, as well as costs, and support jobs in the energy service sector. That's a win for people's health and pockets, as well as the planet."
"Insulating homes is a core part of this Government's plan to address the climate emergency. Budget 2021 means we can do even more to help those who need it the most to reduce their energy bills and cut emissions," says Climate Change Minister James Shaw.
Transport emissions
The transport and business sectors are also being given more support to lower emissions, across a broader range of activities.
The Low Emission Vehicles Contestable Fund (LEVCF) will become the Low Emission Transport Fund (LETF) to reflect a change in eligibility for projects in areas like aviation, and maritime and for off-road vehicles.
Other fuel technology projects using biofuel and hydrogen, will also now be eligible for funding.
"Past projects have expanded the public electric vehicle charging network and invested in New Zealand-leading, innovative technology, such as electric trucks. We've upskilled the industry; and organisations from small community groups to nationwide transport companies have shown there is a low-emissions vehicle solution for just about every need," says Woods.
Funding for the LETF will now be met through an even split of Crown funding and levy funding. Total funding for the programme will reach up to $25 million per year by 2023/24, with the Government increasing its contribution to up to $12.5 million per year by 2023/24 through Budget 2021.
Meanwhile, more businesses will be able to make the transition to low-emissions energy, with Government funding for the Energy Efficiency and Conservation Authority's (EECA) support services for business increasing to $8.1 million a year.
EECA helps businesses identify and implement lowest-cost carbon abatement projects, optimise energy use and switch to low-emissions energy sources.
"A big part of decarbonising our economy means understanding what options there are to transition, developing plans to get there and support for bringing on new technology. This all makes it easier for businesses to move toward clean and clever energy use," says Woods.
In addition to the emissions reduction initiatives announced by Megan Woods today, Climate Change Minister James Shaw has also unveiled a suite of measures in Budget 2021 to help New Zealand on its path to carbon neutrality by 2050.
Support for workers post Covid
The Government, Business NZ and the New Zealand Council of Trade Unions are jointly designing a Social Unemployment Insurance scheme that would support workers to retain about 80 per cent of their income for a period after they lose their jobs.
Minister of Finance Grant Robertson says a Social Unemployment Insurance scheme would strengthen the safety net in Aotearoa New Zealand, and would be an appropriate legacy from Covid-19 – one that makes NZ's recovery stronger and more secure.
"Like ACC for accidents, a Social Unemployment Insurance scheme would cushion the impact of a job loss. It would give workers the financial stability to find the right job for their skills, or to retrain for a new, fulfilling career path. We're looking at a scheme that could provide those who lose their jobs with around 80 per cent of their income, with minimum and maximum caps," says Robertson.
"Over the coming months, the Social Insurance Tripartite Working Group (Government, BusinessNZ and CTU) will be consulting targeted stakeholders on what the right settings could be, balancing the support needed for Kiwis to find quality new jobs against the costs of running the scheme. There will be wider public consultation later this year."
More on SunLive...