Kiwi pop sensation BENEE coming to Tauranga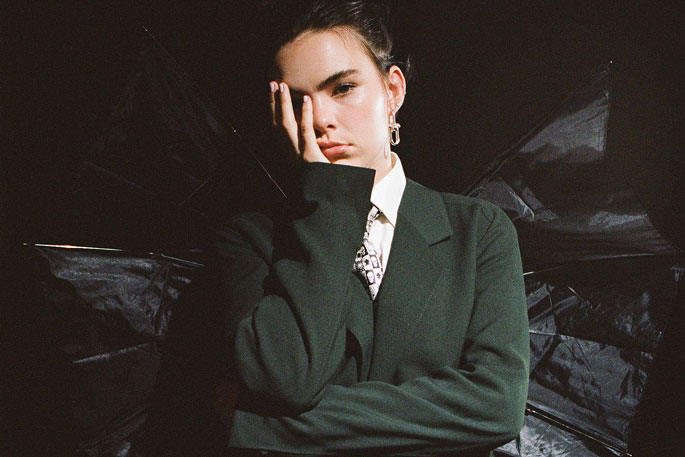 Hey you! Be Supalonely no more, because rising global superstar BENEE is coming to Tauranga for the first time. The 21-year-old indie-pop sensation announced this morning that she is bringing her groove worthy energy to Trustpower Arena on August 20.
The Tauranga gig is part of a nationwide Aotearoa tour in August, in which Benee will visit every corner of the country, hitting eight different towns and cities.
The regional tour follows a whirlwind 18 months for the 'Supalonely' and 'Soaked' superstar, whose real name is Stella Bennett.
After releasing her debut album 'Hey U X', she wowed fans in a sold-out eight-date tour in October 2020, and was named on Forbes 30 under 30 Asia 2021 list. She recently took home the APRA Silver Scroll, adding to her haul of Music Award Tuis (now totalling eight in the past two years). In both 2019 and 2020, she consecutively won Single of the Year, Best Solo Artist and Best Pop Artist at the New Zealand Music Awards.
With two and a half billion worldwide streams and counting, Benee has fans across the world including Elton John, but while Covid-19 restrictions remain, she is all ours in the regions.
It was following the popularity of her first tour, Benee recognised that fans in smaller towns and cities don't often get the opportunity to experience full-scale pop concerts in their own backyards.
She is looking forward to visiting Tauranga, where she has come on holiday since a baby.
"My grandad used to live in Tauranga. I played competitive water polo for years too and we'd play tournaments at Baywave and stay just down the road. I've spent lots of time at the Mount on holiday with friends too. Love it."

Bay of Plenty fans can expect a whole new vibe and set up since last year's national tour.
"There's going to be a new look on stage. I'll also be playing some new songs!"
There will be much loved favourites too.
"Snail is a fun one just because it's a high energy song!! I also love playing Supalonely because people know the lyrics."
Her band is made up of her three close friends - Felix, Tia and Dylan. The supporting act for the Tauranga show is Tuesday.
Benee said that global pandemic did change her plans, as was the case for many musicians.
"I had a bunch of shows lined up in Europe and America .. everything was cancelled or postponed. We had no idea of when things could go ahead, and to a degree that's still true."
She has spent her time productively making new music and chilling with family.
"I spent most of the lockdown at home with my family. We did a lot of dog walking, cooking and eating together. I was doing lots of promo from my bedroom and also did a lot of songwriting."

She takes inspiration from different musicians - she is loving Rosalia and Mount Kimbie at the moment. She is no stranger to collabs having already collaborated with Lily Allen, Grimes and US rapper Flo Milli, but has her dreams set on a collaboration with London-based producer and singer songwriter James Blake.
It is sometimes frustrating for Benee when reviews say she is the new Lorde or Billie Eilish" or compare her to other singers.
"I think just comparisons in general get a bit overwhelming when the only comments people make are that you look or sound like someone else. I think I've noticed especially being a woman in this industry, people tend to take away from your individuality by trying to compare you to others."
Her look, like her music, is very much "Benee".
"Things like art, films, nature and things going on around me inspire how I present myself."
Benee, who has dyslexia, dropped out of her degree at AUT to focus on her music. She says dyslexia is an asset when she is creating music.
It actually helped me with my song writing. I'm a visual learner. It makes me more creative when it comes to coming up with lyrics. I normally write down all of my lyrics, record a few ideas on my voice memos, then go into the recording booth and freestyle more melody ideas."
She has recently created her own record label Olive with Poppy Tohill.
"I'm just selecting artists whose work I admire. Female, LGBTQIA+ and males are all welcome."
Benee also has unique shows planned later this year backed by some of the country's best classical musicians. Her hits are being reimagined in collaboration with composer Clare Cowan, for her to perform with the New Zealand Symphony Orchestra in Wellington and the Auckland Philharmonia Orchestra (APO) in Auckland.
"The NZSO and APO shows will be a blast."
A tour in Australia is also on the cards.
Despite her continuing rise to superstardom in the music world, Benee remains grounded. She loves walking her dog, listening to music, going to the beach and just hanging out with friends.
Although the rest of the world is hearing the name Benee more and more, back home she is low key.
"My friends and family are only allowed to call me Stella."
A name that suits her perfectly - as Stella means star.
More on SunLive...