Bethlehem College singer through to national final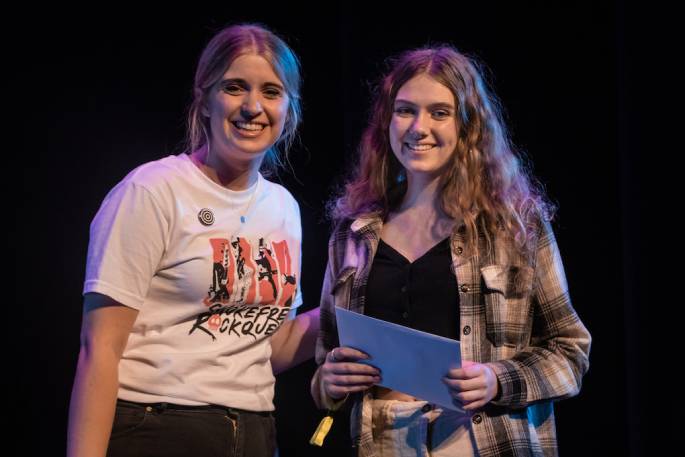 Mabel Affleck has been named as the first placed entrant at the Smokefreerockquest regional heat for the Bay of Plenty.
Alongside second placing Just Cate of Rotorua Lakes High School, the Bethlehem College singer advances to the event's national final.
Also announced at the event, which took place at Baycourt Community and Art Centre on Sunday, are the 12 bands selected for the Smokefreerockquest regional final on May 29 and the regional winner of Smokefree Tangata Beats.
"It's good to let things out in a creative way," Mabel explains when discussing what songwriting means to her.
"I write almost every single day, it's like a stress relief.
"I get to be creative at the same time as doing what I'm passionate about and what I love."
Meanwhile, the top 12 bands to play off at the Bay of Plenty regional final are as follows:
-TABS, Rotorua Boys' High School
-Tu Tae Te Akitu, Rotorua Boys' High School
-Tuhoe Soldiers, TKKM o Huiarau
-CANVAS, Mt Maunganui College, Papamoa College
-O.C.D, Papamoa College
-Vegan Funk Machine,
-Mt Maunganui College
-Slept In, Bethlehem College
-1000 Volts, Papamoa College
-Their There, Mt Maunganui College
-On the road, Mt Maunganui College
-Big Angry, Otumoetai College
-Flex, Tauranga Boys' College
The Bay Of Plenty regional final will take place at Totara Street on May 29 at 7pm.
Tickets are $10 for school students or $20 for adults from the venue or at the door.
The Smokefree Tangata Beats Award goes to Tu Tae Te Akitu from Rotorua Boys High School, who will now submit footage to be selected for the national finals in Auckland on September 17.
Founder and director Pete Rainey says while Smokefreerockquest is a competition, the environment throughout the nationwide series of events is hugely supportive, with the emphasis on participation.
"Between now and the regional final, the work participants will put in to prepare for the next stage is a big part of what makes Smokefreerockquest and Smokefree Tangata Beats such valuable learning experiences," says Pete.
"The solo-duo acts going into the video submission round, and the bands going into their regional final, will need to practice hard, and make good use of networking opportunities and social media to promote themselves and their achievements. For a lot of students these steps can be part of their NCEA assessments."
At the Bay of Plenty final there will be awards for the top three bands, the Musicianship Award, ZM Best Song, Best Vocal, APRA Lyrics Award, and the People's Choice voted by text.
The top regional bands and solo/duos submit footage for selection as finalists to play off at the Smokefreerockquest national final in Auckland on September 18.
More on SunLive...