Starlink to be visible tonight, weather depending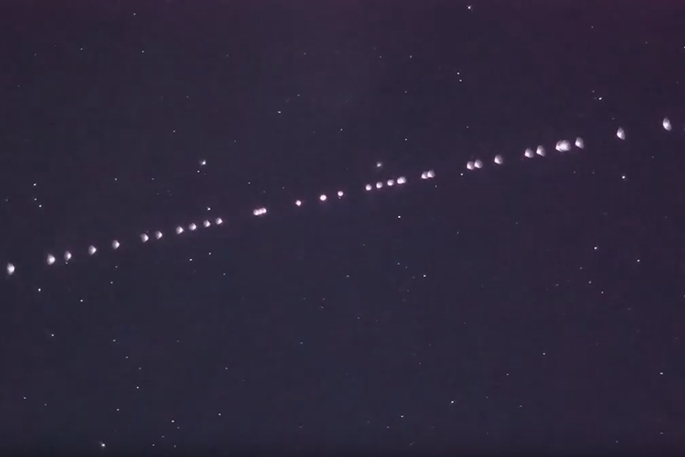 Starlink trains spotters will be praying for a clear night sky as astronomers predict Starlink27 "may be visible" tonight.
Weather permitting, the Starlink27 satellite train may be visible from around 6.14pm and 6.24pm, says a post on the Tauranga Astronomical Society Facebook page.
"Note, this train has now split into two groups, with the first main part of the train visible from around 6.14pm and the remaining satellites visible from around 6.24pm (depending on your location).
"The first group will rise in the south-west as it passes up most of the length of Aotearoa/New Zealand from the West Coast of the South Island to East Cape on the North Island.
"The second group will pass from Mt Taranaki right over Tauranga as it heads north east."
As seen from Tauranga, the first group of Starlink27 satellites will cross highest across the south eastern half of the sky, a few degrees above the Southern Cross at 6.18pm, reaching a maximum altitude angle of around 60 degrees, says the Tauranga Astronomical Society.
The second group will pass right overhead, reaching maximum altitude angle by 6.28pm.
For observers in the lower North Island, Wellington and most of the South Island, the Starlink satellite train will pass highest across your north eastern sky.
"The last few passes have been quite dim compared to previous passes which have occurred within days of launch.
"This may be due to changes SpaceX are making to the satellites to try to prevent them from being so reflective and bright, in response to concerns from the astronomy community."
More on SunLive...