What's on - Frocks on bikes, football, bird show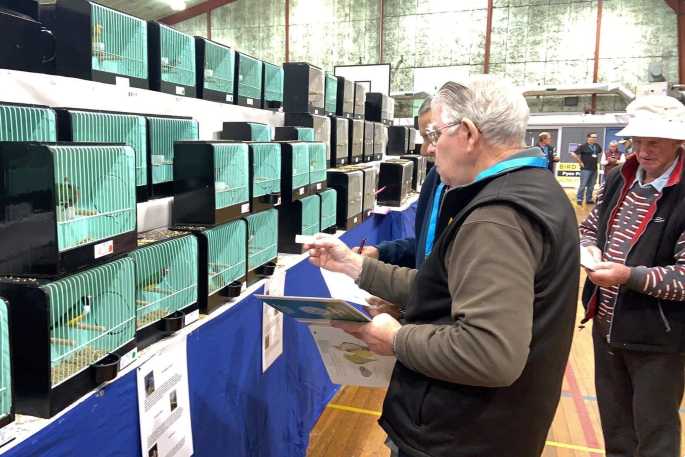 Good morning and welcome to Sunday. Ko te ra tenei i hanga e te Ariki. Ka koa tatou, ka koa hoki ki reira.
The MetService is forecasting a fine day, the clouding over in the evening with a few showers developing. There are light winds, with northerlies from the afternoon.
It's a three-clothing-layer day with an expected high of 19 degrees, and an overnight low of 13 degrees. High tide is at 10.15am and low tide at 4.18pm. Sunset is at 5.15pm.
What's on today?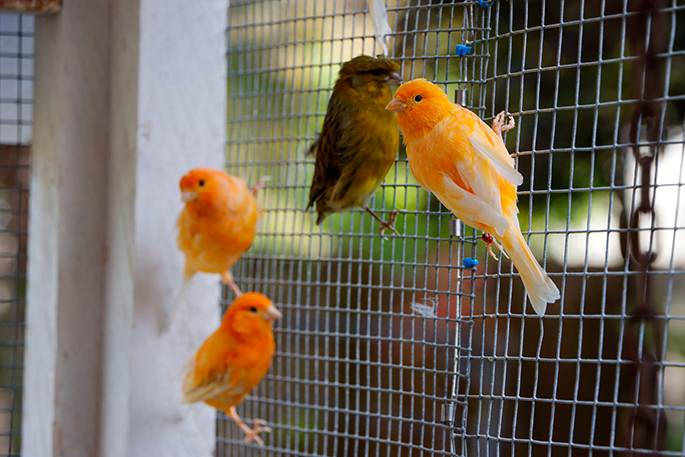 Canaries will be on display at the Tauranga Bird Club Animates Show and Sale today.
The Tauranga Bird Club Animates Show and Sale is open today from 8.30am – 1pm. Head along to see hundreds of birds on display at the Mount Sports Centre. Entry is $4 adults, $2 children, pre-schoolers free and families $10. No Eftpos, cash only please.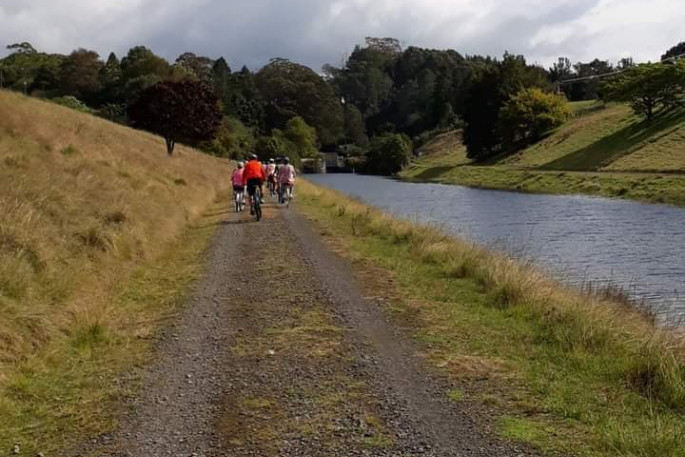 Riding along the Ruahihi Canal. Photo: Frocks on Bikes.
Frocks on Bikes have a ride planned today from 9.30am along the scenic road and lakeside trail in McLaren Falls Park and the Ruahihi Canal, returning to the McLaren Falls Café for morning tea. For more information click here
Come and support our local team as Tilemax Papamoa Premier Womens squad do battle with Central United in round one of the Kate Sheppard Cup at Gordon Spratt Reserve in Papamoa today from 1pm – 3pm.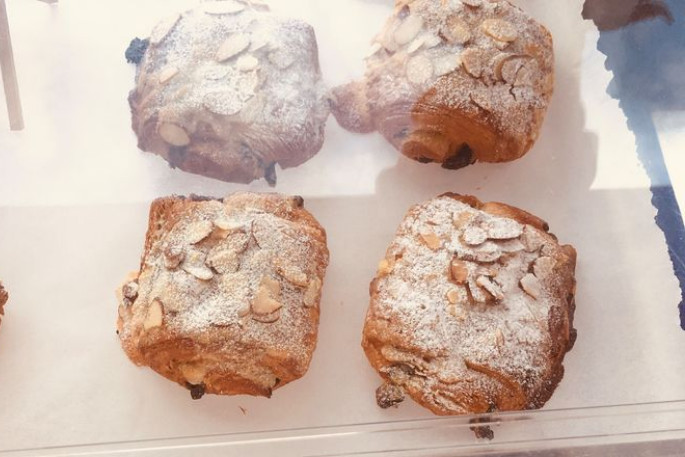 Fresh croissants at the Sunday Farmers Market at Mount Maunganui.
The Sunday Village Market at Tauranga Historic Village, 17th Ave is on from 9am – 1pm.
The Sunday Farmers Market at Mainstreet Mount Maunganui is also on from 9am – 1pm. Come along for live music, fresh fruit and vegetables, herbs, flowers, bread, warm croissants, pasties, crepes, fresh artisan pasta, and many more artisan products.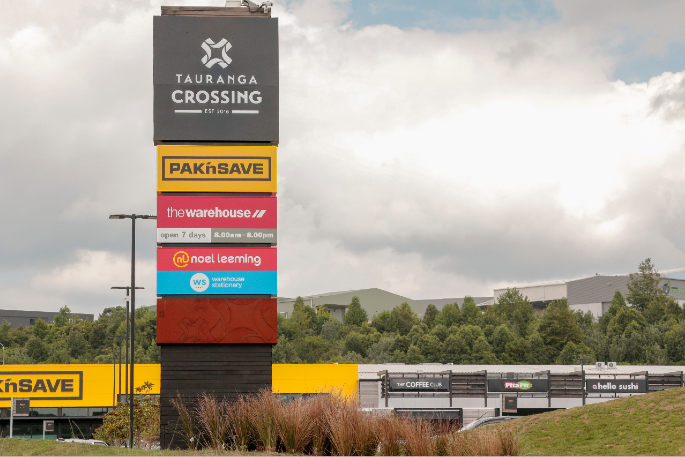 Tauranga City Council and Western Bay of Plenty District Council are holding a 'Tauriko for Tomorrow' pop-up feedback session at Tauranga Crossing from 11am – 4pm today so that the public can provide feedback on the short and long-term transport options and proposals for the Tauriko West community. Find out more about the project at www.taurikofortomorrow.co.nz
For more events visit My Tauranga.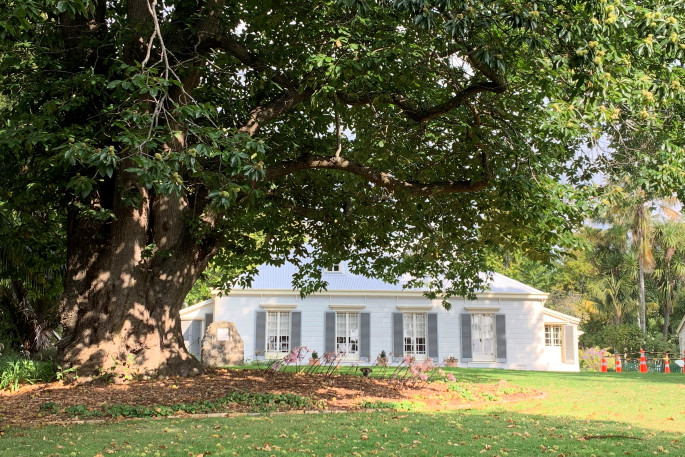 The Elms | Te Papa Tauranga. Photo: Rosalie Liddle Crawford.
The Elms | Te Papa Tauranga in Mission St is open from 10am - 4pm. Come and view the Mission House and gardens. For more information click here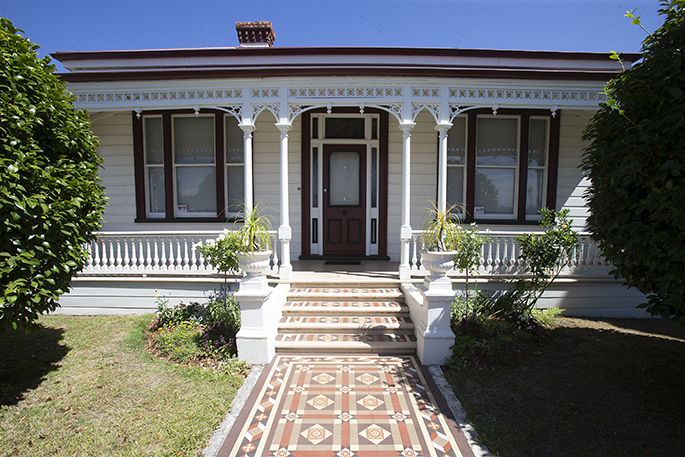 Brain Watkins House. Photo: John Borren.
The Brain Watkins House Museum at 233 Cameron Rd, is open from 2-4pm. Adults $5, children free.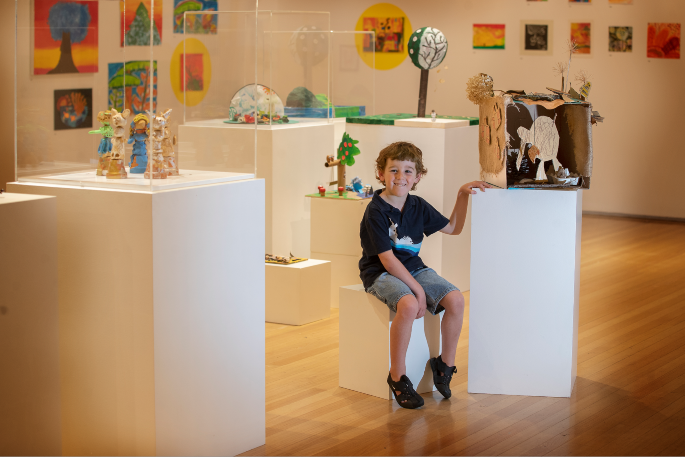 Kobe Jennings, 5, winner of the 'Innovative Use of Art Materials' award with his 'Insect and Bird House'. Photo: John Borren.
Take a walk through Tauranga Art Gallery and view the many exhibitions on display there this week, including the entries in the Acorn Foundation Youth Art Awards. The gallery, in Willow St, is open from 10am - 4pm.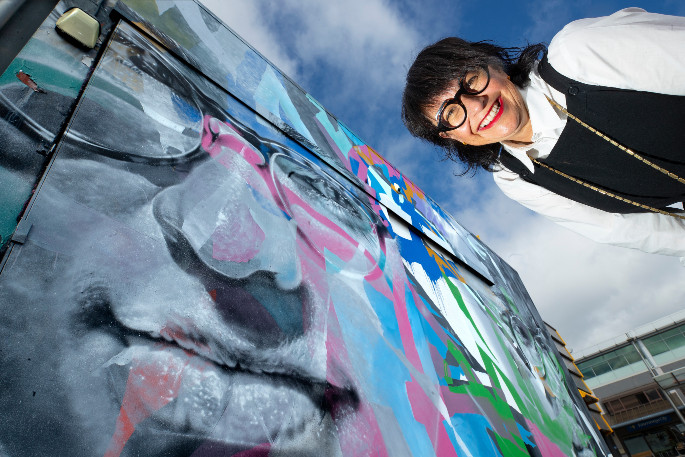 Love public art? CITY ART WALK TAURANGA app is a free to download walking tour of 20 public artworks in Tauranga's city centre. For more information click here
Enjoy workshops at ReMaker, with the community of makers, located at Our Place in Willow St. Click here for more information.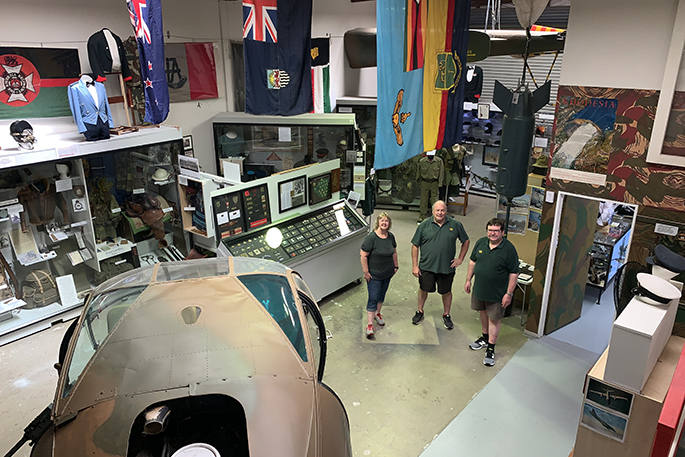 Diana Bomford, Tony Fraser and Hugh Bomford at the Lion and Tusk Museum at Mount Maunganui
Have you been to the Lion and Tusk Museum yet? It's open today from 10am - 3pm at Unit 4, 14 Portside Dr, Mount Maunganui. Come and see a massive display of Rhodesian military history records and exhibits of uniforms, medals and equipment. Opening hours are 10am – 3pm Thursday to Sunday. For more information click here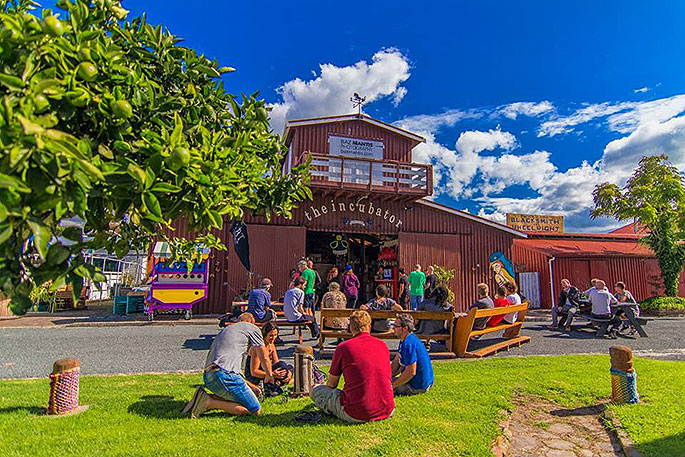 The Incubator
At The Incubator Creative Hub at Tauranga Historic Village, there are many exhibitions, workshops and events happening daily. For more information click here. Exhibition hours are 10am – 2.30pm.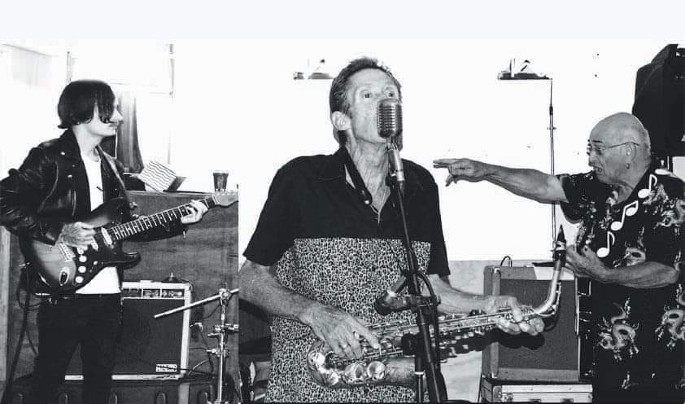 Play Misty are performing this afternoon at Jack Dusty's Ale House in Bureta, from 3pm. 'Play Misty' is Paul Parkhouse and Simon Elton, performing acoustic versions of harmonica blues, rockabilly, hillbilly and 60s pop. Joining Simon and Paul for this show is Tauranga guitarist Josh Durning.
What else is on today?
Accordion-Keyboard
Old time music makers, Welcome Bay Hall 1-4pm. $3 entry & Ladies a plate please. All welcome. Ph Ces or Joy 544 3849
---
Art On The Strand
Original art for sale. Weather permitting. 9am-4pm. The Strand, Tauranga. Tauranga Society of Artists.
---
At Sunday Village Market
You will find a great range of arts, crafts, boot sale goodies, delicious food, at the Historic Village from 9am!
---
Brain Watkins House Museum
233 Cameron Rd, open 2-4pm. Adults $5, children free. Groups or classes by arrangement. Ph 578 1835
---
Bretts Goalkeeping Clinic
Free GK coaching 9-11am. Suits beginners to youth, 3 coaches available, At Waipuna Park. Please bring your own gloves.
---
Croquet
Tauranga Domain, Cameron Rd, Sun, Tues, Fri, 12:45 for 1pm start. Beginners welcome. Ph Peter 571 0633
---
Enjoy Travel?
Friendship Force meets third Sunday monthly. Home hosting in NZ & overseas. Noumea, Melbourne in 2022. Ph Jonathan 572 2091, Diane 027 249 9859
---
Golf Croquet
At Club Mount Maunganui, Kawaka St. Tues, Thurs, Sun; 9:15am for 9:30am start. Visitors, new players welcome. Ph. Nev 07 575 5121
---
Healing Optimal EFT
Learn how to heal your mind & body using the Unseen Therapist within you. Free e-booklet describes this proven process. https://www.emofree.com/unseen-therapist Text 0210 274 2502
---
Invitation To Meditate
Follow your own meditation practice with friends in 1 hour of silence. 10am-12 in hall behind Brain Watkins House, 233 Cameron Rd. Refreshments. All welcome. Txt 0210 274 2502
---
Mah Jong Te Puke
All players welcome 12:45-4pm. New player lessons on Thursdays. Lyceum Rooms, 8 Palmer Pl, Te Puke. Ph Gig 027 430 6383
---
Maketu Market
3rd & 5th Sunday of month. Set up from 7am at Maketu Village Green. Ph Maureen 021 267 1685
---
Medieval Swordfighting
Learn to fight with swords axes, spears, etc. in a controlled safe & fun environment. Memorial park 1:30pm
---
Merk, Infinite Youth Tour
Release of the indie pop/rock album 'Infinite Youth'. 7pm, Jam Factory, Historic Village, 17th Ave. Book @ www.theincubator.co.nz
---
Messy Church, Holy Trinity
215 Devonport Rd, 4-6pm. Activities, short Christian story. Simple meal. GF, vegetarian options. Free. Children accompanied by adult. Ph 576 7718
---
Papamoa Farmers Market
Connecting our community with local produce. Rain, hail or shine, it will be on! At Redefined, 58 Ashley Pl, Papamoa
---
Porcelain & China Painting
Check out this enjoyable & easily learned art form. Materials required are available to get you started. Ph 027 553 3042
---
Quakers In Tauranga
All welcome to join mostly silent meeting exploring the spiritual experience of each person. 10am, 233 Cameron Rd. Ph 07 543 3101
---
Radio Controlled Model Yachts
Sundays & Thursdays 1-3:30pm. Pond behind 22 Montego Dr, Papamoa, sailing "Electron" radio controlled yachts for fun. Adult beginners welcome. Graham 572 5419
---
Soul Food For You
Relax, unwind, reflect, refresh, enjoy. Share in a selection of sacred & inspirational writings & music. Held last Sunday of month. All welcome. Ph 543 0434
---
Tauranga Bird Club Show
Show & Sale on May 15th 1-5pm, May 16th 8:30am-1pm, Mt Sports Centre. Cash only for entry & sales.
---
TePuke Country Music Club
1-4pm, Te Puke Citz Club & RSA. All welcome. Ph Gayle 07 573 8255
More on SunLive...