Young Mount surfer hunting series win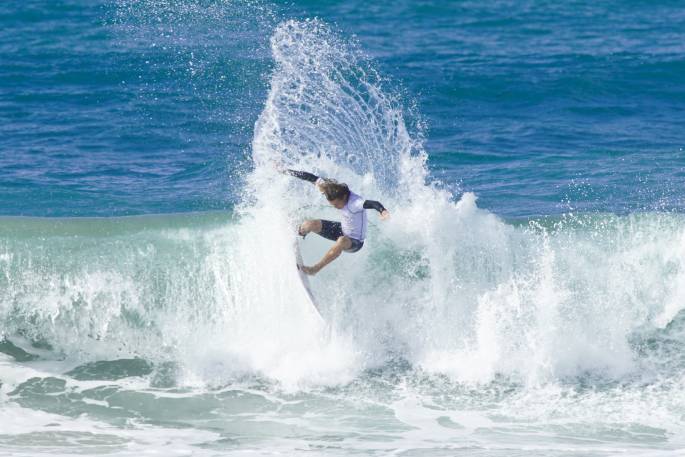 A young Mount Maunganui surfer is hoping to battle the nerves and take home an impressive prize this weekend, with regional interest high in the final round of the New Zealand Surf Series.
Jack Hinton heads into the final round of the Under-18 Boys section of the Groms Series with a strong chance of picking up the overall win at the Super 16 event at Piha Beach on Saturday.
It would be quite the achievement for the youngster, who only won his first big event at Pauanui last month.
Another win a week later at Kaikoura followed, and that puts him in the running ahead of the final session.
The stakes have Hinton's stomach in knots, but as he explained, that is a regular occurrence.
"I am feeling pretty nervous at the moment," he explains.
"I get nervous before every comp.
"But once I get a few surfs in beforehand then I am alright."
His biggest challenge will come from Gisborne surfer Finn Vette.
If Vette wins, he takes the title but a win for Hinton and third place finish for Vette will see the Mount talent pick up a well-earned triumph.
The pair are friends and regularly surf together, but once the competition starts, that unity is forgotten.
"He has been doing pretty well this year," Hinton states.
"He is one of my mates as well from surfing with him.
"But it's like you are not friends on the water but you are friends on the land."
Hinton, who has been surfing since the age of five from his home near Tay Street Beach, will be supported in Piha by his dad with hopes of helping Mount Maunganui's boys complete a stellar sweep across the series.
Tao Mouldey is the favourite to take the Under-16 Boys Division whilst Mount Maunganui-based Taylor Hutchison, who represents Raglan, has already secured the Open Men's Division.
Christchurch's Ava Henderson has claimed the Open Women's Division title but the Mount's Anna Brock will look to push her for the win on the day this weekend.
Reuben Woods, Callum Chuter, Georgia Wederell, Isaac Klein-Ovink, Connor Van Der Pol, Beau Woods, and Sophia Brock complete a strong Mount contingent present at the event whilst Waihi Beach's Levi Stewart and Whakatane's Tai Murphy round out the Bay of Plenty interest.
Provisional Olympic athletes Billy Stairmand of Raglan and Ella Williams of Whangamata will use this weekend's event as another hit out before they focus their efforts toward Tokyo in July.
Hinton and the rest of the juniors will get the action started in Piha from 8am, with finals starting at 2pm.
The Open Men and Women will take centre stage at Piha on Sunday from 10am-2pm with the event being broadcast live on Sky Sport 9 and webcast on the Sky Sport Next YouTube channel.
More on SunLive...