Tolley: a sense of helplessness in Tauranga City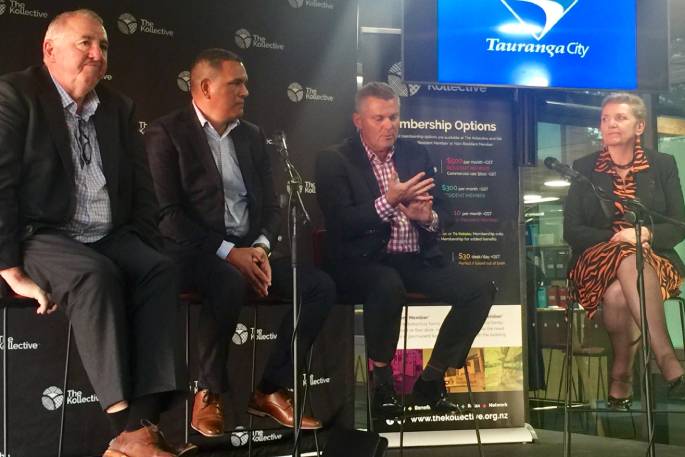 "Tauranga's residents have a sense of helplessness about the overwhelming growth of their city."
This is what commissioner Anne Tolley told social sector agencies at a meeting organised by The Kollective and SociaLink, the umbrella organisation for Western Bay of Plenty social agencies.
All four commissioners, Tolley, Bill Wasley, Shad Rolleston and Stephen Selwood, were present and discussed the council's Long Term Plan, which is open for submissions.
Tolley says the LTP includes providing better amenities, the ability to move around the city, providing land for affordable housing and revitalisation of the city centre.
"Devonport Road is a pretty sad place in its current state," Wasley says.
"We're incorporating a proposal for a civic administration building, an indication of the kind of development which will bring several hundred staff back into the city centre."
He says as well as managing growth it needed to provide for the people who already live here. The council would be an enabler of affordable housing, but would not be going out and buying up land.
"There is a need for balance," he says.
Selwood says the city had not managed growth well. Transport would get the greatest percentage of the investment, totalling $1.9 billion.
Tolley says residential rates would increase 16 to 17 percent, about $1 a day for most, and they were looking to spread the costs, with higher increases in consents and development contributions, which would more than double.
The LTP aims to shift more of the load to the commercial sector, she says.
The commissioners heard from the social agencies that the LTP focuses on infrastructure and not people, and that those renting were left out. There also needs to be more consideration in the plan of the 27 per cent of residents with a disability.
Rolleston says they recognised there were gaps, but the LTP was intended to be inclusive and address broader social issues.
Tolley says families were at the heart of the LTP and they were working with partners such as the Regional Council so they could talk to the government with a single voice.
Asked what she thought was the biggest concern for the city she says people appeared overwhelmed by growth, and wanted stops put up at either end of the city to stop it.
"There's a sense of helplessness."
Selwood says when he arrived Tauranga didn't appear to have a 'story'.
"It's difficult to understand what the city is about."
The commissioners are urging people to make submissions on the LTP, and say they had made it as easy as possible for people to have their voice heard.
More on SunLive...