Ninja warrior on sand at Mount event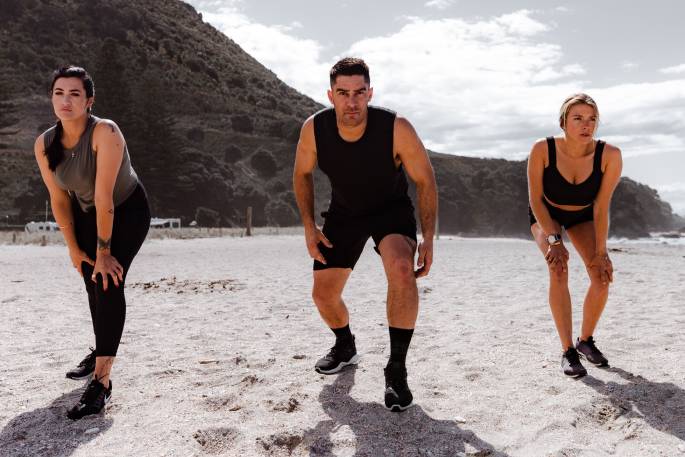 One of the world's fastest growing sports is heading to Mount Maunganui next month.
The Ultimate Athlete Obstacle Course Race takes place over Friday, June 11, and Saturday, June 12, with entrants asked to push their limits across varying distances, whilst conquering an assortment of obstacles in their path.
The event, which was previously postponed after the Auckland Covid lockdown earlier this year, is set to attract elite athletes from across the region and beyond.
Some of the Bay of Plenty's premier triathletes, celebrity fitness fanatics and top surfers are all expected to take part.
However, Gavin Foster, managing director at Ultimate Athlete, also hopes weekend warriors and brave amateurs will get involved.
"It is challenging but we like to think we have made it achievable for even your lower level fitness people," Gavin says.
"That was the idea around the concept. To make it really achievable to a broad spectrum of people.
"Look it can be fun if you just want to walk it with your mates, dress up and do the obstacles with your friends and just enjoy it.
"You don't have to be an athlete to do Ultimate Athlete."
Obstacle course racing is one of the world's fastest growing mass participation sports and is earmarked as a future Olympic sport.
The main events will be a 10km 'Ultimate Beast' race with 25 obstacles and a shorter 'Ultimate Challenge' track over 6km with 20 obstacles.
There will also be team, kids and school races taking place over the two days with the central hub being at the Mount Maunganui Surf Club.
Mauao's base track, Mount Drury's elevation and Main Beach's soft sand are all being utilised for the event, along with purpose made high-spec obstacles such as monkey bars, inverted walls and cargo nets, with various prizes and giveaways for winners and participants.
As Gavin alludes to, the obstacles are somewhat recognition of the hit TV show 'Ninja Warrior' but on the beach.
Gavin, along with Bay Dreams organisers Toby Burrows and Mitch Lowe, are behind the venture and the locally based trio hope the event will not be a one-off.
"I live in the Mount so it is all locally owned and operated," says Gavin.
"We really want to put our location on the map. Something so unique to us is having this beautiful location to put it on so that adds an element to it."
The hope is to create a hub of excitement and activity around the racing as well as the sporting element itself.
"The whole vibe down there with the shops, restaurants and hotels should provide a nice boost for the local economy during the mid-winter especially without our cruise ships coming in."
For more information and how to enter visit https://www.ultimateathlete.co.nz/
More on SunLive...