Big week for flatwater racing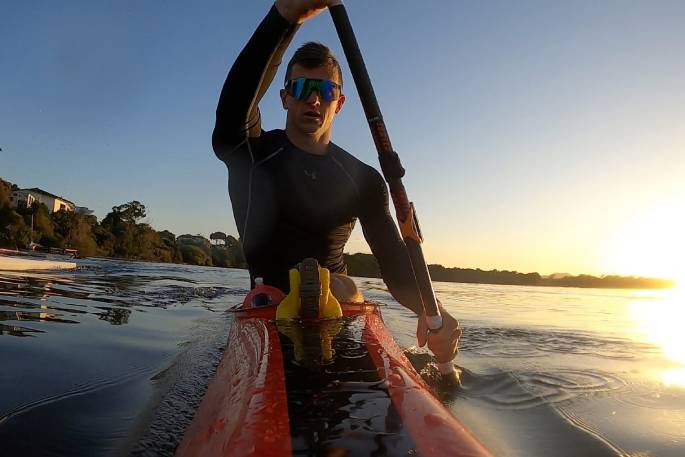 It is a big week for flatwater racing in New Zealand as one inspirational figure attempts to secure a spot at the 2020 Tokyo Paralympic Games this evening.
Meanwhile, the NZCT New Zealand Canoe Sprint Championships will be getting underway at Lake Karapiro on Friday with Bay of Plenty interest.
Competing in just the third regatta of his career, Corbin Hart will take to the water tonight at the ICF Canoe-Kayak Sprint and Paracanoe World Cup in Szeged. Hungary seeking to secure a New Zealand qualification spot at the 2020 Tokyo Paralympic Games.
The 26-year-old, who only took up the sport of kayaking in July last year, will make his international debut at 8.30pm competing in the heats of the KL3 200m.
Should he secure a top six spot, or a next best fastest time, he will advance to the semi-finals from 10pm today. The A final takes place on Sunday at 2.30am (NZ time).
In December 2019, Hart lost his right leg in a civil roading accident but in the middle of last year the former ski paddler at the Red Beach Surf Lifesaving Club was convinced to give kayaking a go.
So far six nations have banked the ten available Paralympic qualification spots in the men's KL3 200m – Russia, Ukraine, Australia, Great Britain, Germany and Spain. To earn New Zealand a boat at the Tokyo Games, Corbin will be pursuing one of the four remaining qualification places.
"I'm proud of how far I've come in such a short space of time," Hart says.
"I just want to give it my all, and if I can do that I'll be at peace with my performance."
Another relative novice to his sport is Papamoa-based Tupu King. One of New Zealand's top waka ama paddlers, he makes his canoe sprint debut in the K1 1000m event at the Canoe Sprint nationals in Karapiro on Friday.
King was crowned national surf ski champion in just his third race in the discipline at Whakatane last month and will be looking to adapt similarly to his latest challenge.
The star turns at the three-day regatta, which was originally scheduled for February but postponed because of Covid restrictions at the time, are Tokyo-bound K2 1000m duo Max Brown (Whanganui) and Kurtis Imrie (Mana).
Brown and Imrie were formally selected for the Tokyo Olympics last month after enjoying an impressive past couple of years both domestically and on the international stage.
The three-day programme in Cambridge will offer national titles for novice, U12, U14, U16, U18, U23, open and masters divisions for both men and women over a range of distances; 100m, 200m, 500m and 1000m.
Up to the minute draw and results can be found via the Canoe NZ app. Or check the live results website liveresults.co.nz.
More on SunLive...