Navy and police train for diver search missions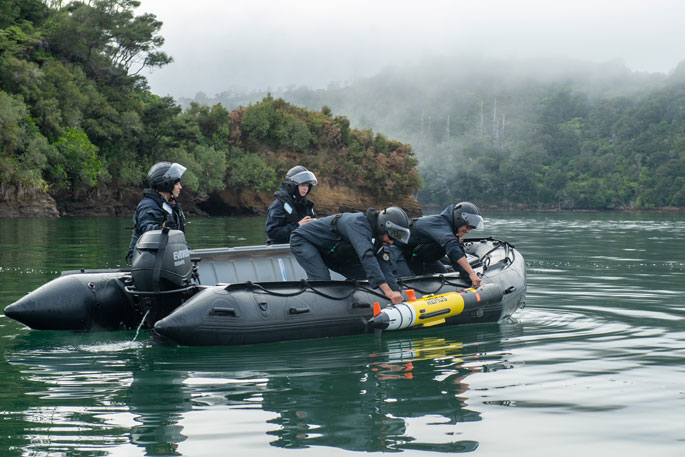 Teams from the Royal New Zealand Navy and New Zealand Police have combined for a series of exercise scenarios, including a search and recovery scenario of a missing recreational diver.
Every year there are around 10 underwater fatalities in New Zealand.
Thankfully many of the victims are found relatively quickly due to the prompt action of the Police National Dive Squad, which is on call to respond immediately to any incident in New Zealand.
"But there are cases where a more specialist response is required based on the depth the diver was at and how large the area is that needs to be searched," says Senior Sergeant Bruce Adams of the Police National Dive Squad.
"Even with an immediate deployment, by the time the squad arrives at the scene the task is not search and rescue but search and recovery.
"This is complicated by the fact the lost diver may have moved a considerable distance from their last known position due to sea currents.
"That is why we call the Navy in. They have the equipment, personnel and expertise to narrow down any search area and quickly identify an object of interest – such as a missing diver, unexploded ordnance or discarded evidence such as knives or firearms."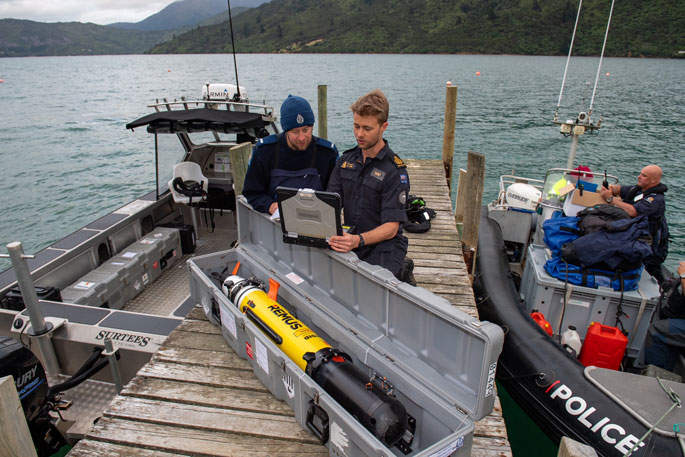 Chief Petty Officer Coady Clark from HMNZS Matataua and Constable Seda Clayton-Greene from the Police National Dive Squad review data from the sweep.
Chief Petty Officer Coady Clark of the RNZN's Military Hydrographic Group is well aware of the pressure placed on the team in these situations.
"Anyone missing underwater is a tragedy that will have a devastating impact on friends and family, so we do everything we can in the shortest amount of time using our specialist equipment to find the person and have them returned to their loved ones," he says.
The Hydrographic Group is part of HMNZS Matataua from the Devonport Naval Base. Able to respond at short notice, the group utilises state-of-the-art Autonomous Underwater Vehicles that can remotely dive to depths of 100 metres under the command of a team member using a control panel and video screen.
The AUV, which can travel at five knots, has a sophisticated side scan sonar that can detect objects of interest on the sea or lake floor, or even drifting in the water, up to 50 metres in any direction.
"Once the sonar has identified the missing diver and we've ascertained the exact depth and search co-ordinates, the information is given immediately to the Police dive team who then effect the recovery.," says Chief Petty Officer Clark.
"It's obviously a sombre time for everybody when the person we're seeking is found but we also take quiet satisfaction in the fact we have found them."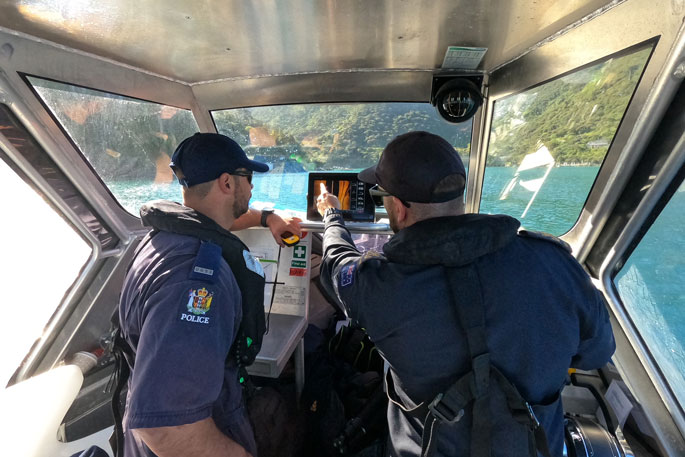 A crew member from HMNZS Matataua points out a potential object of interest to a Police National Dive Squad member.
Senior Sergeant Adams agrees.
""These are never easy tasks for anybody involved – particularly the family of the missing diver – but it's because of the families that our dive team and the Navy's hydrographers are doing this training to keep our skills honed for whatever task comes our way."
The Military Hydrographic Group is primarily tasked with the surveying of sea beds, harbour entrances and beach landing sites to ensure RNZN vessels can access an area where safety of navigation is uncertain, such as following a natural disaster.
But they also work with a range of other government agencies including LINZ, DOC, MFAT, GNS, NIWA and Antarctica New Zealand on survey projects spanning from Ross Island to the Equator, and further afield for Defence-specific tasks.
More on SunLive...