Flocking to the bird show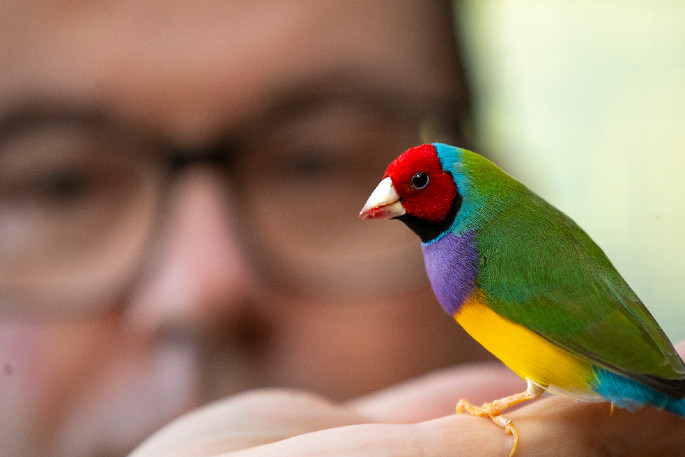 Rainbow colours abound amongst Martin Earles' finches.
The Tauranga veterinarian is looking forward to helping run next weekend's Tauranga Bird Club Animates Annual Show with his father Graeme Earles.
"My father has been going to lots of shows over the years and knows how they're run," says Martin.
A practising veterinarian for 26 years, Martin has been a member of the club for the last five to six years, and had finches for the last four.
"I have Gouldian finches, firefinches, and cordon-bleu finches. The Gouldians are the main ones. I also have a few budgies in the aviary as well."
He has other animals at home too – guinea pigs, rabbit, cat, dog and tropical fish, but chose finches to breed.
"When I was a school kid we had birds way back. I like the look of finches, they're a nice coloured bird. I'd been thinking about setting up an aviary again and started off with a few Gouldian finches. Since then we've got into firefinches and gradually built up from there.
"A lot of people who work with animals seem to have a collection of animals themselves."
Martin, who works at Barkes Corner Clinic and spends Tuesdays at the Brookfield branch veterinary clinic, says there will be around 500 birds at the show.
"There is usually a mixture of almost 200 budgies – they are very popular – and quite a few canaries, different types of finches, parrots and cockatiels.
"It's worth a look. If people are interested in birds there will be someone there to talk to. Some businesses will also be selling bird food and there will be birds for sale," says Martin.
The Tauranga Bird Club Animates Annual Show will be held from 1pm – 5pm on Saturday, May 15, and from 8.30am – 1pm on Sunday, May 16, at Mount Maunganui Sports Centre, Maunganui Rd. Entry is $4 adult, $2 child, 10 family and pre-schoolers are free. No Eftpos, cash only please.
More on SunLive...