Beachfront 'hut on sleds' sold for $2.6m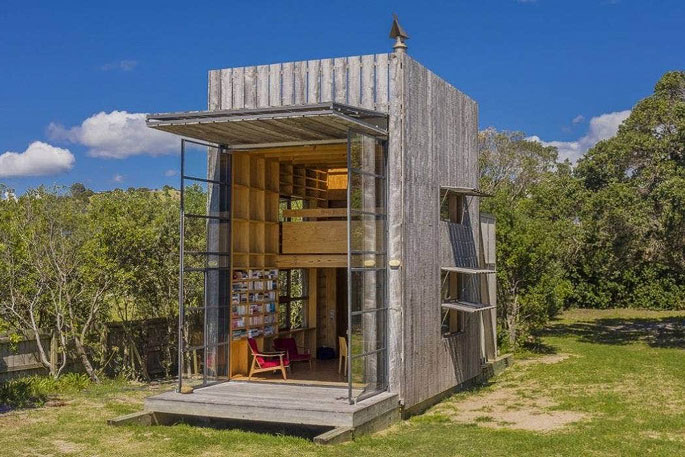 As baches go, the lock-and-leave "hut on sleds" on the Whangapoua beachfront on the Coromandel Peninsula is one of the smallest.
But the wee bach designed by multi award-winning architect Ken Crosson attracted unprecedented interest when it was listed for sale last month. And it sold at auction this week for $2.6 million.
Listing agent Lea Jurkovich from Bayleys Whitianga says the bach, which can be completely closed up like a box, was sold to a New Zealand family.
"They are very excited and are looking forward to having their holidays here."
"This was by far the busiest campaign I have ever run," Jurkovich says.
"I was taking calls from the UK, the US and Australia, from people who had seen it online. I had a lot of calls from Kiwis who are locked up overseas and trying to get home – they are looking for waterfront properties."
The agent says the "hut on sleds" was especially appealing because it evoked strong feelings of nostalgia.
"People were recalling holidays in the sun, pohūtukawa trees, and summers back home. It is that sort of property."
Architect George Clarke of Amazing Spaces visited the bach, describing it as "the most beautiful timber cabin", with an open-sesame design that was "so simple, yet so clever".
Its apparent simplicity belies a lot of clever engineering behind the scenes. With a clever winching system, a large wall can be raised and folded, like origami, to open up the house at the front. And shutters can be raised to form "eyebrows" that shade the windows.
Built from locally sourced macrocarpa timber, the 40 square-metre house sits on sleds that could be moved at a later date if a retreat from the beach is required.
But it is not only the sleds, winching system and double-height steel doors that command attention – there is also a rooftop lookout reached by a ladder and a trapdoor. Clarke cleverly called it a "classic example of blue-sky thinking".
The bach sits on 966 square metres.
More on SunLive...